Editor's Choice
Guild P-240
This guitar sounds like you're living in simpler times

A wonderfully constructed guitar that has an understated beauty

The solid spruce top makes this an excellent option for both fingerpickers and strummers
For Premium
Gibson L-00 Standard
A guitar you'll want to play for a lifetime

Easy to play and has that timeless look and feel

It comes with a premium hardshell case and tons of goodies
Most Modern
PRS SE Parlor P20
PRS brings quality and performance to the parlor design


It comes with a real ebony bridge with bone nut and saddle are components you often find on more expensive guitars

Includes a high-quality carrying case
Whether you're a beginner guitarist, or an experienced player looking for a new guitar to add to your collection, there's a parlor guitar out there that's perfect for you.
Parlor guitars are smaller than traditional acoustic guitars, and they offer a worn-in and punchy tone that can be perfect for blues, folk, songwriters, and country. While their small bodies make them excellent couch, campfire, and travel guitars.
I've used my 25+ years of guitar playing experience to compile the 8 best parlor guitars for all budgets and playing styles. If you don't find the perfect guitar on this list, then the buyer's guide at the end will help you navigate through the thousands of options to the right parlor guitar for your needs.
Let's get started!
The 8 Best Parlor Guitars in 2023 at a Glance
Editor's Choice
The Guild P-240 is the perfect parlor guitar for anyone looking for an instrument with excellent price, tone, and tradition.
The P-240 is a very dynamic, lively, and expressive instrument. It's a great choice for both fingerpicking and strumming but truly shines in open cowboy chords and blues licks.
Also, something about its midrange woody tone that just evokes nostalgia and longing for days gone by. This guitar is a special instrument for a great price.
If you're looking for the best parlor guitar in terms of price, tone, and tradition, then the Guild P-240 is a perfect choice.
This understated beauty has a tone and a feel of a guitar that you would take out be a campfire, deep in the woods, under a starry night. It has that worn-in, midrange woody tone that seems to be telling a story of long ago.
I know this might all sound superlative, but take one listen to this guitar and tell me you don't get nostalgic for something.
The P-240 features a solid Sitka spruce top and mahogany back and sides. This classic tonewood combination produces a very dynamic, lively, and expressive instrument and is a good option for both fingerpicking and strumming. However, I feel like it truly shines in those open cowboy chords and blues licks.
The mahogany neck and Pau Farro fingerboard has a C-Shaped neck, 1.75" nut width, and a 16" radius. This makes the guitar feel rather chunky in your hand and might be challenging to play if you have smaller hands. However, if you don't like using a guitar pick like me, then the extra space between strings and the flatter neck profile works well for plucking individual strings easily.
It's also worth mentioning that the shorter-scale length and 12-fret design make the strings very slinky in feel. So with all these design factors, this could be a good option for players who have arthritis.
Suppose you're in the market for a traditional parlor guitar that has a vintage vibe, great construction, and is affordable. In that case, the Guild P-240 is a worthy investment that will bring you years of guitar playing joy.
Pros
Wonderfully constructed with a beautiful, vintage tone


Responds well to both fingerpicking and strumming

The slotted headstock adds elegance to the timeless design
Cons
Playing the upper frets can be awkward because of the wide neck

It doesn't come with a case
Best Value for Money
Looking for a guitar that's as budget-friendly as it is charming? Look no further than the Gretsch Jim Dandy. This parlor guitar is perfect for beginners and intermediate players alike, thanks to its vintage design and affordable price tag.
This guitar oozes an old-school tone with its muted, high-end response. This, paired with the short-scale design, make it perfect for apartment dwellers who don't want to disturb their neighbors. Plus, its sturdy construction means it can withstand years of use and abuse.
So if you're looking for an acoustic guitar that's as unique as it is affordable, the Gretsch Jim Dandy is the perfect choice for you.
There's a lot to love about the Gretsch G9500 Jim Dandy Flat Top short-scale parlor guitar that looks like a relic of the past.
This parlor guitar owns its vintage heritage, and The G9500 Jim Dandy Flat Top is designed like an old catalog guitar. The kind of acoustic guitar you would have bought in the early 1930s to give to your kids to learn a few tunes on.
But the charm of this parlor acoustic guitar goes well beyond its nostalgic angle and affordable price. There are tons of practical things about this guitar that even intermediate to advanced players should pay attention to.
This guitar is a 12-fret, short-scale (24″) guitar. This means that there will be less string tension making the guitar easy, fun, and comfortable to play for people who have not yet built up their hand strength.
This guitar's small frame also makes it a great small apartment guitar. These guitars don't have the loudest projection, and they have a muted high-end response. Because of this, you can easily strum away and not be annoying to your family, roommate, and neighbors.
The build quality on the Jim Dandy is excellent for a budget-friendly parlor guitar. Long-term owners of the Gretsch frequently reported that its playability remained just as good, if not better, after years of use.
The guitar's tone is very "vintage" and bluesy. This character makes playing this parlor guitar inspiring and makes you want to keep picking up the instrument for practice.
The Jim Dandy has a few limitations that may cause you to consider other parlor guitars on this list. For example, there are no built-in electronics, so you won't be able to connect it to a PA and amplifier if you want to perform at gigs. However, some people will add a soundhole preamp as an extra price to enable this.
Second, the strings are close together. This can make playing the guitar a little more difficult for guitar players with bigger hands.
However, as far as an affordable parlor guitar goes, you are getting stellar value with this Gretsch G9500 Jim Dandy acoustic guitar.
Pros
The guitar has a warm, mellow tone that is perfect for campfires and couches


The build quality is excellent for the price

It has a beautiful vintage look and feel
Cons
It doesn't come with any electronics

The rootsy tone of this parlor guitar won't satisfy players looking for something a little more modern
Best Nylon String
Looking for a nylon string parlor guitar that has both an elegant design and a beautiful sound? Then check out the Cordoba C9 Parlor.
This guitar is handmade with attention to detail, ensuring that each one is of the highest quality. And despite its smaller size, this guitar still packs a punch when it comes to sound. The tone is rich and full, perfect for any classical piece or fingerstyle arrangements.
The C9 is nothing short of a top-shelf parlor classical guitar and should be on your shortlist if a nylon string is what you're after.
There's nothing like the expressive nature of great classical guitars. There's a delicate elegance that I think gets overlooked in today's pop music landscape.
Cordoba has made it its mission to create high-quality, handcrafted guitars at an affordable price. While the Cordoba C9 Parlor isn't their most budget-friendly guitar, it's an expertly crafted parlor guitar that sounds beautiful and worth the price.
The C9 is a 7/8 sized, handmade, solid Canadian cedar top and solid mahogany body parlor guitar. The guitar's construction is made with the highest quality materials and is extremely lightweight and resonant. There is a genuine bone nut and saddle, solid mahogany neck with ebony fingerboard, and Indian rosewood binding.
All of these premium components allow the guitar to be highly expressive, dynamic, and balanced in its tone. Even though this is a parlor-sized guitar, the bass response of the C9 is surprisingly rich and full sounding.
Cordoba is a company that draws from tradition. And the C9 features a traditional classical guitar neck design. There's a 1.96" nut width that makes the neck of this guitar super chunky and could be very difficult to play for young players and those with smaller hands. It will even be an adjustment for advanced guitarists who are used to playing on steel string acoustic guitars.
Also, cedar wood is incredibly soft and has little headroom. What this means for you is that this guitar is very delicate and is prone to cracking and warping if not correctly stored with proper humidification. Also, if you are heavy-handed in your strumming, you will go well beyond the guitar's sonic sweet spot, and it will sound "blown out."
Suppose you are looking to add a nylon string parlor guitar to your collection that is expertly built with excellent projection and resonance. In that case, the Cordoba C9 Parlor is one of the best options there is.
Pros
Expertly handcrafted with high-quality materials


Extremely lightweight, highly expressive, and balanced in its tone

It has an excellent round bass response
Cons
Cedar wood is delicate and prone to cracking

It's expensive for a classical guitar
Best for Recording
Looking for a parlor guitar that's great for recording? Check out the Takamine P3NY "New Yorker."
This little parlor guitar packs a big punch, thanks to its solid cedar top and solid Sapele back. The resulting tone is full, well-balanced, and perfect for recording. Also, the built-in tuner and CT4B preamp make it easy to get a great direct sound if you are recording in a less-than-ideal environment.
The Takamine P3NY "New Yorker" rivals the "big 3" acoustic brands and should be a serious contender if you're looking for an excellent parlor guitar for recording.
Takamine is well-known for producing excellent stage guitars with superb preamp designs and comfortable body shapes.
However, does Takamine live up to being miked in a studio? I'd say some guitars in Takamine's line-up match or surpass the "Big 3" when it comes to a balanced, rich tone that records phenomenally.
The "New Yorker" acoustic-electric guitar's tone is surprisingly full and well-balanced for a tiny parlor guitar. The solid Cedar top allows the entire resonance of the instrument to sing when played softly. At the same time, the solid Sapele back gives good projection and natural compression that helps the tone sound open and full.
The satin-finish mahogany neck with rosewood fingerboard is a classic neck pairing that makes the guitar play like butter. The neck shape has a d-shape to is making it have a rounder feel to it. This makes it very comfortable for different chord shapes up and down the neck.
The P3NY comes with Takamine's CT4B preamp and a built-in tuner. This three-band EQ has tubes to help provide a more fat and rich plugged-in tone. This will enable you to get an excellent direct signal if you record in less than ideal recording situations.
One of the downsides of Cedar top guitars is that they don't have a wide dynamic range. Cedar is a very responsive wood that helps bring out the tonal details of fingerstyle playing and light strumming. Still, if you get too aggressive, the tone starts to "blow out."
The P3NY is built in Takamine's Japanese factory, and the build is excellent, with subtle details that make this a fantastic-looking guitar. The open slot headstock gives this a lovely classical guitar vibe, and the split bone saddle with pinless bridge system is forward-thinking in its design. The split bone helps with the intonation of this guitar, and the pinless system makes changing strings easy, and you won't have to worry about losing pins.
If you're looking for a great parlor acoustic guitar for recording, then the Takamine P3NY is a guitar that will satisfy the most demanding of players.
Pros
Innovative design elements, like the split saddle, add to what makes this guitar stand out above the others


Mahogany neck and rosewood fingerboard plays like butter

Punches above its weight for the price
Cons
Cedar wood is prone to cracking and dents easy

For the price, you would hope that it would be made with all solid wood
Best for Gigging
If you're in the market for a gig-ready parlor guitar, look no further than the Epiphone J200 Studio Parlor.
The J200 Studio Parlor has all the power you need to be heard without being too big or bulky to take on the road. Also, the short-scale, small body design makes switching between acoustic and electric during sets seamless.
Whether you're a traditionalist or a modern player, the J200 Studio Parlor is the perfect gigging guitar for you.
The Epiphone J-200 EC Studio Parlor is not your traditional parlor acoustic guitar.
It's a smaller-sized jumbo acoustic-electric guitar that has a similar tone, volume, and playability as the American classic, the J-200.
The J-200 Gibson guitar was designed to produce a loud and cutting tone. This was crucial for guitarists to be heard over drums and other musical instruments.
However, as modern music technology like amplification allowed smaller steel strings to project over loud instruments, The J-200 EC Studio Parlor was created. This acoustic guitar keeps the power of the original J-200 but with modern conveniences like portability and pickups.
So, in reality, the Epiphone Acoustic's J200 isn't a "parlor guitar" at all.
The J200 Studio Parlor does share similarities to a traditional parlor guitar. Like the 24.75″ scale length, making it simple to play for lengthy periods, and a shallow and lightweight body design that makes it easy to hold.
The solid spruce top and ovangkol back and sides give the guitar outstanding dynamics and projection, which makes the acoustic tone full that many parlor guitars are lacking.
The J-200 EC comes equipped with Fishman Presys II with Sonicore Pickup, which helps you bring the guitar to life on stage, and the shallow body helps keep feedback at bay. Also, the lightweight design is great for players who are switching between electric guitar and acoustic throughout their set.
Suppose you're looking for a reliable, non-traditional parlor to take with you out on the road. In that case, the Epiphone SJ-200 Parlor will be a great companion for an affordable price.
Pros
It has smooth playability and responds well to both fingerpicking and strumming


A non-traditional parlor guitar that has great tone and dynamic range for a small guitar

It is lightweight, making it easy to transport
Cons
The case is sold separately

The mustache-looking bridge doesn't appeal to everyone
Best for Modern Performance
Looking for a modern performance parlor guitar that won't break the bank? Check out the PRS SE Parlor P20E!
This guitar is perfect for today's player who demands more versatility from their instrument. The all-mahogany design provides an excellent tone, while the ebony fingerboard and fretboard add a touch of elegance and make this guitar extremely easy to play.
And because it's a PRS, you know the build quality is second to none. This guitar is built to last and will give you years of enjoyment.
While Paul Reed Smith's (PRS) are more well known for their electric guitars, the P20 is an excellent parlor guitar that brings the PRS's modern playability to an acoustic.
Parlor-style guitars are notorious for having little to no bass response and a robust mid-range presence. Lots of parlor guitars suffer from little to no bass response, a punchy mid-range, and muted highs.
However, the PRS P20 guitar produces an excellent high-end response that adds a subtle sweetness to the tone. This makes this a guitar for today's players who demand more versatility from their instruments.
The P20 comes stock with a solid mahogany top, laminated mahogany back/sides, mahogany neck, and ebony fingerboard. The ebony fretboard also makes this guitar extremely easy to play. The edges are nicely rolled and comfortable in your hands.
The nut width comes in at 1.68" and a shorter-scale length of 24.72". This gives the guitar a slightly smaller feeling in your hand and is very comfortable for acoustic guitar players who have small hands or tiny fingers.
The all-mahogany design gives this parlor guitar a natural "woody sound," perfect for heartfelt singer/songwriters, blues, and folk music. There's also a natural compression with mahogany tonewood that is perfect for fingerstyle and helps suppress dynamics, making this an excellent guitar for home studio musicians.
The construction and durability of this acoustic guitar are top of its class. Another notable detail is the genuine bone nut and saddle, which is rare to find on acoustic guitars in this price range.
Some users had expressed issues with intonation and high action when they first received their guitars, but this is a simple fix with a truss rod adjustment.
The PRS P20 is one of the best parlor guitars for modern players. The design, playability, and tone are all forward-thinking enough without losing the charm of the parlor acoustic guitar vibe. And for the price, you really can't beat it.
Pros
The PRS P20 is perfect for today's versatile and modern guitar player


High-quality construction, which includes a genuine bone nut and saddle, and beautiful bird inlays

Can be purchased with Fishman Sonicore electronics or without, depending on your needs
Cons
It may need some minor adjustments, depending on where you purchase it from
Most Inspiring
The Yamaha CSF-TA is one of the most inspiring parlor guitars on the market. It's perfect for players of all levels who are looking for an easy-to-play guitar with a balanced tone and excellent clarity.
The built-in TransAcoustic technology gives you the ability to add reverb and chorus effects to your unplugged tone, taking your playing into exciting and new territories.
If you're looking for a guitar that will help you unlock your creativity, the Yamaha CSF-TA is a perfect choice.
Yamaha has pushed the boundaries in new and inspiring ways with their TransAcoustic line-up of guitars. TransAcoustic technology gives you the ability to get reverb and chorus effects from your unplugged acoustic tone. It's wild.
The CSF-TA is Yamaha Acoustic's parlor guitar that features this technology. The guitar itself has a very understated design and isn't flashy. It features a solid Sitka spruce top, mahogany back and sides, and a nato neck with a rosewood fingerboard.
The CSF-TA is a very comfortable playing guitar that will suit all types of players. The flatter radius and short scale make playing lead lines and bending strings easy on the fretting hands.
The tone of the guitar is very balanced and has excellent clarity, and stands on its own as a standalone acoustic. But the reason why you want to purchase this is for those built-in effects.
Having the ability to add reverb and chorus to your tone without the need for amplification is something that will easily inspire you and unlock creativity. You get extra depth and dimension that you don't get from a standard acoustic, and it has the effects that can amplify your acoustic performances for friends and family.
The chorus especially can give you that 12-string acoustic guitar sound, so it's like getting two instruments in one. At the same time, the reverb can add extra polish and space to your sound.
The Yamaha CSF-TA is an innovative parlor guitar that goes well beyond the gimmick. Even without the TransAcoustic system, this guitar is easily one of the best parlor guitars between $600-$700 out there. Don't sleep on this one!
Pros
It will inspire you to take your acoustic playing to exciting new territories


It comes equipped with SRT Piezo Pickup, so you can utilize the effects when playing your next gig

Small scale length makes this guitar very easy on the hands
Cons
Some may find the TransAcoustic system gimmicky

The tone isn't as full as other acoustics on this list
Best Premium
The Gibson L-00 Standard is a premium parlor guitar that's highly regarded as one of the best.
The L-00 has a glassy high-end and a warm midrange, giving it a lot of depth and character. With a shorter scale neck, there's less tension in the strings, making it more comfortable to play.
Whether you're looking for an excellent porch guitar, are a recording artist, or gig out, the L-00 Standard is sure to exceed your expectations.
The Gibson L-00 Standard is the parlor guitar you buy when you want a guitar that looks and plays like it's from the '30s and '40s but comes with a warranty. 🙂
This parlor guitar is constructed with a torrified solid Sitka spruce top and solid mahogany back and sides. Torrification is the process of aging the wood so that it sounds like old tonewoods that are more open and resonant.
The L-00 Standard tone can be described as having a glassy high-end and a heartfelt midrange. There's a lot of depth in the tone that you won't get with other acoustic guitars on this list.
This guitar is built with playability in mind and will suit a wide range of players. It has a slightly-shorter scale neck (24.75"), so there's less tension in the strings. While the slim taper neck design will feel comfortable in small and large hands.
Recording artists will find the L-00's warm vintage tone and present midrange charming and able to give them that radio-ready acoustic recording with ease.
The L-00 is also an excellent option for gigging musicians as it comes equipped with an LR Baggs VTC electronics system. LR Baggs is one brand of electronics that does a fantastic job of preserving the guitar's tone when plugged into a PA or amp. There tends to be more bass response in LR Baggs, and this is a perfect match for the warm tone of the L-00.
This guitar is a premium guitar that will last you a lifetime if properly cared for. It does come with a high-quality hardshell case, humidifier packs, polishing cloth, and truss rod adjuster to help you keep the guitar in new condition.
If you're looking for your "forever" parlor guitar, then the Gibson L-00 is the one for you.
The L-00 Standard is also available as left-handed acoustic guitar for all of you southpaws out there 🙂 You can check it out here.
Pros
Comfortable, elegant, and an inspiring vintage tone


Solid Sitka spruce allows for excellent dynamics and punch

Comes with LR Baggs VTC electronics
Cons
It's expensive

It bottoms out if strummed too aggressively
Buyer's Guide
With the rising popularity of parlor guitars, there are many options and great guitar brands that weren't covered in this list.
If non of the mentioned guitars sounded like the perfect match, then the following buyer's guide will help you in your search to find the best parlor guitars for you.
The Parlor Acoustic Guitar Sound
A parlor guitar has a beautiful, delicate sound with a punchy midrange. Modern-day parlor guitars can be surprisingly well balanced and ideal for fingerstyle musicians and recording artists.
Because of the small body, there isn't much projection, so if you want to play this in a band setting, you will need to have a pickup installed.
Solid Wood vs. Laminate Acoustic Guitars
Solid wood parlor guitars have a deeper, more resonant sound. They also improve with age and the tonewood "opens up," which enriches the guitar's harmonics. However, solid wood parlor guitars will come with a higher price tag.
In more budget-friendly guitars, laminated wood is utilized. It's usually made from several layers of plywood pressed together to form the wood. Laminates are sometimes produced from resins and other non-wood materials.
Laminate is considered inferior and has a flatter tone than solid wood.
However, a laminated parlor acoustic guitar might sometimes be the right choice for players. Laminate is more durable than solid wood and less prone to warping and cracking due to changes in weather and mishandling.
This means laminated parlor guitars are more suitable for traveling and those who live in areas with extreme weather changes.
It's common to find manufacturers use a solid wood top for their guitars and laminated back and sides. This helps bring the best of both worlds while keeping the price affordable.
Topwood Choice
An acoustic guitar's soundboard (or topwood) is the most critical part of the guitar's construction. It will have the most influence on your instrument's projection, playability, and dynamics.
Many types of tonewoods are used for the soundboard. However, the following three tonewoods are the most common when shopping for the best parlor guitar.
Spruce Top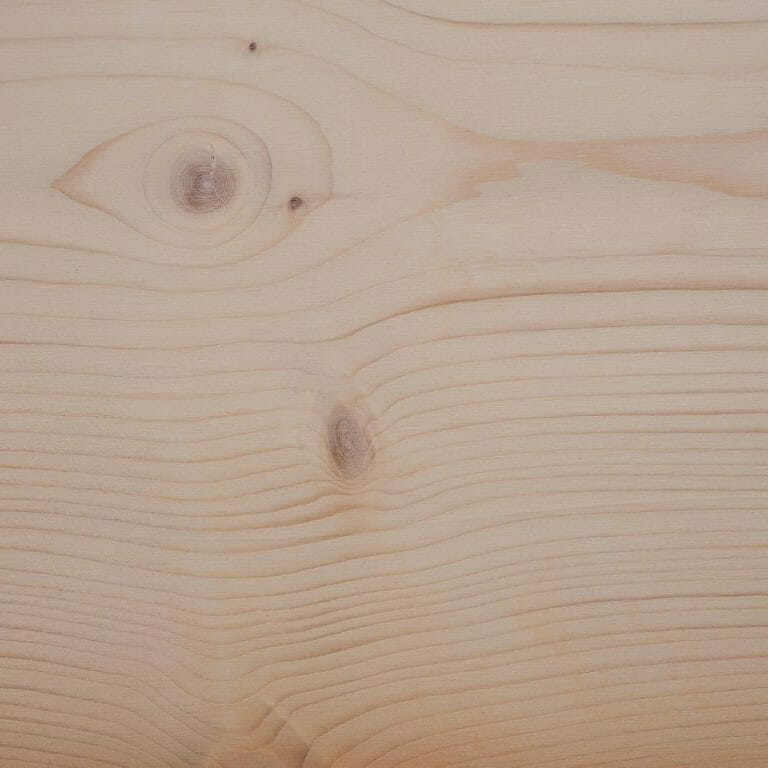 The most common topwood you'll find on an acoustic guitar is spruce. Spruce is a softwood with a broad dynamic range and is sonically diverse.
Spruce is a versatile tonewood, which is one of its best features. It may be used by all players, from lighter fingerpickers to strong strummers.
The tone of spruce works with various musical genres, including country, blues, pop, and rock and roll.
Mahogany Top
Mahogany is a dark-colored wood. When used as a top wood, it has a more midrange, vintage tone that is warm and woody.
This is a fantastic topwood for parlor guitars because it adds to the character and vibe and is often considered the perfect tonewood for folk, blues, and solo artists.
Mahogany top guitars are great for fingerpicking because the wood responds well to a light touch, projects easily, and has a good amount of sustain.
Another advantage of using mahogany as a top wood is that it naturally compresses the guitar's tone. This can help players sound more even and consistent when playing. This also makes mahogany-topped guitars great for recording situations as you will get a more controlled guitar recording.
Cedar Top
Cedar is a softwood that has a pale color comparable to spruce. It lacks the same dynamic range as spruce but has beautiful overtones that give it a mellow tone that you won't find in any other wood.
It's an excellent choice for individuals searching for a mellow guitar that is still sensitive and responsive.
The disadvantages of cedar are that it doesn't hold up to strong strumming, and the wood is very delicate and prone to cracking.
Parlor Guitars vs. Travel Guitars
Parlor guitars can make great travel guitars; however, most travel guitars are not full-sized guitars.
Because a parlor guitar is still a full-sized instrument, it still takes up space. And if you wanted to bring it on a plane, it would most likely not fall into the carry-on luggage category.
Parlor Guitars vs. 3/4 Sized Guitars
A 3/4 sized guitar is a guitar that has been scaled down to a scale length between 20" to 24". These guitars are typically recommended for young players or those with smaller hands.
Modern parlor guitars are not 3/4-sized guitars; they are full-sized instruments. A parlor guitar will have more projection and resonance than most 3/4-sized guitars, making it more suitable for adult guitar players.
Pickups & Electronics
Knowing if a pickup and electronics system is installed in your parlor guitar is something to keep in mind while shopping.
If you plan on performing with other musicians, you will most likely need the extra amplification to be heard. However, getting one without electronics can save a few dollars if you are simply looking for a fun couch guitar.
Generally, I don't like the way acoustics sound plugged in. Still, with parlor guitars, you can get some pretty exciting and cool tones, thanks to the acoustic nature of such a small-bodied guitar. So it should also be a consideration if you want to experiment and push the boundaries of sound your parlor guitar makes.
FAQ
What is a Parlor Guitar?
A Parlor Guitar is a smaller-sized guitar that typically has a 12-fret design and shorter scale length. The term "parlor" was applied to guitars of this type because they were commonly used in parlors, or small rooms, for personal enjoyment.
Parlor Guitars are often used for fingerstyle playing and have become popular with blues and folk musicians. They can also be excellent instruments for beginners as they are easier to hold and play.
Are Parlor Guitars Worth It?
Parlor guitars are worth it! They offer a unique sound and aesthetic that can't be found in other guitars.
Parlor guitars are the smallest full-sized acoustic guitars, which makes them perfect for players who want a more intimate sound. They're also great for fingerpicking techniques, and their light weight makes them easy to transport.
If you're looking for a guitar with a vintage feel and punchy sound, then a parlor guitar is the way to go.
Is a Parlor Guitar Easier to Play?
No definitive answer exists to this question since ease of play is subjective.
Parlor guitars are sometimes designed off of classical guitars, which have wider necks, so for some parlors, they could be harder to learn with.
Ultimately, the best way to determine whether a parlor guitar is easier to play is to try one out for yourself and see how it feels.
Are Parlor Guitars Good for Beginners?
There are a lot of different opinions on this question. Still, in general, most people would say that parlor guitars can be suitable for beginners. Parlor guitars are smaller and generally have a shorter-scale length making them easier to fret.
That being said, many people would argue that any guitar can be good for a beginner as long as the person is willing to put in the time and effort to learn. So it comes down to what you're comfortable with and what you think will work best for you.
The Bottom Line
If you're looking for the best parlor guitar that sticks to tradition, is easy to play, and won't break the bank, then check out the Guild P-240.
It has a warm and intimate tone that is a perfect fit for a variety of players and genres. Also, with its small size and comfortable body, this guitar makes an excellent couch or travel guitar.
Check it out today at Sweetwater!
Editor's Choice
Guild P-240
This guitar sounds like you're living in simpler times

A wonderfully constructed guitar that has an understated beauty

The solid spruce top makes this an excellent option for both fingerpickers and strummers
For Premium
Gibson L-00 Standard
A guitar you'll want to play for a lifetime

Easy to play and has that timeless look and feel

It comes with a premium hardshell case and tons of goodies
Most Modern
PRS SE Parlor P20
PRS brings quality and performance to the parlor design


It comes with a real ebony bridge with bone nut and saddle are components you often find on more expensive guitars

Includes a high-quality carrying case