Editor's Choice
Townsend Labs Sphere L22
Get the sound of 34 legendary microphones for a fraction of the price

Record acoustic guitar with unparalleled flexibility and control

Dual outputs allow you to record in stereo, mixing and matching between different mics for the perfect tone
For Budget
Lewitt LCT 140 AIR
You'll get a great acoustic guitar recording without spending a fortune

Get two stereo-matched microphones for less than $350

It's durable and lightweight
For Premium
Soyuz 013 TUBE
These mics allow you to make beautiful acoustic guitar recordings without much post-processing


Soyuz microphones are built by hand, ensuring quality and craftsmanship

The larger body and capsule give you the best of a small and large diaphragm condenser
Acoustic guitars are beautiful sounding instruments with nuance, dynamics, character, and complex tones. For this reason, they are also challenging to record.
Choosing the best acoustic guitar mic can be daunting, with many options available. Also, with the wide variety of acoustic guitars, even the "best mics" may not be the right one for you.
Well, I've done the hard work for you and compiled a list of the best acoustic guitar mics based on budget and use case. I'm pulling from my experience working in pro recording studios and being an acoustic player for 25+ years.
My goal is to help reduce the time it takes you to research solutions and get back to doing what you love…making music. As a bonus, I've included a handy buyer's guide to help you make the right purchase decision.
Let's get started!
Table of Contents
The 7 Best Acoustic Guitar Mics at a Glance in 2023
Editor's Choice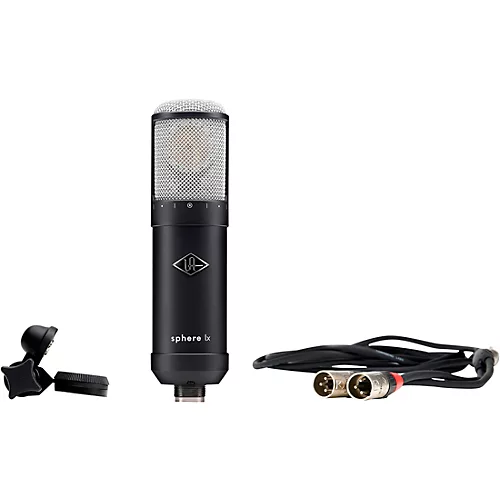 Welcome to the future of recording technology with the Universal Audio Sphere.
The Sphere uses microphone modeling technology to give you access to the sounds of 34 legendary microphones, making it the most versatile tool for any recording situation. Whether you're looking for a condenser, ribbon, or dynamic sound, the Sphere can do it all.
With so many features and an affordable price tag, the Sphere is a no-brainer purchase for anyone looking to get the best sound possible when recording acoustic guitars.
The Universal Audio Sphere is the future of recording technology. It could be the only microphone you'd ever need for recording guitars. In fact, this may be the best mic for guitar and vocals, as well as any other instrument you can think of.
The Sphere uses microphone modeling technology to give you access to the sounds of 34 legendary microphones. Coveted microphones would cost you tens of thousands of dollars to have in your mic locker.
While the Sphere is a large-diaphragm condenser microphone, it models every style from condenser, ribbon, and dynamic microphones.
Tons of features make the UA Sphere the perfect microphone for recording acoustic guitar in your home studio.
First, the Sphere has a dual output. You can mix and match two microphones to get a stereo recording. It also allows the Sphere to manipulate how the microphone captures directional and spatial information. You can use this to your benefit for reducing and canceling unwanted background noises in your recordings and increasing and reducing the proximity effect.
Second, the Sphere comes with a plugin that allows you to control several settings after the recording. This gives you unparalleled flexibility in dialing the right microphones, polar patterns, and placements without committing to these decisions while recording.
This is highly beneficial for solo musicians who struggle to switch between their engineering hat and musician hat. Also, it's common that what you hear in your headphones sounds different when you go to playback. Being able to control all the settings after the fact is a huge time saver and "shortcut" to getting pro-sounding acoustic guitar sounds.
The Sphere ships with a plugin that both Windows and Apple support and various plugin formats such as AU, VST, and AAX.
The sound of these microphones is incredible, and no listener would ever know that you were recording with a digital microphone.
Also, almost all the best acoustic guitar mics reviewed in this roundup are microphones you can use with the Universal Audio Sphere. So, in that case, this microphone should be a no-brainer purchase for recording acoustic guitars.
Pros
You get 34 legendary microphones for one single price


Can record in stereo and manipulate mic choice, proximity effect, and polar patterns after recording

It has a very low noise floor and can handle loud sound sources without clipping
Cons
All the options can cause analysis paralysis

It might be too expensive for some hobbyists
Best for Fingerstyle Playing
Looking for a microphone to help you bring out the detail and nuance in your fingerstyle acoustic guitar performance? The Neumann KM184 is a perfect choice.
The KM184 is a small-diaphragm condenser mic beloved by engineers for being fantastic on acoustic guitars. With its wide frequency response range and low noise level, the KM184 will pick up all the details of your guitar playing and make sure every note shines.
So if your primary method of playing is intimate fingerstyle, then the KM184 is a worthy investment that will last you a lifetime.
If you're a guitarist who primarily plays with your fingers, you'll want to ensure that you purchase a microphone that will help bring out the detail and nuance of your performance.
A small-diaphragm condenser mic is a perfect choice for this use case because the smaller capsule picks up more attack from the strings. This helps each note stand out when plucked while maintaining a precise level of clarity.
The best-in-class small-diaphragm condenser for fingerstyle acoustic guitar is the Neumann KM184.
The KM184 has a wide frequency response range from 20hz-20khz, making the microphone very versatile in picking up the details of your specific acoustic guitar. Also, this mic has extremely low noise, aiding in the precise level of detail it picks up.
The Neumann KM184 is a cardioid condenser microphone with excellent sound rejection from the back and sides. This is beneficial for keeping out any unwanted ambient noises and reflections while recording.
The Neumann is an expensive microphone. It only worsens if you want to get the best from it while recording acoustic guitar and invest in a matched stereo pair. However, at the price point, I think you would be better off with the Sphere as it has excellent modeling of some small-diaphragm mics.
However, suppose you are looking for a high-quality pencil-style condenser microphone from a company with a rich history in pro-audio. In that case, the Neumann KM184 is a worthy investment that will make your acoustic recordings stand out.
Pros
Beautifully captures the nuance and detail of your acoustic guitar playing


High-quality build from one of the world's most renowned mic manufactures

The wide frequency response range will work with all styles of acoustic guitars
Cons
It's expensive

Not the most versatile mic
Best for Strummers
If you want to record a strummed acoustic guitar and get a smooth, beautiful sound, the AKG C414 XLII is the perfect mic for the job.
With its forward mids and top-end sheen, the C414 will make your instrument stand out in any mix. And because it can handle very loud sources, you won't have to worry about overloading the microphone if you're an aggressive strummer.
The AKG C414 XLII is a must-have for any serious musician or engineer.
Large-diaphragm mics pick up less transient details than small-diaphragm mics. This slightly "smears" sounds to give them a creamier sound quality that works well for strummed guitars.
The AKG C414 XLII is a large-diaphragm condenser mic that is one of the most famous designs for studio and live applications. It's a great mic for guitar and vocals, so you can use this one for more than one application.
When recording acoustic guitars, the C414 adds a nice top-end sheen with forward mids that make your instrument stand out within a mix.
You're not going to get as much note articulation with the C414. Still, you'll get a clear, balanced, and professional recording without needing much post-processing. The C414 can handle very loud sources, so you won't have to worry about overloading the microphone if you're an aggressive strummer.
The C414 is lauded for its feature set, and it is an incredibly versatile mic. You can choose nine polar patterns, three high-cut filter slopes, and multiple pad options. This gives you plenty of fine-tuning options, making this one of the best microphones for recording.
The C414 is an expensive microphone, especially if you purchase the matched stereo pair. For almost the price of a single mic, you could buy the Sphere and get this microphone as one of the modeled options in the software.
However, if you're a purist looking for a real microphone that will bring out the best in your flatpicking, then the AKG C414 is a solid investment.
Pros
Enjoy the creamy and lush acoustic sound of one of the most popular mics


It can handle very loud sources without worrying about overloading the microphone

A very versatile microphone in terms of features and what it can record
Cons
It's expensive

You could purchase the Sphere and get the modeling of this mic and more for almost the same price
Best for Budget
Looking for a great-sounding microphone to record your acoustic guitar that won't break the bank? Look no further than the Lewitt LCT 140 AIR.
This small-diaphragm condenser microphone is the best value for money, giving you two stereo-matched microphones for less than $350.
The Lewitt LCT 140 AIR small-diaphragm condenser microphone is the best value for money if you're recording acoustic guitar.
What stands out is that you get two stereo-matched microphones for less than $350. This would make most of you think that the mics themselves wouldn't sound very good. However, the Lewitt LCT 140 are no slouches as acoustic guitar mics.
They capture the source with clarity and detail, and when the AIR button is turned off, they have quite a flat frequency response. This helps keep the recording balanced and neutral so you can add EQ later to further dial in the sound.
More affordable condenser microphones will often boost the high-end response to make it sound fancier. This often results in a microphone that is brittle and thin sounding.
However, with that said, Lewitt does include the AIR button to give you this boost. However, this high-end emphasis brings out unwanted string noises and shrillness, in my opinion.
These microphones will be suitable for most home recording artists. However, you don't get the same depth of sound that some of the more premium options on this list provide.
But suppose you just want to purchase a couple of condenser microphones for recording acoustic guitar in your project studio. In that case, the Lewitt LCT 140 AIR is an incredible value.
Pros
It comes as a matched stereo pair


The value for money of these microphones is incredible

Captures acoustic instruments with clarity and detail
Cons
AIR mode can accentuate unflattering string noises

It lacks the tonal depth of some of the other mics on this list
Best Under $500
This incredible re-creation of the classic Neumann KM84 is designed with premium components and features a USA-made CineMag transformer.
With its excellent performance on all acoustic instruments, the WA-84 is perfect for anyone budget conscious but wanting only the best in acoustic guitar mics.
I don't know how Warm Audio does it, but they make incredible re-creations of vintage gear for such great prices. How do they even make a profit?
The WA-84 is designed after the famous Neumann KM84, the ancestor of the Neumann KM184.
Warm Audio uses premium components in its products, and the WA-84 features a USA-made CineMag transformer.
The secret sauce to a vintage microphone's coloration on a source is in its transformer. Transformers add a gentle saturation that makes a recording sound alive and exciting instead of sterile and dull.
This is the big difference between the WA-84 and the Neumann KM184. The KM184 doesn't have an output transformer, making the recording more transparent and open. The WA-84 will color the sound more and make it sound more "analog." However, more analog may not be what you're after as this will "smear" the imaging a bit, making your recording less defined.
The WA-84 is an excellent choice for all acoustic instruments. If you're budget conscious but don't want to skimp on quality, these are some of the best acoustic guitar mics out there.
Pros
Premium components and sound for an affordable price


You'll own a re-creation of a legendary microphone

It has a richness, clarity, and depth that is hard to beat at this price point
Cons
If you want a stereo-matched pair, while still a great value, might be too expensive for some
Best Premium
Looking for an acoustic guitar microphone that will give you pro studio sound? Look no further than the Soyuz 013 TUBE Small-diaphragm microphone.
The 013 comes as a pair of small-diaphragm condenser microphones, perfect for capturing all the nuances of your playing. But don't let their size fool you - these mics have a broad frequency response and rich harmonics, thanks to their slightly larger body design.
So if you're looking for a top-of-the-line acoustic guitar microphone, look no further than the Soyuz 013 TUBE small-diaphragm condenser.
Soyuz is a boutique microphone brand from Russia that is making big splashes in the pro audio community.
Each Soyuz microphone is built by hand, from the casing, the capsule, and the hand-wired transformers. Everything about these microphones is made with vintage craft and sounds fantastic.
The 013 Tube comes as a matched pair of small-diaphragm condenser microphones. For some players, having two microphones might be overkill. However, it will allow you to experiment with stereo recordings to get big, wide-open acoustic guitar recordings.
The sound of the Soyuz 013 Tube can be considered deep, round, and silky.
The body and capsule are slightly larger than other small-diaphragm condenser microphones on this list. This gives them a broader frequency response with rich harmonics you get with large diaphragm mics while maintaining the clarity and articulation of a small-diaphragm condenser. This makes this one of the best microphones for recording acoustic guitars.
The Soyuz 013 features a proprietary hand-wound transformer, which gives the microphone lots of harmonic detail and gentle saturation. The right amount of saturation in an acoustic guitar recording is beautiful. It makes a recording sound more natural, organic, and pleasing to a listener, all things you want when you record acoustic guitars.
This capsule has a cardioid polar pattern that helps to reject reflections and only picks up sounds that enter directly into the microphone. While this is a very sensitive microphone, this can help artists in smaller spaces who want to reject ambient noises like street sounds.
The 013 Tube is a versatile microphone that goes beyond an excellent acoustic guitar mic. You can also use the 013 for acoustic instruments like drums, piano, and string instruments. A -20db pad also makes this a suitable microphone for recording electric guitar.
There isn't much negative to say about the Soyuz 013 microphone except that you will pay a premium. For most home studio hobbyists who just picked up their first recording kit, these microphones will be overkill, and you'd be better off spending your money on something a little more budget-friendly.
However, suppose you are looking for the best modern microphone to make recording acoustic guitar easy. In that case, the Soyuz 013 won't let you down.
Pros
Easily get a deep, round, and silky sound for your acoustic guitar recordings


High-quality, handmade microphones that will last a lifetime

It's a versatile microphone that can record a variety of sources well
Cons
Expensive

Overkill for most recording hobbyists
Best for Adding Fatness
If you're looking for an acoustic guitar mic that will add body and weight to your recordings, the Royer 121 is an excellent choice.
This innovative ribbon mic captures your instrument's richness and depth without accentuating unwanted string noises.
Trustworthy and reliable, the Royer 121 is an invaluable tool for any serious recording engineer or acoustic guitar player.
One of the challenges of using dynamic and condenser mics for recording acoustic guitar is the lack of midrange body.
This can become a significant challenge when you are a solo songwriter and need a little extra low-end frequency response to get a pro-sounding recording.
This is where adding a ribbon mic alongside your primary microphone can be a lifesaver, and one of the most trusted and reliable ribbon mics is the Royer 121.
Ribbon microphones have less high-end frequency response. This makes them excellent for stringed instruments as they don't accentuate finger noises and ambient resonances within the instrument as a condenser mic does.
Royer 121s also pull out a thick and natural midrange from the instrument, which helps to give weight and depth to your recording.
The 121 has a figure-8 polar pattern, meaning it picks up sound from the front and back, but rejects sound from the sides. The back side of the microphone has a slightly brighter response, which could make this microphone a perfect acoustic guitar microphone by itself. However, I've found the Royer to still be a little too dark and "choked" to be used by itself in most applications.
The Royer 121 is built like a tank. These microphones are well-liked for being studio workhorses that can withstand being placed next to extremely loud sources like guitar amps and drums. I've also been told that you can send phantom power to a Royer 121 without damaging it. Still, I'd highly recommend against testing this theory.
The Royer is an excellent microphone, but it does have its quirks. The figure-8 polar pattern won't reject sounds from the back like a cardioid polar pattern. So if you are a musician recording in a small space with lots of poor acoustic treatment and outside noise, then the ribbon will work against you in picking all of this up.
Also, while the Royer 121 is marketed as a very versatile mic, I find it to be the most useful as an additional microphone to another primary mic. And having a Royer 121 is more of a luxury than a need.
If you struggle to get a rich sound from your acoustic guitar mics, adding a Royer 121 to the mix may be just what you've been looking for. Check it out today!
Pros
It easily adds weight and depth to an acoustic guitar recording


This ribbon mic will last you a lifetime thanks to the high-quality build

The backside of the microphone has more high-end frequency response, essentially giving you two mic flavors in one
Cons
It's expensive

The tone or the Royer 121 is dark and, by itself, could leave a lot to be desired
Buyer's Guide
All microphones are like a paintbrush. Very rarely does one do a good job at everything, and you have to pick and choose the right mic for the right situation.
This can make choosing the best mics for recording acoustic guitars seem daunting, but there are a few key things to look at when researching to decipher if a particular microphone will work for you.
The following buyer's guide should help you if the above recommendations don't seem like a perfect match.
Condenser vs. Dynamic Mics
The two most common mic types are condenser and dynamic microphones. You may have noticed that I didn't include a single dynamic mic in my roundup.
This is because a dynamic mic does not have as quick of a transient response as a condenser microphone. This means you will get less detail, articulation, and "high-fidelity" from a dynamic microphone, which is crucial when trying to record acoustic guitars well.
Dynamic mics, like a Shure SM57, are studio staples and can be used to record acoustic guitar. Still, there is an extreme coloration on the sound that may not be flattering in most cases.
A condenser microphone picks up much more detail and "micro dynamics," which gives a more transparent and accurate recording of what you hear in the room.
Large vs. Small Diaphragm Microphones
A large diaphragm mic picks up less transient detail than a small diaphragm mic. Large-diaphragm mics also color sounds, as well as, making them seem larger and more upfront than their smaller capsule counterparts.
Small diaphragm microphones color sounds less and pick up more transients and detail. Small diaphragm condenser mics are usually the most consistent option when looking for a microphone to record acoustic guitars.
Large and small diaphragm microphones can be either dynamic or condenser. Still, as stated previously, I'd stay away from a dynamic microphone for recording your acoustic instrument.
For a great deep dive on the characteristics, advantages, and disadvantages of different-sized diaphragmed mics, check out this excellent article by Neumann here.
Ribbon Mics
Ribbon microphones are fantastic microphones for recording stringed instruments. This is because they have a subdued high-end frequency response.
One of the issues with the sensitivity of condenser mics is that they pick up everything. This includes ambient noises such as fingers sliding along strings. A ribbon microphone doesn't accentuate these much, making it easier to compress and EQ the source later.
Ribbon microphones also add a nice weight to a sound, which makes them popular for use alongside other microphones.
The challenge with ribbon microphones is that they can be pretty dark and catastrophic sounding when used in isolation.
I view ribbons as a specialty type microphone and not a type that should be your first microphone purchase for recording acoustic guitars.
Polar Patterns
Polar patterns are the sonic surface area in which the microphone picks up sounds. The three most common polar patterns are cardioid, omnidirectional, and figure-8.
Most microphones used for acoustic guitars will have a cardioid pattern. This is because we want to avoid picking up any unwanted reflections or ambient noises from the back or sides of the microphone.
Pretty much all dynamic and condenser mics are going to be cardioid. Some may have options to switch between different polar patterns, like the AKG C414.
If you purchase a ribbon microphone, know it will be a figure-8 polar pattern. This means it will pick up sounds from both the capsule's front and back while rejecting sounds from the side. There are benefits to this polar pattern that is beyond the scope of this article. However, you can check out this article here for a more extensive deep dive.
Mono vs. Stereo
When shopping for microphones for recording acoustic guitars, you will often see the small-diaphragm mics sold as matched pairs for stereo miking techniques.
That said, most of you reading this won't need to record in stereo. The benefit of stereo recording is getting a more spacious and realistic sound. But the pitfalls of stereo recordings are often greater than the benefits.
When recording in stereo, you must know the phase and level relationships between the microphones. If you get this wrong, you will create an uphill battle for the rest of your production process.
One mic is all you need if you're an amateur home recording hobbyist.
USB vs. XLR Outputs
The digital age has given rise to a new category of microphones with USB outputs. These mics plug directly into your computer via USB and don't require any special audio interface.
While these are great for someone just starting, I advise against them for recording acoustic guitars that sound radio-ready. The sound quality is often subpar when compared to an XLR output microphone.
Transformers & Tubes
If you've ever wondered what makes some microphones have so much mojo and others sound sterile and flat, it usually comes down to Transformers and Tubes.
Subtle saturation of a signal path is what defines that "analog" sound. Analog sounds better to our ears because our ears don't hear things distortion-free.
But what in a microphone's signal path creates that saturation? It's the transformer. Transformers fuzzy up signals the harder you push them. This can be very desirable for recording certain types of instruments. However, too much "analog" can make a sound smeared and undefined. So sometimes, when shopping for the best mics for acoustic guitars, you want to consider if it has a transformer or not.
Some of the best acoustic guitar mics on this list don't have transformers, like the Neumann KM184. This allows the signal to be uncolored and be as accurate to the source as possible. However, if you want a more vintage vibe, something like the Warm Audio W-84 might be more in line with what you're looking for.
Tubes, on the other hand, add fatness to a sound. However, they don't pick up transient information as fast as a non-tube or FET-style microphone. So while they can make a sound larger than life, this can be at the expense of articulation and detail.
FAQ
What mic do you use for acoustic guitar?
The mic you should use for the acoustic guitar is the one you have on hand.
However, an excellent small-diaphragm condenser microphone is the best choice when considering investing in a microphone specifically for acoustic guitars.
Is an SM57 good for recording acoustic guitar?
You can use an SM57 to record acoustic guitars. However, the sound you will get from an SM57 will sound pretty "telephonic" and colored.
You won't pick up the rich details of your acoustic instrument. For this reason, I wouldn't recommend it as a good acoustic guitar microphone.
Can you use an acoustic guitar mic for vocals?
Yes, you can use a microphone that excels at recording acoustic guitars on vocals.
For example, microphones like the Universal Audio Sphere are the best microphone for guitars and vocals for most home studio artists. With its ability to mimic all the classic designs, you could get a pro-sounding recording with just this one microphone.
The Bottom Line
There you have it; my top picks for the best acoustic guitar mic in market today.
Suppose you have a budget and don't mind a slight learning curve. In that case, the Universal Audio Sphere is the future of home studio recordings. It will be an excellent microphone for recording your acoustic guitar.
It gives you plenty of tonal options and flexibility to work with any acoustic guitar you throw at it.
Thanks for reading!
Editor's Choice
Townsend Labs Sphere L22
Get the sound of 34 legendary microphones for a fraction of the price

Record acoustic guitar with unparalleled flexibility and control

Dual outputs allow you to record in stereo, mixing and matching between different mics for the perfect tone
For Budget
Lewitt LCT 140 AIR
You'll get a great acoustic guitar recording without spending a fortune

Get two stereo-matched microphones for less than $350

It's durable and lightweight
For Premium
Soyuz 013 TUBE
These mics allow you to make beautiful acoustic guitar recordings without much post-processing


Soyuz microphones are built by hand, ensuring quality and craftsmanship

The larger body and capsule give you the best of a small and large diaphragm condenser