Let's get one thing straight, music gear is all subjective. At the end of the day, we are all searching for tools that will help inspire us and help us create the sounds that we hear in our heads.
This is impossible to measure since great music has been created with gear many may consider "not good."
Another challenge with putting together "best of" articles for music-related products is that tons of instruments and music gear are on the market, constantly releasing new things.
However, these challenges don't stop us from creating and curating excellent resources for the music community to help make a confident purchasing decision.
This page will give you insight into how we research, test, and compile our reviews to give you confidence in the promoted products.
How We Choose Music Products for Roundups
Our founder, researcher, and head writer, Brad, has been a musician his entire life. He began playing guitar when he was nine years old. Since then, he has recorded records, toured, built home studios, and worked in professional recording studios.
He's personally owned gear from most major manufacturers (Taylor, Gibson, Fender, Marshall, etc.). He has had hands-on experience with hundreds of products.
When he evaluates a piece of gear to make it onto one of our roundup reviews, He pulls from experience, hands-on testing, researches what other subject matter experts have said about the gear, and reads user-generated reviews.
He often goes into local shops and gets hands-on experience with brands and models for musical instruments like guitars. Brad is fortunate to live close to wonderful stores with a great selection. Some of these shops include Guitar Center in Fountain Valley, Sam Ash in Westminster, and the Guitar Shoppe in Laguna Beach.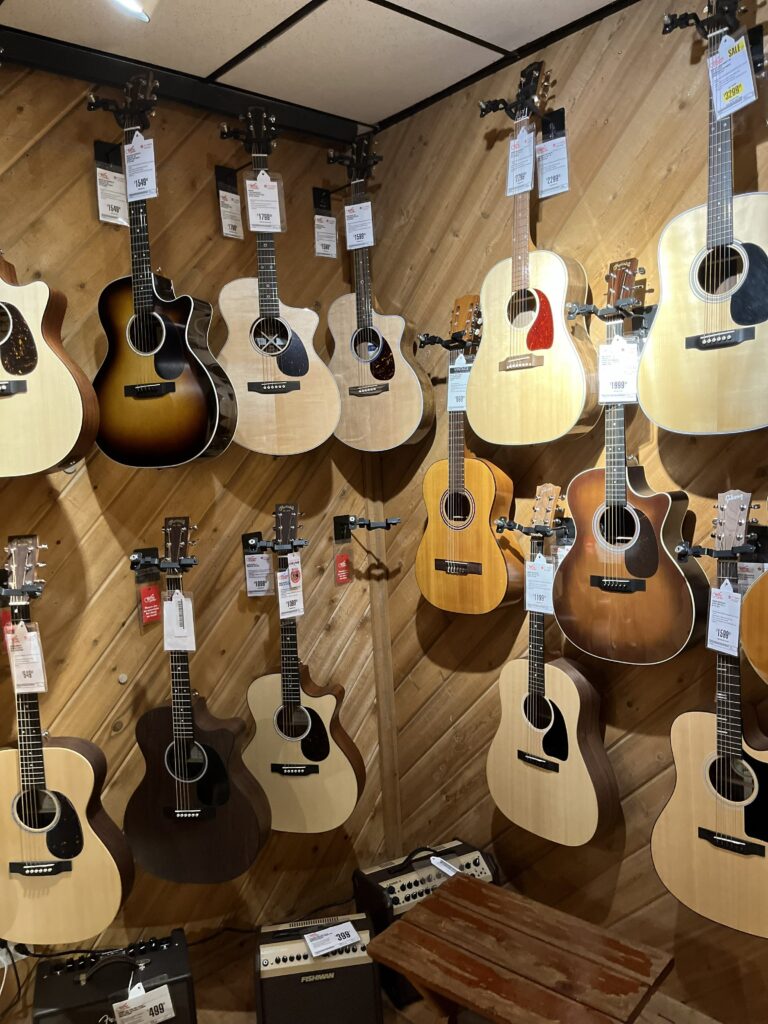 Hands-On Experience vs. User-Generated Reviews
Sometimes, products get recommended that we don't have hands-on experience with. However, we can make an educated guess based on the product's specs, the brand's reputation, and experience. We will also read through user-generated reviews and research other expert reviews online.
For example, If a Taylor 214ce is recommended, this model may not have been played. However, a 200 series Taylor was tested before with a grand auditorium shape. Now if we consider reviews (both user-generated and from subject matter experts) of this model are mostly positive, we can safely recommend this specific instrument based on all these combined factors.
Also, sometimes we've used a particular product that we no longer have access to. However, our experience with it will often persuade us to include this on a list if it is relevant.
How We Choose Brands to Promote
We choose to promote major manufacturers to ensure availability and manufacturing consistency. You'll notice that in our acoustic guitar roundups, we highly recommend Taylor Guitars often. This is because, from our experience, there haven't been many Taylor Guitars we didn't like.
They are impeccably made, environmentally conscious, and they are consistent. The same goes for brands such as Fender, PRS, and Martin.
We consider the chance of you not getting a lemon from purchasing a piece of gear online by my history with the brand and user-generated reviews.
We tend to avoid promoting some companies and products based on the difficulty of purchasing and/or if it's a limited run.
Why We Promote Sweetwater (Our #1 Recommended Online Shop)
Sweetwater is the online retailer I trust for all our music purchases. They have an incredible selection, excellent customer service, and send products in one piece.
If you're considering any new gear, we highly recommend starting with Sweetwater and giving them a chance to wow you with their service.
Why We Promote Guitar Center
Guitar Center is the original gangsta of big box music retailers. What we love about Guitar Center is that we can still walk into a physical store and get gear in our hands. You can get items shipped to Guitar Centers to try out, and they have a no-hassle return policy.
While Guitar Center gets a bad rap for being "The Man" of guitar shops, We've had great experiences in our local shops and highly regard them as a fantastic place to purchase an instrument or new piece of recording gear.
Why We Promote Amazon
We get the convenience of shopping through Amazon and want people to shop through the channels they are comfortable with.
However, suppose you are thinking of purchasing any instrument through Amazon that is intermediate to advanced ($500+). In that case, we'd consider going with Sweetwater or Guitar Center, as they will ensure the gear you purchase is in good working order and arrives safely.
Why We Promote eBay
As musicians, we often like to trade gear for new gear. And usually want to find a good deal on the used market. eBay has been a reliable channel for our founder for decades (he's getting old :)) to get great deals on used gear.
We wouldn't recommend it for brand-new gear, but eBay is a reliable place to start if you're hunting for a deal.
Our Promise With Song Production Pros
We're creating the best resource for songwriters and musicians. Whether recommending products or creating free training to help advance your skills.
As our site grows (thanks to readers like you), we plan to partner with all the major brands to get better feedback, up-to-date information, and products to demo so we can create the most comprehensive review articles for the music community.
If you have any questions regarding the review process, please email us at feedback@songproductionros.com.
Thanks for visiting our site, and we wish you well on your journey to creating music you're proud to share with the world!