Editor's Choice
Taylor 914ce
The guitar's tone is clear, crisp, and high-fi

Taylor is one of the most creative and cutting-edge guitar builders today

This guitar is easy to play and sounds excellent amplified

It's an investment that will last you a lifetime
Best Tone
Martin OM-28 Modern Deluxe
A guitar with a rich tone that sounds familiar and inviting

The neck profile is more comfortable and less bulky than a vintage instrument

OM body style adds articulation, focus, and punch to the sound

A beautifully built guitar with a vintage look, but modern playability and design features
For Gigging
Takamine TSP178AC
The Thinline body type is comfortable and easy to play for long periods

Play with confidence, knowing that your on-stage tone will be perfect

Handcrafted in Japan with impeccable construction and an eye for detail

Great projection from all Maple construction
Are you looking at acoustic guitars over $2,000 but don't know where to start?
Finding the best high-end acoustic guitars can be difficult because most guitar shops don't carry many in their inventory.
This is a problem for two reasons. First, you may be unable to try out all the models you're interested in before making a purchase decision. Second, it makes your search much more complicated than it needs to be. 
I've done the work for you by coming up with a list of the best high-end guitars. This will help you make an informed decision, so you get a guitar perfect for your level of expertise and playing style.
I've concluded from my 25+ years of guitar playing and research that the Taylor 914ce is the best acoustic guitar for versatility, construction, sustainability, and electronics.
However, I've got plenty of other great recommendations that should help guide you toward your perfect purchase.
Let's get started!
The Best High-End Acoustic Guitars in 2023 at a Glance
Editor's Choice
The 914ce V-Class by Taylor Guitars is the perfect choice for the discerning guitarist who wants only the best. This guitar is built with high-quality materials and craftsmanship, and it shows in its sound and performance.
The solid Sitka spruce top and solid Indian rosewood back and sides create a classic tonewood combination that produces a clear, dynamic sound. 
This guitar is incredibly versatile and responsive to all playing styles, making it a joy to play. And the beautiful modern design is sure to turn heads wherever you play it.
The 914ce by Taylor Guitars gets top honors for being one of the best high-end acoustic guitars. This is because it's incredibly versatile, plays well, and is a beautiful-looking modern acoustic-electric guitar.
This guitar features a solid Sitka spruce top and solid Indian rosewood back and sides. This classic tonewood combination produces a crystal clear and dynamic sound that responds beautifully to all playing styles.
What makes this guitar worth every dollar of its high-price tag comes down to the details.
First, Taylor has three proprietary design elements you won't find in any other acoustic guitar on this list.
V-Class Bracing
Expression System 2 Electronics
NT Neck Design
V-Class Bracing was introduced to the world by Taylor's Head Luthier Andy Powers in 2018. This innovation was a significant pivot to the X-Brace design used in most acoustic guitar designs developed by Martin in 1843.
V-Class bracing gives a guitar better intonation, sustain, and projection. This makes the guitar sound more open, round, and expressive no matter what part of the neck you're playing.
Speaking of neck, Taylor's NT Neck Design can potentially save you a hefty repair bill later down the road.
Instead of gluing the neck into the acoustic guitar body (dovetail joint), the NT System doesn't use glue. It can be easily adjusted in a matter of minutes. Last I checked, a neck reset from my local Luthier was shy of $1,000 for traditional necks (ouch!).
The last Taylor-only innovation is the Expression System 2 Electronics. This proprietary system features a behind-the-saddle pickup with three calibrated pickup sensors to give your plugged-in tone authenticity and accuracy in its natural tone.
The 914ce features a mahogany neck with an ebony fingerboard, a classic wood combination that gives a "buttery" playing experience characteristic of Taylor Guitars.
This acoustic-electric guitar has an understated beauty, but when you look closely at the guitar, you will notice the incredible attention to detail in its construction.
The most notable design features are the ebony armrest and the beautiful abalone fret and headstock inlays.
The ebony armrest helps keep a guitar player's arm off the soundboard to help with the overall resonance and quality of the guitar's tone.
While this guitar is wonderfully constructed, lightweight, and plays like a dream, it isn't a guitar for everyone.
Some players might find the high-fidelity of the guitar's tone too bright and modern. There is nothing vintage about this guitar, and it does lack a sense of intimacy that you will find with other guitars on this list.
However, suppose you're a guitar player looking for a highly reliable, premium acoustic guitar that can do it all. In that case, the 914ce will not disappoint you.
It's a bonus that Taylor is leading sustainability efforts in manufacturing and labor. There is much to feel good about when purchasing this excellent guitar from Taylor!
Pros
Crystal clear sound that responds beautifully to all playing styles

Taylor is one of the most innovative, cutting edge builders of guitars today

Plays with a buttery smoothness that is unparalleled

It's a beautiful instrument that will last you for a lifetime
Cons
It's very expensive

The tone might be too modern for some players
If you're interested in the best Taylor Acoustics, please refer to my article "The Best Taylor Acoustic Guitars For All Styles and Budgets"
Best Tone
Looking for a vintage-style guitar with modern design elements? Look no further than the Martin OM-28E Modern Deluxe. This guitar has the perfect balance of old and new, with a rich tone that will make your heart sing.
The OM-28E is part of Martin's Vintage Tone System, which gives the guitar that sought-after vintage sound. But this guitar is more than just a pretty face - it's also built to last, with a high-quality construction that will keep you playing for years to come.
So if you're looking for a guitar with great tone, vintage style, and lasting quality, then the Martin OM-28E Modern Deluxe is the perfect choice for you.
Martin Guitars is the OG manufacturer of acoustic instruments, and their guitars have a legendary build and tone.
The Martin OM-28E, in particular, has a rich tone that sounds familiar and inviting. When you strum the OM-28E, every note is articulate and present, and the sound just hits you in the heart.
Martin developed the Modern Deluxe lineup of guitars to give players a vintage-style guitar with modern design elements.
To accomplish the holy grail of vintage tone that guitar players seek, Martin developed their Vintage Tone System. The Vintage Tone System ages the solid Sitka spruce soundboard, giving the guitar a look and sound of a guitar built decades ago.
This high-end acoustic guitar features solid East Indian rosewood back and sides for classic sound quality when paired with the solid Sitka spruce top.
Vintage guitars often have big, bulky necks. So on the OM-28E Modern Deluxe, Martin has created an asymmetrical neck profile that changes shape while playing up and down the neck, making for a more modern, comfortable playing experience.
Another modern design feature on the OM-28E is the liquid metal bridge pins and very lightweight carbon fiber bridge plate.
The liquid metal bridge won't absorb any of the string vibrations, which improves the sustain and clarity of the guitar's sound. While the carbon fiber bridge plate doesn't add unnecessary weight to the top of the guitar, so it resonates more freely.
The pinched waist of the OM body gives the guitar extra articulation, focus, and punch to the sound and makes it a versatile guitar for guitar players.
The OM-28E Modern Deluxe can be purchased with Fishman Aura VT electronics or without. Suppose you don't find yourself gigging out often. In that case, you can save yourself several hundred dollars by getting the guitar without (you can check that one out by clicking here).
However, suppose you want the most versatile and feature-rich version. In that case, the Fishman electronics will exceed your expectations for what a plugged-in tone can sound like.
The Adjustable Aura Image Technology is built into the electronics, which allows you to blend studio-recorded sound into your pickup sound. This gives a level of depth and quality often missing in standard piezo acoustic guitar pickups.
While the OM-28E Modern Deluxe is a beautiful guitar with a world-class tone, it's not for everyone. If you're looking for a guitar to play fingerstyle, jazz, or bluegrass, the OM-28 neck may be too bulky for you.
However, if your main focus is strumming and playing folk songs at jam sessions with friends, the OM-28E has the rich tone and character you need.
Pros
The OM-28 is a high-end guitar with a rich, vintage tone and a classic look

Own an instrument with history and tradition

Liquid metal bridge pins improve the sustain and clarity of the guitar

The OM body style gives the guitar an articulate, punchy sound
Cons
The neck weight is slightly heavy

An expensive guitar that doesn't come with electronics
If you're interested in the best Martin Acoustics, please refer to my article "The Best Martin Acoustic Guitars for the Tone-Obsessed Player"
Best for Indie/Blues
The Gibson Custom 1942 Banner LG-2 acoustic guitar is a spectacular instrument with a rich history.
The Adirondack spruce top gives the Banner LG-2 a more transparent, assertive, and dynamic sound, perfect for folk and blues music. 
This guitar's vintage design and construction make it a genuine collector's item. If you're looking for an authentic World War II-era guitar, the Gibson Custom 1942 Banner LG-2 is a perfect choice.
The 1942 Banner LG-2 is brimming at the seams with mojo and character. This acoustic guitar isn't the most versatile instrument on the list, but it excels at what it does best. Giving you an enjoyable, authentic playing world war two era guitar.
This handcrafted guitar has a torrified solid Adirondack spruce top and solid mahogany back and sides. Adirondack is known for being more transparent, assertive, and more dynamic compared to other Spruces. This helps give this guitar a surprising punch for being so small.
This acoustic guitar's short scale and narrow waist give the Banner LG-2 a remarkable clarity across all notes and strings.
The Gibson LG-2 responds quickly to a light touch. This makes it perfect for fingerstyle musicians who perform in small, intimate settings.
The tone of this guitar is distinct, "woody," and worn-in. This makes the LG-2 an excellent choice for blues players and musicians who play folk music.
Suppose you're a musician searching for an acoustic guitar tone that feels nostalgic, cool, and vintage. In that case, the Gibson Custom 1942 Banner LG-2 is an attractive option!
Pros
Blast to the past with this vintage-inspired guitar

The tone is clear, dynamic, and bluesy

Torrified spruce top makes the guitar sound like it was built decades ago

Made in Montana, USA, with beautiful handmade construction
Cons
This guitar has a specific tone and isn't modern or versatile

Being a small-bodied acoustic, the tone lacks low-end oomph
If you're interested in the best Gibson Acoustics, please refer to my article "The Best Gibson Acoustic Guitar for the Inspired Songwriter"
Best for Fingerstyle
This Taylor 812ce design works exceptionally well for fingerstyle players. This guitar responds quickly, is easy to play, and has a rich and balanced tone. 
The short-scale, 12-fret tropical mahogany neck and Grand Concert body shape make this guitar comfortable and easy to play, while the solid Sitka spruce top gives the 812ce a rich, dynamic sound.
If you're looking for something to help bring out the tiny nuances in your playing, this guitar is worth a closer look.
The 812ce Taylor acoustic is a beautiful guitar designed with intimacy and delicate playing in mind.
The Grand Concert body shape matched with a short-scale, 12-fret tropical mahogany neck makes this guitar have "slinky" playability. This guitar responds quickly to a light playing style.
What makes that unique for this small-bodied guitar is that while the design is perfect for fingerstyle, it holds up surprisingly well to heavy strumming without losing clarity. This is due to the innovative V-Class bracing, solid Sitka spruce, and Indian rosewood back and sides pairing.
This guitar is more than a one-trick pony and is very versatile.
Also, if you enjoy singing while playing guitar, the 812ce is a fantastic guitar for you.
The solid Indian rosewood back and sides scoop out the midrange, allowing vocals to sit within this pocket and seamlessly blend in with the guitar's tone.
This guitar looks deceptively simple at first glance. Still, as you inspect the guitar further, you see the craftsmanship and attention to detail that built every aspect of this high-end acoustic guitar.
With its beveled armrest, maple binding, and Taylor slot head tuners, this instrument will surely please any musician looking for a non-flashy but elegant guitar.
Like the other Taylor's on this list, the 812ce comes equipped with Taylor's Expression System 2. You can plugin and be confident that this guitar's beautiful acoustic tone will translate through any speaker system you play it through.
This highly versatile guitar is great for players who specialize in playing with their fingers and those with smaller hands and frames.
Pros
It's perfect for light playing styles and intimate settings

It has a rich, dynamic sound that's articulate, modern, and punchy

Crafted with the utmost care and attention to detail

Great for fingerpicking, smaller hands, and small frames
Cons
It's expensive

If you're a larger-framed player, the guitar might feel too small in your hands
Best for Flatpicking and Strumming
The Gibson SJ-200 Original Jumbo is perfect for flatpicking and strumming. With its jumbo body, this guitar produces a loud and beefy tone that is perfect for those who want to make a statement. 
The articulation and tonal balance of the SJ-200 are unrivaled, making chords ring out with clarity and excellent note separation. So if you're looking for an acoustic guitar that can handle hard strumming and power, then the SJ-200 is perfect.
The SJ-200 (Super Jumbo) is one of Gibson's most recognized acoustic guitar designs and is nicknamed the "King of Flat-Tops."
Jumbo guitars are a dreadnought body shape on steroids (yes, this analogy is overused…but it just works) and produce a loud and beefy tone.
However, because these guitars' waist has more pinch than a dreadnought, the tone has more articulation and tonal balance. Making chords ring out with clarity and with excellent note separation.
The SJ-200 Original Jumbo features a Sitka spruce top and flamed maple back and sides that project sound across a room while keeping a balanced tone and good sustain.
This is not the ideal acoustic guitar for a light touch or fingerstyle player. This guitar demands hard strumming, power, and swagger to create those large, assertive-sounding chords.
Also, the large body design and larger nut width (1.725″) will feel overwhelming and bulky for those with small hands and frames.
The SJ-200 features LR Baggs VTC under-saddle pickup, which provides a beautiful plugged-in tone that maintains the integrity of the guitar's natural resonance.
The SJ-200 Original Jumbo is a modern guitar that takes everything players love about the vintage styling of Gibson's designs while sparing no expense in playability and modern features.
Pros
These guitars produce a loud, clear, and beefy tone

It has a great tone and sustain

These guitars have a beautiful and classic look with modern playability

One of the most unique and recognizable guitars on the market
Cons
Not a great acoustic guitar for delicate playing styles

If you're a smaller-framed player, the guitar will feel big and uncomfortable in your arms
Best for Recording
Looking for a high-end acoustic guitar that will give you excellent recordings? Look no further than the Taylor 522ce 12-Fret. This guitar is perfect for any style of music, with a versatile and articulate sound that will make your recordings shine.
You'll be able to play for hours without any discomfort, and when it comes to tone, the 522ce has a rich and focused sound that will bring your recordings to life.
Ok, you might be able to tell by now that I'm a big fan of Taylor Guitars. This is the third guitar on this list for a good reason.
When you're looking for the best high-end acoustic guitars to record with, there are some specific criteria and design features you should be looking for.
Playability over a long period
Articulate and focused tone
Versatility in playing styles and genres
The Taylor 322ce 12-Fret ticks all these boxes.
First, the solid mahogany and blackwood back and sides construction creates a more "vintage" sound than the bright Taylor sound characteristic of their other guitars.
Mahogany also naturally compresses a sound. This will make your guitar playing sound more even. Your engineer will love this as it will allow them to put less processing on your guitar and give you more headroom for mixing later on.
The Grand Concert body style is a more intimate, articulate guitar. This smaller-bodied guitar has less projection but focuses the sound, which generates separation and clarity in every note or chord played.
What's even cooler is you can choose between a cutaway or non-cutaway depending on your preference.
The short-scale "slinky" playability and buttery ebony fingerboard of this acoustic guitar will make your recording session more pleasurable when doing take after take.
The 12-Fret design also creates less string tension, so the easy playability will have you feeling less tired when playing for long periods.
Even with the deep, warm, mid-range tone created by the all-mahogany design, Taylor still has created a guitar with a modern tonal flair. This guitar is highly versatile for all musical genres and playing styles.
If you're looking for a fantastic guitar that will be your go-to for recording, then the Taylor 322ce 12-Fret is about as good as you can get.
Pros
Your guitar sound will be easier to mix in post-production

Recording sessions will be more pleasurable and less tiring with this instrument

The articulate, mid-range forward tone is perfect for recording

Versatile guitar, perfect for all types of musical genres and playing styles
Cons
Some users have claimed the high E string can easily slip off the fretboard during bends and slides

Mahogany top doesn't have as expressive dynamics as other tonewood types
Best for Gigging
Looking for an acoustic-electric guitar that is perfect for gigging? Look no further than the Takamine TSP178AC! 
This instrument combines the best features of both electric and acoustic guitars, making it an excellent choice for any performer. With its Thinline body type, the TSP178AC is comfortable to play for long sets and sounds great in any environment. 
With Takamine's renowned craftsmanship, you can rest assured that this guitar will perform flawlessly night after night.
If you perform often, you know how important it is to have a reliable acoustic-electric guitar. One that is versatile, comfortable, and sounds great in any environment or sound system.
The Japanese guitar manufacturer Takamine is famous for making some of the best acoustic-electric guitars for on-stage performances.
The TSP178AC is one of Takamine's best acoustic guitars for performing because it combines the most significant features of an electric and acoustic guitar into a single package.
The Thinline body type has a slim, comfortable physique and a shorter-scale neck, making the instrument pleasant to play for long back-to-back gigs.
The solid maple design with the arched back of this guitar generates a bright sound with good dynamics and projection. The big sounds from this acoustic-electric were unexpected, given how tiny the guitar feels in your hands.
Takamine guitars invented the acoustic-electric guitar as we know it today. They have built on this reputation as one of the best on-stage performance guitars by developing their own proprietary acoustic electronics.
The TSP178AC includes one of their newest electronics innovation with the Cool Tube Preamp.
The Cool Tube preamp gives the guitar's sound a rich and fat tone, similar to what you hear on records of the past. The Cool Tube preamp features a 3-band EQ, built-in tuner with a mute control, gain knob, and sweepable notch eq for feedback prevention.
The TSP178AC is a versatile acoustic-electric guitar that will work for many genres of music. This Takamine TSP178AC acoustic-electric guitar should be at the top of your list if you're looking for the ideal stage instrument!
Pros
Excellent dynamics and projection from such a small guitar

It's a beautiful Japanese guitar that is expertly made

Innovative tube preamp creates a fat tone that sounds like a record on stage

It's easy to play and sonically diverse
Cons
Not the best choice for a pure acoustic tone

Comes with a softshell case and not a hardshell
If you're interested in the best Takamine Acoustics, please refer to my article "The Best Takamine Acoustic Guitars for Performing Artists"
Best for Small Spaces and Couch Playing
If you're looking for a premium acoustic guitar that is small and comfortable to play, the Martin 0-18 is a perfect choice. 
It has a timeless look and great tone, making it the ideal instrument for anyone who wants to make beautiful music without annoying their roommates or family.
Nowadays, more of us are working from home, living in smaller apartments, and sharing spaces with multiple roommates.
Because of this, we need to consider the practicality of our living arrangements and what instrument will best suit our needs and not annoy those around us.
The Martin 0-18 is a premium acoustic guitar that has a timeless look, great tone, and comfortable playability in a small package.
The 18 Series by Martin Guitars features a solid Sitka spruce top and mahogany back and sides. This gives the guitar a balanced and dynamic tone emphasizing the mid-range. There isn't a lot of high-end in this guitar, and it has a worn-in, vintage character.
However, the short-scale and tapered neck with ebony fretboard provides very buttery playability no matter what position you play on the fingerboard.
This gives the Martin 0-18 modern feel while maintaining that vintage character guitar players tend to gravitate towards.
The parlor shape of the 0-18 makes it very lightweight and a superb guitar to lounge around and pluck while watching TV or hanging with friends. While this small-bodied guitar has a focused and punchy sound, it isn't a loud guitar, so it won't overpower other sounds in a room.
This guitar doesn't come with electronics or pickups, so you won't be able to take the guitar out for a gig unless you install one yourself.
However, as I stated, this type of high-end acoustic guitar experienced players purchase to enjoy in their sweatpants while winding down after a long day of work.
It will become your daily strummer and probably your most played guitar if you choose to invest in one. So what are you waiting for?
Pros
You'll feel like you're playing on an old friend every time you pick it up

Every note will sing to your heart and soul

Perfect for playing in small spaces or while lounging watching TV

The tone is punchy but not overwhelming
Cons
It doesn't come with any electronics

Not a great choice if you want a guitar that will get loud
Buyers Guide for Premium Acoustic Guitars
Acoustic guitars are created, developed, and perfected to allow musicians to reach their full potential and creativity.
Playing styles for acoustic players can be broken down into three categories:
Fingerstyle players who have intimacy and passion
Players who are dynamic, versatile, and adaptable
Strummers and flatpickers who dig into their guitars
As a more experienced player, you'll want to invest in guitars specializing in one area.
Knowing what you'll use the guitar for will help you decide which premium acoustic guitar is right for you.
When looking for a guitar to buy, consider the following questions:
Are you recording more than gigging?
Are you gigging out a lot?
Do you play with other musicians?
Do you travel a lot?
Do you live in a small space with roommates?
Do you play with a pick, your fingers, or both?
Do you play and sing at the same time?
Are you looking for something vintage or more modern?
When you can answer these questions, it will help you sort through the different guitar models and constructions that guitar brands offer.
Body Style
The body style of an acoustic guitar should be one of the first criteria you choose when shopping and doing research.
Here is a quick rundown of the most popular body types and how they affect the sound of a guitar:
Parlor: Vintage mojo. Great for blues and rustic folk/country artists
Concert (0): Great for fingerpicking and intimate playing
Grand Concert (00): Great for recording with its balanced, articulate tone
Grand Auditorium (000): The swiss-army-knife shape that does all things well
Dreadnought: Fat low-end and loud. Excellent for cutting through a dense/loud mix
Jumbo: Big, loud, and balanced. These are performance guitars that aren't subtle
While plenty of other body shapes on the market, they generally modify one of these body styles.
Tonewood Choice
Premium acoustic guitars are going to be made with all solid wood. No laminates, no cutting corners.
Solid wood construction is like a fine wine that gets better over time.
So when deciding between different "luxury" guitars, the tonewood combination will significantly impact the instrument's dynamics, tone, and playability.
Top Wood
An acoustic guitar's soundboard (or top wood) is critical. It has the most impact on your instrument's projection, playability, and dynamics.
Let's discuss some of the most frequently used soundboard tonewoods so you can easily find the best one for you.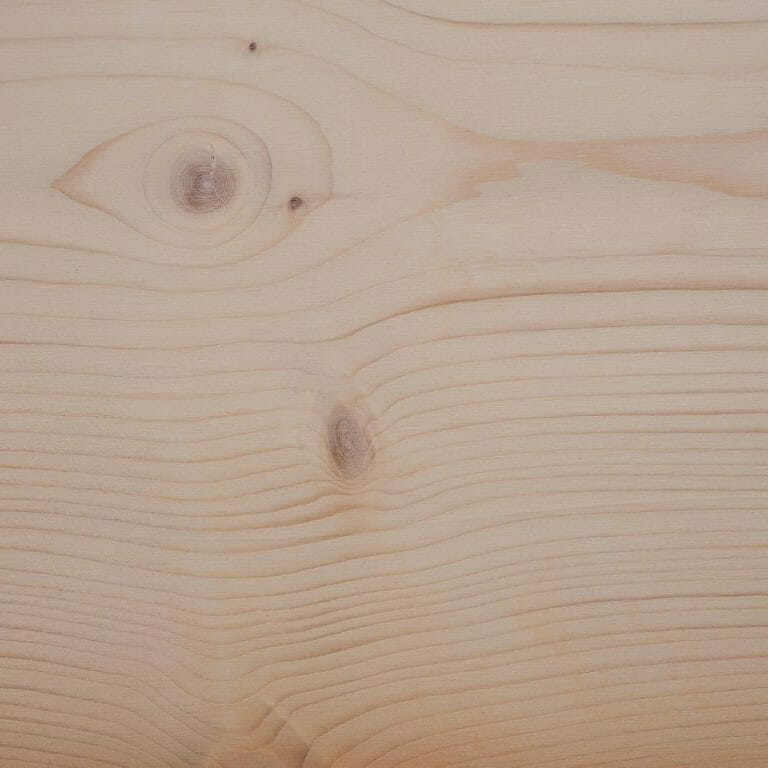 Spruce
Acoustic guitars are often made with spruce, the most famous being solid Sitka spruce. Spruce is a softwood with a wide dynamic range and sonically diverse sound.
Spruce works for many players, from lighter fingerpickers to strong strummers.
There are many species of spruce, and each has its own characteristics.
The following are some examples of spruce that you will find in a guitar's construction:
Solid Sitka Spruce Top: Dynamic, balanced, and articulate
Solid Lutz Spruce Top: Loud, lively, and vibrant
Solid Engelmann Spruce Top: Warm, vintage, midrange-focused tone
Solid European Spruce Top: Very dynamic and a focused midrange
Solid Adirondack Spruce Top: Crisp, clear, and vibrant tone
Solid spruce will be the most common and adaptable tonewood on acoustic guitars from any brand, and you can't go wrong with it.
Cedar
Cedar is a softwood with a pale, reddish color resembling spruce. It doesn't have the same dynamic range as spruce, but it does have a distinctly warm tone that you won't hear in other tonewoods.
It's a fantastic choice for musicians who desire a more laid-back guitar that is intimate and responsive to light strumming and fingerpicking.
Cedar is typically used on classical guitars. However, some manufacturers, such as Taylor, use cedar for steel-string guitar construction.
The disadvantage of cedar is that it doesn't stand up well to heavy strumming and can "blow out" if played hard.
Mahogany
Mahogany is a dark-colored hardwood. When used as a top wood, it has a classic vintage sound that is warm and soothing.
Mahogany is an ideal guitar for folk, blues, and solo performers.
Mahogany tops work well for fingerpicking because the wood is sensitive to a light touch and has a long sustain.
Another advantage of using mahogany as a top wood is that it naturally compresses the guitar's tone. This can assist players in sounding more consistent in their playing.
Koa
Koa is a hard, lightweight wood found in Hawaii. In my opinion, it's the world's most beautiful-looking tonewoods.
Koa has a bright, clear sound with good projection and sustain. It's great for cutting through a loud mix of other instruments.
Koa-topped guitars are bright, and Koa isn't for everyone. It may sound too overwhelming and brittle if you play with heavy picks.
However, suppose you're a musician who prefers to finger strum. In that case, the increased brightness of Koa may help the projection and clarity of the top-end frequencies of your guitar.
Back and Sides
The body wood affects the EQ curves of the guitar. In contrast to the top wood, which predominantly influences playability, dynamic range, and projection.
Guitars that move beyond the $2,000 price range can get into some unique alternative woods and constructions.
Because alternative woods are frequently compared to the most popular woods, I will only cover the often used ones for this article.
Maple
Maple wood is one of the most beautiful-looking tonewoods. It's commonly referred to as having a bright, clear tone.
Maple's lack of overtones makes it ideal for strumming. It helps bring out each note within a chord and sounds articulate and balanced.
Maple is frequently used on Jumbo guitars and other instruments where projection is the primary goal.
Walnut
Walnut is a more woody and warm version of maple. Walnut has an excellent bass response and long sustain that bold strummers love.
If you want the clarity and projection of maple but with a little more mid-range warmth, a Walnut body and sides guitar is a great option!
Rosewood
Rosewood has been the most popular back and sides tonewood for acoustic guitar construction.
Rosewood has a "scooped" midrange that singers love because their voice can occupy the mid-range frequencies range without clashing against the guitar's sound.
Mahogany
Mahogany is a popular tonewood for guitar bodies. It provides a classic "bluesy" sound and looks fantastic.
It's durable and helps softer woods like Cedar or Spruce have more projection and sustain.
Koa
Koa has a comparable tone to mahogany, although it has a more brilliant high-end. If you're looking for an acoustic guitar to have articulate highs that can cut through a dense mix, Koa is an excellent option.
While Koa is a very beautiful tonewood, the emphasized high-end might be too shrill to some. However, the tone will dampen as the tonewood ages.
Scale Length
The scale length doubles the distance between the bridge saddle and the 12th fret.
A full-size guitar has a scale length of around 25.4 inches, while a shorter-scale instrument has a roughly 24.7-inch scale length.
Shorter-scale guitars have less string tension, resulting in a "slinkier" playing experience. This makes the guitar easier to play. Short-scale guitars generally have a warmer midrange tone as well.
However, full-scale guitars generally maintain tuning better when playing in alternate tunings.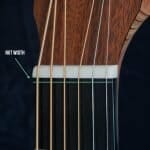 Nut Width
The nut width is the distance between the strings on the guitar and the edge of the fretboard.
Standard nut widths are:
Small: 1 11/18" (1.61 inches)
Average: 1 3/4" (1.73 inches)
Large: 1 7/8" (1.875 inches)
Look for a balance that is comfortable for your hand size. If you have large hands, opt for something in the average to large size; choose something smaller if you have tiny hands.
Neck Shape/Radius
The neck radius of a guitar impacts how it feels in your hand.
A 7″ to 9″ neck radius is more rounded and pleasant for chord playing, but it wouldn't be as comfortable for playing scales.
On the other hand, a 16″ neck radius will feel more like an electric guitar and have a quicker response, making it perfect for "shredding."
Tapering necks are typical on premium guitars, where the neck is thicker at the nut for open chords and thins out as you move up the fingerboard.
Tapering necks often provide unparalleled comfort and playability.
Soundboard Bracing
When shopping for a guitar, the most common bracing systems are:
A guitar's bracing is a system of internal support that strengthens the guitar. It also has an immediate influence on how your guitar resonates.
Unscalloped X-Bracing
Scalloped X-Bracing
V-Class Bracing
Scalloped X-bracing is the most frequent type of acoustic guitar bracing. The term "scalloped X-bracing" refers to the internal bracing being shaved away for the soundboard to vibrate more easily.
Scalloped X-bracing gives acoustic guitars better dynamic range, projection, and bass response. However, a downside of this bracing system is the loss of note sustain.
Unscalloped X-Bracing, on the other hand, does not remove wood from the internal bracing. This results in excellent stability in the top wood, producing a more balanced, sustained tone. However, you'll lose some loudness because the top wood doesn't vibrate as rapidly.
The Taylor V-Class Bracing is a Taylor-exclusive design by head luthier Andy Powers.
Taylor's V-Class Bracing is designed to enhance a guitar's loudness and sustain while also providing near-perfect intonation. It's a significant step forward for guitar manufacturing and one of the reasons I prefer Taylor guitars to other brands.
FAQ
Your most pressing questions about high-end acoustic guitars answered!
Do I need to buy a high-end acoustic guitar to sound professional?
No, you don't need to buy a high-end acoustic guitar to sound professional. A great player will be able to make any guitar sound good.
However, a high-end acoustic guitar will typically have better tone and sound quality than a cheaper model.
If you're just starting, I recommend buying a cheaper acoustic guitar until you figure out what type of music you want to play and what kind of sound you're looking for.
Once you have a better idea of what you want, you can start shopping for higher-priced models.
What is the most expensive brand of acoustic guitar?
Each guitar manufacturer on this list has some expensive guitars in their lineup, making them all costly brands.
If you go through one of these guitar brands' custom shops to build you a guitar, you can get guitars made that are the price of a new car.
However, expensive doesn't always equate to better. There are a lot of incredible guitars that are less than $2,000 that will play and sound really good.
Remember, it is more about the player than the gear.
Are high-end acoustic guitars worth it?
Yes and no. Suppose you are an experienced player that knows what you're looking for. In that case, a high-end acoustic guitar is definitely worth the investment.
However, it's not worth the extra money to purchase a high-end guitar if you are a beginner.
A lower-priced acoustic guitar will do just fine until you've developed your skills and better understand what you're looking for in a guitar.
At the end of the day, it all comes down to personal preference. Some people prefer the sound and feel of high-end guitars, while others find them too expensive and overwhelming.
The best thing to do is try out different guitars until you find one that feels right for your playing style and ability level.
What is the best acoustic guitar money can buy?
The best acoustic guitar that money can buy is the one that you can afford.
Most guitar players will never need to purchase high-end acoustic guitars because their skill level doesn't warrant it. The design and nuances that go into high-end acoustic guitars are catered to the experienced player.
Once you get above $3,000 for an acoustic guitar, you enter the "buy it only if you can afford it and know why you need it" category.
What are the benefits of purchasing a high-end acoustic guitar?
The tone and sound of a high-end acoustic guitar are dramatically better than those of lower-quality guitars.
This is due to many factors, but one significant factor is the solid wood used to produce the top-of-the-line instruments.
High-end acoustic guitars are much more articulate than their less expensive counterparts. They sound deep and resonant in the lower registers. They also have exceptional clarity when it comes to the trebles.
The craftsmanship that goes into constructing a high-end acoustic guitar is unrivaled. From the wood to the complex inlay work, no aspect is overlooked. As a result, they have a stunning sound and look.
Furthermore, high-end acoustic guitars are designed to last a lifetime. The finest materials, technologies, and handcrafted construction ensure that your guitar can become a family heirloom.
Suppose you're searching for a long-lasting instrument that won't disappoint you. In that case, a high-end acoustic guitar is worth considering.
How come you didn't feature any 12-string acoustic guitars?
Because they are specialty instruments, I did not include 12-string acoustic guitars on my list.
However, I created a separate article titled "The Best 12-String Acoustic Guitars for Every Style in 2023" that covers these instruments in-depth.
What about acoustic bass guitars?
I didn't include acoustic bass guitars in this article as I feel like they deserved their own article. You can check out the best acoustic bass guitars here.
To Recap
The Taylor Guitars 914ce is the best high-end acoustic guitar in 2023. It has a beautiful and elegant sound and is comfortable to play. It also comes with a great electronics system, is sustainably made, and is versatile.
So many other guitars on the market offer great features, but we believe you'll love what this one has to offer!
Happy music making!
Editor's Choice
Taylor 914ce
The guitar's tone is clear, crisp, and high-fi

Taylor is one of the most creative and cutting-edge guitar builders today

This guitar is easy to play and sounds excellent amplified

It's an investment that will last you a lifetime
Best Tone
Martin OM-28 Modern Deluxe
A guitar with a rich tone that sounds familiar and inviting

The neck profile is more comfortable and less bulky than a vintage instrument

OM body style adds articulation, focus, and punch to the sound

A beautifully built guitar with a vintage look, but modern playability and design features
For Gigging
Takamine TSP178AC
The Thinline body type is comfortable and easy to play for long periods

Play with confidence, knowing that your on-stage tone will be perfect

Handcrafted in Japan with impeccable construction and an eye for detail

Great projection from all Maple construction