Ever felt like a gentle giant clumsily serenading the moon with your acoustic guitar because your fingers felt too darn big? Hey, I get it.
With fingers that could give the most epic bratwurst a run for its money, I've too often felt like I was trying to type on a doll's keyboard while playing a standard guitar. It's like jamming with a toy – lots of missed chords, zero groove.
But fear not! The expanding universe of the best acoustic guitars with wide necks is here to help you hit the right notes with flair. Tailored for those blessed with bountiful hands, these guitars ensure every pluck and strum is on point.
So, for those who've experienced fingerboard gymnastics due to a cramped space, let's dive into the oasis of spacious fretboards. Your perfect strumming partner awaits! 🎸
Before we go on…
The Nut Width Decoded: The Musician's Compass
Behold, the elusive acoustic guitar spec sheet number – the nut width. Have you ever glanced at it and scratched your head, wondering if it's some secret guitarist code? Trust me, you're not alone. With no universal standard (is it 1.75″ or 1 3/4″?), it's easy to get lost in the nutty world of nut width.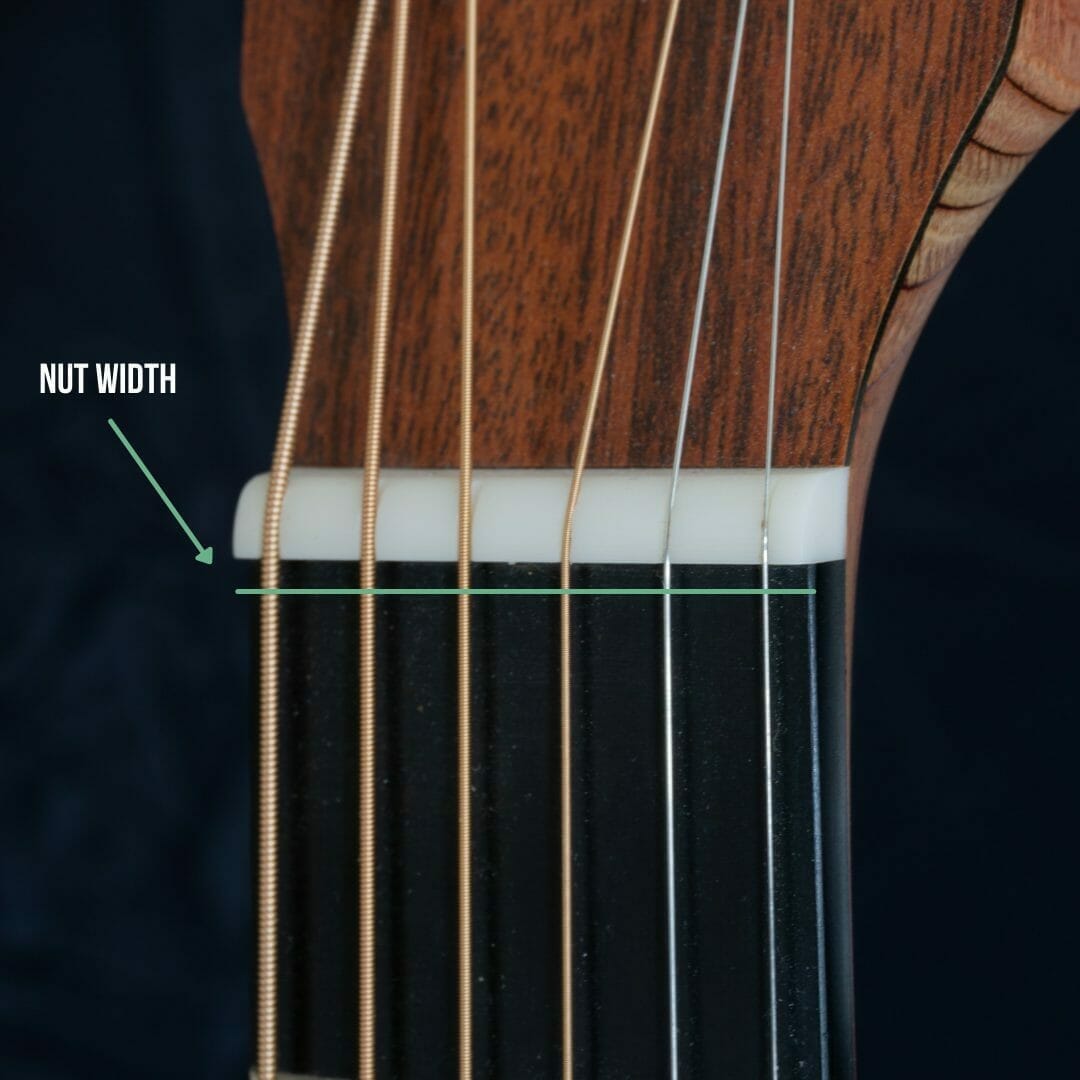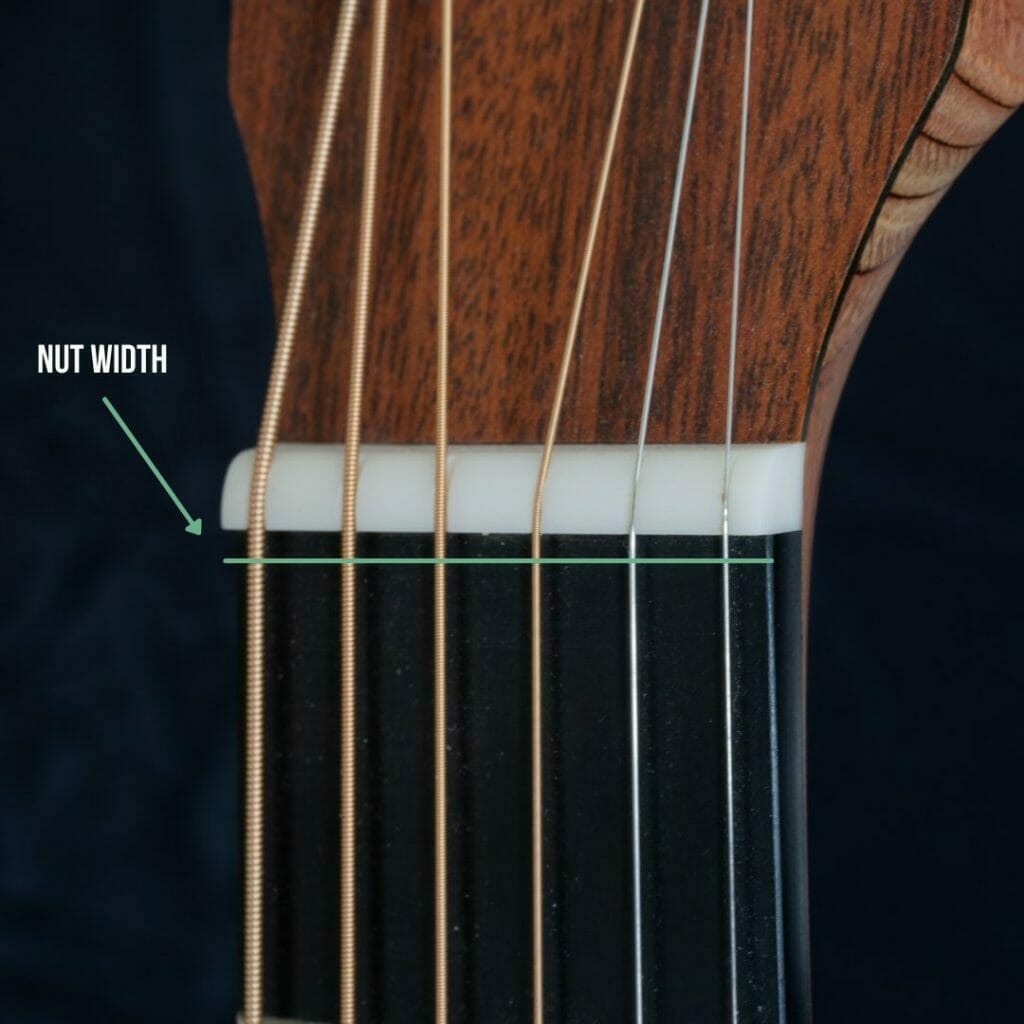 The Little Things That Make a Big Difference
You might look at guitars and think, "Come on, a slight width difference won't affect much, right?" Well, imagine swapping out your cozy king-sized bed for a narrow twin. It's like that. Consider a standard guitar with a nut width of 1.68″ and compare it to its more spacious counterpart boasting a 1.875″ nut width. It might seem small, but trust me (a man with fat hands), wide neck acoustics change the game.
Back then, steel string acoustic guitars typically came in generally two nut widths: 1.68″ and 1.75″. But the musical tides are turning, and wider nut widths are now strutting onto the stage.
We spotlight guitars that rock at least a 1.8″ nut width for our journey here. And suppose you're wondering where this mysterious measurement comes from. In that case, it's taken right from the starting point of the fretboard, precisely at the 1st fret of an acoustic guitar.
Nut Width vs String Spacing: The Musical Matrix Decoded
Buckle up, fellow music enthusiast! We're about to jump into the wormhole of guitar lingo: Nut width and string spacing. Ever wondered what the fuss is all about? Let's break it down.
Deciphering Nut Width & String Spacing:
Alright, quick refresher! As we discussed, Nut width measures the width at the beginning of the fretboard. On the other hand, string spacing measures the distance between the strings, typically gauged at the 14th fret or right at the guitar's saddle. And here's the spicy bit: string spacing dictates how much freedom your fat fingers have as they tango across the fretboard.
Comfort is King:
Both nut width and string spacing play leading roles in determining how comfy an acoustic guitar feels. Have you ever stumbled through a tune on one guitar but breezed through it on another? Well, this dynamic duo is likely the backstage heroes.
Every Guitar is Unique (Just Like You!):
Just like every musician playing guitar has their own rhythm, guitars vary in their make and feel. Some might have a generous nut width but surprisingly snug string spacing. Others? Completely the opposite. It's a vast symphony of variations!
Always Give It a Whirl:
Here's the golden rule: Always try before you snag. Pop into a store, feel the acoustic or electric guitar, and see what mix of nut width and string spacing makes your fingers sing.
Clicks and Bricks in the Digital Era:
But, hey, life's sometimes about something other than in-store jam sessions. The nearest store may be a road trip away, or online window shopping is more your groove.
Worry not! We're hip to the times. Recognizing the pulse of the digital age, we've meticulously pieced together a list of the crème de la crème of wide-neck acoustic guitars tailored just for you. Eager to find out more? Keep those fingers scrolling – your dream wide-neck guitar awaits!
Best Wide Neck Acoustic Guitars Reviewed: The Ultimate List
Tighten those strings and pull up a seat as we embark on a musical journey, uncovering the best wide-neck acoustic guitars. Onwards!
The Review Criteria
Let's get real for a moment. Picking "the best" wide-neck acoustic guitar is like selecting a favorite coffee blend – everyone has a favorite brew. So, you might wonder, on what grounds did we cherry-pick our top guns? Let's serve up those details.
The Classical Guitar vs. Steel String Conundrum:
The classics have their charm with those broad necks. However, we're focusing solely on the wider neck of the steel string variants for this piece. They usually feature narrower necks, but hey, not today!
Safe Purchasing:
Planning to snag one online? Fret not (pun intended)! We're pointing you towards brands that thrive on trusted online platforms. Think of assured transactions, warranties, and some cool perks thrown in the mix.
Consistency is Key:
All our chosen wide-neck guitars today stand tall on the pillar of unwavering quality. So, even if you're adding it to your cart without that physical test, know that you're in rock-solid hands.
The Gold Standard:
Our 'all-rounder champ' is a judicious blend of playability, sturdy build, genre-flexibility, and, yes, without forgetting the good ol' price point.
The Luxe Lane:
The elite league! These guitars are more than instruments; they're lifelong companions. It might give the wallet a slight pinch, but oh, the melodies they deeply connect!
Budding Maestros and Penny Pinchers:
Whether you're just learning to play guitar or on a shoestring budget, we've spearfished to snag the perfect wide neck guitar. Our pick here strikes a balance between affordability and quality.
The Wide Neck Brigade:
Here's a fun fact: Four of our fabulous five recommendations have a nut width stretching beyond the 1.8″ mark. Doesn't it sound roomy?
---
Full Review:
Seagull: A Canadian Gem
Ah, Canada! Seagull springs From its breathtaking landscapes, a brand steeped in genuine authenticity and love. Thanks to the creative prowess of Robert Godin of Godin Guitars, Seagull is more than just a label; it's a heartwarming nod to Canadian artistry. And when they say 'handmade,' they talk about meticulous attention to detail, from every grain to every curve.
"All Seagull guitars are crafted in Canada, from sustainably sourced wood found right in our backyard." – Seagull Guitars
Got Generous Sized Fingers? Here's Your Breathing Space
As a guitarist with grand hands who needs a little more wiggle room, the Maritime SWS, boasting a 1.8-inch nut width, is your dream come true. And its "000-style" dreadnought body? I find this one to be the perfect handshake – intimate yet assertive.
A Melodic Mélange:
You are enveloped in a sonic embrace when you hear the pluck of a string on the Maritime SWS. This guitar's beautifully balanced tone dances effortlessly between rich lows and a vivacious upper midrange. I'd say it's perfect for both spontaneous jam sessions or soul-touching solo performances.
Nerdy Guitar Stuff (But Cool!):
I give kudos to its integrated set neck and dual truss rod – this is your trusty guardian against any tuning mischief and neck warping. Plus, the TUSQ nut and compensated saddle? A favorite of mine because it's consistent and adds nice harmonics to the tone of this wide-neck guitar.
Also, are you planning to electrify a crowd in the near future? Well, you can rely on Fishman electronics to capture and magnify this acoustic-electric guitars musical whisper and roar.
---
Full Review:
A Guitarist's Dream Reimagined:
Meet the Seagull's S6 Cedar Original Presys II. It's not just a guitar; it's an iconic instrument with a loyal fanbase and dedicated community—and rightfully so.
A Spacious Treat for Bigger Fingers:
This beauty offers a generous 1.8-inch nut width, ensuring every chord transition is smooth and effortless. Extend your playtime, not your fatigue and frustration, when trying to cram your ham-hands on a skinny neck guitar.
Delight in the Tonewood:
Its solid cedar top may not be the usual choice, but trust me—it's a hidden gem, and my favorite acoustic guitars feature Cedar. It has a fast response and, paired with the fan body bracing (a feature typically seen in classical guitars), creates a symphony of rich tones.
Want to test its prowess? A blindfold tone challenge might leave you astonished at the rich guitar sounds you get for the price.
Premium Performance, Budget-Friendly:
Relish in top-notch quality without the top-dollar pricing. Though my nostalgic side recalls snagging the S6 for a mere $450 (those were the days!), its current price still packs value beyond belief and is one of the best acoustic guitars under $1,000.
An Eye-Catcher with a Wild Side:
Its laminated cherry wood on the guitar's body might raise eyebrows, but who said guitars couldn't have character? While laminates might not replicate the depth of solid woods, the harmony and warmth here are undeniable.
Ready to Rock & Roll:
Equipped with Fishman Presys II electronics, this S6 dreadnought body-style guitar craves the spotlight. But a pro tip: turn the tuner off to preserve the battery life. And you'll need to crank your amp a tad; word has it the Presys II output's a bit on the soft side.
Masterful Canadian Craftsmanship:
Handmade in the pristine landscapes of Canada, each note testifies to its makers' dedication.
---
Full Review:
Ibanez: Synonymous with Value & Innovation:
Ibanez is part of the rich guitar history of Japan. To me, Ibanez isn't just a brand—it's a testament to the spirit of ingenuity. Seamlessly blending affordability with quality, the best Ibanez acoustic guitars ensure that every musician has a reliable partner in their musical story, regardless of their budget. And in the Artwood AC340, they've crafted yet another masterpiece tailored for the discerning beginner or the frugal aficionado.
The Essence of Acoustic Purity:
Even though it's easy to be enamored by the aesthetics, I realized there is real care put into this wide-neck guitar as I took a closer look. The AC340 offers a real bone nut and saddle, which, for this price, is pretty rare. This detail is a guardian of the instrument's intonation precision and ensures every plucked string resonates with unmatched purity and sustains gracefully.
A Dance of Tonewoods:
Another guitar feature that is head-turning at this price is the Solid Okoume topwood—a tonewood reminiscent of the deep warmth of Mahogany. Okoume promises clarity with minimal overtones and introduces a natural compression, a forgiving trait for those still mastering their strumming finesse.
Elegance Meets Ergonomics:
I'm a big fan of the grand concert body shape—a true visual treat paired with ergonomic brilliance and warm tone. Its silhouette is classic, and its embrace is intimate. And with a 1.771-inch nut width, players get that sweet spot between spaciousness and a traditional grip of modern steel strings.
Pure Value, No Frills:
An open pore finish isn't just a design choice; it's an acoustic enhancer that I find lets the wood breathe and resonate freely. Also, while some may lament the absence of a gig bag or electronics, true aficionados recognize that every penny spent is invested in the guitar's craftsmanship while keeping the cost low.
---
Full Review:
A Symphony of Larrivee Excellence:
Like Seagull, Larrivee began its journey in the serene Canadian wild. However, Larrivee eventually migrated to the vibrant pulse of California; Larrivee's odyssey exemplifies dedication, passion, and looking toward the future. When you purchase a Larrivee, you're not thinking about mass production, i.e., CEC Machines; you're buying into a tactile connection to each instrument, underlined by their philosophy: "We don't want to build the most guitars. We want to build the best."
A Class Apart in Craft and Tone:
When I first glanced at the D-03, it was easy to mistake it for another Martin Guitars dreadnought knockoff; however, the D-03 is a low-key sonic masterpiece. The resonance of Alpine moon spruce melds with Bhilwara's character, rivaling the legendary Spruce & Brazilian rosewood's majestic tones. Although giants like Taylor, Martin, and Gibson dominate the stage, this Larrivee piece belts out a harmonious challenge that has been accepted by artists like Brad Paisley, Keith Urban, and Robert Plant, to name a few.
All-Rounder Excellence:
A generous nut width of 1.875″ caters to the best fingerstyle acoustic guitar players and ensures that those with larger hands find their haven. It's safe to say this isn't a one-genre wonder; from the fluidity of finger strumming to the precision of flatpicking, the D-03 transcends boundaries. Its modern X-bracing design enhances versatility, and the mahogany neck, married to an ebony fingerboard's silk-like feel, ensures playability is never compromised.
Art in Every Detail:
It's not just a guitar—it's an artwork. Each nuance, from the meticulously inlaid headstock logo and fingerboard dots to the intricate herringbone rosette and multi-strip purfling, is a testament to Larrivee's attention to detail. As a satisfied owner eloquently stated, "Every inch radiates precision and passion."
---
Full Review:
Echoes of Takamine:
In the annals of guitar history, Takamine stands as a beacon of replication, innovation, and craftsmanship. The pioneering mind behind the integrated preamps that we love and enjoy in any modern acoustic-electric guitar, Takamine has echoed in the compositions of legends such as Bruce Springsteen and Garth Brooks. It's more than a brand—it's a musical revolution.
Orchestrating Fingerstyle Perfection:
Boasting a generous 1.875″ nut width, the EF740FS-TT (FS stands for Fingerstyle) isn't just a guitar—it's a bridge for classical guitarists seeking the vibrant pulse of steel strings. Tailored with a wider neck for those endowed with expansive grips or nimble fingers, its allure doesn't stop there.
What did I find magical about this wide-neck acoustic guitar? Its OM body. Fingerstyle guitar players revere this shape for its intimate feel and crystalline note articulation. Takamine infuses an additional layer of warmth and resonance thanks to its uniquely deep acoustic body, compared to other OM-style guitars—resulting in a synthesis of tradition and innovation.
Stage-Ready Majesty:
The under-the-hood prowess of the TLD-2 line driver preamp remains invisible but vital. An acoustic amplification maestro that amplifies the signal and ensures the fidelity of this acoustic-electric guitar is not sacrificing sound quality, even during extensive performances.
Whether serenading an intimate gathering or filling a theater, every strum, every note of this steel string guitar remains authentic and untarnished. For those wishing to fine-tune this masterpiece, the discreet controls ensure the guitar's aesthetic essence remains undiluted.
An Ode to Craftsmanship:
Handcrafted in the serene heartlands of Japan, this all-solid-wood marvel exudes an aura of quality. Designed with precision, its full body style, and robust Mahogany neck feels tailored for fat fingers. However, it may present an initial challenge for short and fat fingers.
I find the vintage allure of open-gear tuners to be a nice touch. It gives this wide-neck guitar a nostalgic nod to a bygone era. Also, its Thermal Top technology, the EF740FS-TT, doesn't simply sound seasoned—it feels like a timeless relic from the moment you unbox it and lay in your first big strum.
---
The Best Acoustic Guitars With Wide Necks: Your Ultimate Buyer's Guide
Still unsure about what is right for you? Here is a quick buyer's guide to help you in your wide-neck guitar purchasing journey.
Navigating the Realm of Wide-Neck Guitars:
Embarking on the quest for the ideal guitar is akin to seeking the perfect dance partner. It isn't just an instrument—it's an extension of your soul. Here's a roadmap to guide your journey.
Match Your Style:
Versatile Virtuoso or Niche Maestro? Gifted with generous fingers and seeking versatility? A spruce-top guitar may be your muse.
A Devotee of Fingerstyle? Immerse in the velvety tones of solid Cedar or the profound resonance of Mahogany.
A Classical Guitar or Steel-String Quest: Remember, classical guitars are the usual suspects regarding wide necks. Those bearing narrow ones? They're the rarities in this realm.
Financial Considerations:
Pure Sound over Perks: If budget is a concern, sidestep the electronic addition to focus on pure acoustics. Sometimes, simplicity breeds sonic brilliance.
The Nomadic Notes: Constantly on the move? Laminated woods are your durable, low-maintenance, and budget-friendly companions.
Seasoned Sonic Art: Solid wood guitars are worth the investment for a sound that evolves and deepens over time.
Venture into the Nuances:
Shape and Soul: Whether you lean towards the booming echo of dreadnoughts or the versatile and balanced sound of a grand auditorium body, the guitar's silhouette plays its part.
Neck Narratives – Sculpted for Your Grasp: The contour of a guitar's neck resonates beyond its aesthetics—it's the tactile tale of your musical journey, especially pertinent for those with more giant palms or fat fingers.
C-shaped Conquests: Prevalent and favored, and it's easy to see why. Their subtle curve nestles snugly, allowing fat fingers to dance unencumbered. For those seeking contemporary adaptability, the C-shape remains the gold standard.
D-shaped Dynamics: Less curvaceous than its C-shaped kin, the D-shape offers a more expansive base, letting wider fingers express freely, especially for intricate lead lines.
V-shaped Ventures: A vintage vibe! This neck contour, reminiscent of yesteryear classics and classical variants, boasts a central ridge. While possibly challenging for chord shapes, it could be the dream stage for fingerstyle aficionados.
The Classical Conundrum: A Love Affair with a Wider Neck
Have you ever been mesmerized by a classical guitar composition, its precision evoking ethereal emotions? The wide neck of the classical guitar is often the silent hero. This neck shape amplifies accuracy, eliminating rogue strums or fret missteps during intricate progressions. Imagine it as an expansive canvas for a maestro—a bountiful space to paint sonic masterpieces.
Yet, the narrative goes beyond being mere wide-nut guitars. These necks often reveal in a flatter radius, accentuating lead lines but potentially challenging chordal choreography.
Brands That Nail the Wide Neck Design
Brand selection can be a maze when delving into the world of the best wide-neck guitars. If you're a fan of classical guitars (yes, those ethereal nylon strings and stringed ones), some names inevitably rise to the forefront:
Yamaha – An enduring titan in the musical domain. Think of them as the Toyota of guitars. (Yes, we could have called them the Yamaha of guitars also 😎)
Cordoba – Think of a sublime, Michelin-star dessert—Cordoba guitars are that treat for the ears.
Taylor – Dependability at its best. Think of them as the Starbucks of guitars—reliable, familiar, and everywhere.
Alhambra – With a name as captivating as its sound, every strum on an Alhambra is an auditory adventure.
Godin – They might not always be the first brand that comes to mind, but when they speak (or play), everyone listens. The sonic powerhouse.
Switching over to the steel-string territory with a penchant for necks surpassing 1.75″? Here's your treasure trove:
Seagull – With an impressive range under their wing, delve deeper with our reviews on the Seagull Guitars Maritime SWS & Seagull Guitars S6.
Ibanez – Ah yes, the brand that houses the iconic Artwood AC340. Still etched in your memory, isn't it?
Larrivee – Exemplifying elegance and sonic excellence, particularly with marvels like the Larrivee D-03 Bhilwara/Alpine Moon Spruce. Pure auditory artistry! 🎵
Takamine – Recollect the EF740FS-TT we swooned over earlier? Takamine is the mastermind behind that masterpiece.
Strings & Scale Lengths: The Unsung Heroes of Guitar Craftsmanship
When diving into the nitty-gritty of wide neck acoustic guitars, the strings and scales significantly sculpt that dreamy sound and playability.
The String Gauge Game
Strings – the heart and soul of a guitar. The right choice can uplift your sound, while a mismatch can dampen the show. Here's a handy guide:
Thicker String Gauges (13s or 14s): These are the heavyweights. Sturdy and tension-packed, they offer a meaty sound ideal for drop tunings or longer-scale guitars.
Normal to Light String Gauges (10s, 11s, 12s): The laid-back members of the string family. Effortless to play with more space between strings, they're a godsend for those with generous hand proportions. Remember, they can be a tad tricky; misstep, and you might end up sounding off-key. Handle with care!
The Tale of the Measuring Tape: Acoustic Guitar Scale Lengths
Have you ever pondered over the acoustic guitar scale length? Let's simplify it.
Short-Scale Acoustics: The Dynamic Dashes
Imagine opting for a brisk jog instead of a grueling marathon. Welcome to short-scale acoustics! Their length usually ranges from 24.625″ to 25″.
Pros:

Playability: Thanks to reduced tension, playing becomes more fluid
Compact Sound: They may not sustain for ages, but their punchy output is undeniable.
Chatback Buzz: A bit of buzz is just them speaking their language.
Fingerstyle's Best Buddy: Fingerpickers adore them, but flatpickers might find them too mellow.
Long-Scale Acoustics: The Soundtrack of Stalwarts
Seeking a little drama and flair? Meet long-scale acoustics, the maestros of 25.5″ and beyond.
Pros:

Taut & Triumphant: They promise robust output and mesmerizing sustain.
Tuning Titans: Ideal for those experimental drop tunings.
Roomy Runways: Wider fret spacing is a boon for folks with fuller fingers.
Your Technique: The Crux of the Conundrum
Pause. Reflect. Technique transcends the tool. A robust foundation in guitar technique is indispensable. As someone blessed (or cursed) with sausage fingers, I get the allure of a wide-neck acoustic. But mastery in technique can make even the tiniest guitar sing. So, hone your skills before splurging because finger size isn't the whole story!
All About Wide-Neck Acoustic Guitars: A Quick FAQ
Final Thoughts
Stepping into the acoustic guitar universe can seem daunting, especially when equipped with fat fingers or a distinct style. Yet, believe us, there's a guitar tailored just for you, waiting to match your fingers and flair.
Whether you lean towards the meticulous nature of the best acoustic guitars with wide necks or sway with the adaptability of their regular counterpart, the journey is about discovering your musical soulmate. Got a model in mind? Swing by Sweetwater.com for the latest on its price and availability.
And always remember, "All it takes is one song to change the world," so rock on!