Editor's Choice
GN93CE
The NEX body style is comfortable and has the playability of an electric guitar

The sound of the guitar is very crisp and clear

It comes with superior electronics than guitars at this price point for a tremendous live tone

Beautiful looking guitar with three-piece walnut and flamed Maple back and solid spruce top
For Budget
GD20
It's an excellent value for the price

Takamine Pro Series construction in an entry-level guitar

Solid Cedar top is rare at this price range

The dreadnought design has a lot of volume while also maintaining note clarity
For Gigging
TSP178AC
It's comfortable and sounds fantastic in any space or through any sound system

Durable and dependable

The built-in notch EQ helps eliminate any feedback from ruining your performance

Extremely versatile and is an excellent guitar for all types of musicians and genres
Why should you choose Takamine Guitars over other major brands?
If you are an acoustic guitar player who often performs live, you know the importance of owning a quality instrument. One that comes with excellent electronics, is comfortable to play for long periods, and is versatile.
This is where the Japanese brand Takamine shines. However, with so many options in their catalog, it can be challenging to determine the best Takamine acoustic guitars for your needs.
But deciding between the best Takamine won't be difficult after reading this article.
Using my 25+ years of guitar playing and research, I've concluded that the GN93CE is the best value for money for what the Takamine brand offers.
However, there are many other great guitars in the Takamine line-up. I'll break down some of the top models and help you decide which one to buy.
Keep reading if you're interested in learning about these great guitars!
The Best Takamine Acoustic Guitars in 2023 at a Glance
Editor's Choice: GN93CE
Editor's Choice
Are you looking for an exceptional stage guitar with an excellent plugged-in tone? Takamine's GN93CE is your perfect choice. 
The TK-40d preamp system ensures clear, precise sound when amplified, while the built-in tuner and equalizer make on-stage adjustments a breeze.
The GN93CE is exceptionally comfortable to play with, thanks to its NEX body style and mahogany neck. Whether you're a beginner or a seasoned pro, this guitar will impress.
I'm going to be honest, the GN93CE is not Takamine's best guitar. So, why did I choose it for the Editor's Choice? Because of the price, you get all the best of what Takamine offers without breaking the bank.
The GN93CE isn't a flashy instrument at first sight, but it is consistent with Takamine's reputation for an excellent stage guitar.
The TK-40d preamp system in this Takamine delivers a clear, rich sound when amplified. It comes with a built-in tuner and equalizer for simple on-stage adjustments. These electronics are the differentiating factor that makes this guitar stand out from others in this price range.
This Takamine acoustic-electric guitar has a beautiful three-piece back constructed of walnut, flamed Maple, and a solid spruce top. This gives the instrument excellent projection, clarity, and sustain. The Takamine split-saddle design also aids in perfect intonation for a guitar at this price and keeps the action low.
I found the NEX body style and mahogany neck similar to an electric guitar and rested comfortably in my arms. It's slightly smaller than a traditional dreadnought guitar. Still, it has the projection of a Jumbo, which was also a pleasant surprise.
It isn't all upside, though. The GN93CE isn't made in Japan, and the Chinese manufacturing compromises some quality for cost. The quality control from the Chinese factory doesn't seem to be at the same level as Takamine's Japanese one. You may need to have the guitar set up by a professional to get the most out of your purchase.
Suppose you're looking for an affordable guitar that can be used for various genres and playing styles. In that case, the GN93CE won't disappoint!
Pros
You'll feel confident in your stage tone with this guitar's great electronics

It has a built-in tuner, 3-band equalizer, and notch filters to assist with eliminating feedback

Split-saddle design aids in the best intonation for a guitar in this price range

This guitar has excellent projection, clarity, and sustain
Cons
Not an authentic Japanese handcrafted Takamine. The GN93CE is built at scale in their Chinese factory.

The acoustic tone isn't as full as some other acoustic guitars in this price range
Best for Fingerstyle
If you're looking for a quality handcrafted acoustic guitar perfect for fingerstyle playing, you need the Takamine P1NC. 
This fantastic instrument is made with an X-braced solid Cedar top, which delivers a warm and mellow sound with lovely overtones. The NEX body shape's squeezed waist, split-saddle, and pinless bridge design add to the guitar's balanced articulation, intonation, and sustain.
The Takamine P1NC is ideal for gigging fingerstyle players who crave exceptional sound and playability.
When choosing the best acoustic guitar for fingerstyle playing, you should search for one that responds quickly to a light touch.
The P1NC is one of these guitars!
The X-braced solid Cedar top is a beautiful tonewood for fingerstyle. Cedar is a softwood with a pleasant overtone and a warm sound. The hardwood Sapele back and sides complement the Cedar by adding projection and subtle high-end clarity.
The NEX body shape's squeezed waist, split-saddle, and pinless bridge design add to the guitar's balanced articulation, intonation, and sustain.
Fingerstyle is a delicate dance between your fretting and plucking hand. Having a neck that allows your fretting hand to move up and down freely is critical. The P1NC passes this test with flying colors! The mahogany neck and rosewood fingerboard have a glassy feel to it, making playing jazz chords and lead lines up the neck a breeze!
Also, as is typical with Takamine guitars, this model includes electronics, so you may faithfully re-create the guitar's intimate sound on stage.
This is another high-quality Pro Series Takamine handbuilt in Japan; you won't be disappointed with it!
Pros
This guitar has a rich and warm tone that is perfect for fingerstyle playing

Because of the smooth neck design, your fingers will be able to dance up and down the neck with ease

Has balanced articulation, intonation, and sustain

With its premium electronics, you'll get the guitar's authentic sound when playing through a PA or amp
Cons
Cedar doesn't respond the best to aggressive playing styles

Cedar is a softwood and can crack and dent easily
This Takamine guitar is great for Fingerstyle. However, if you are looking at purchasing a guitar for fingerstyle, you should first check out my article "The Best Fingerstyle Guitars for Acoustic Players and Songwriters"
Best for Flatpicking and Strumming
The Takamine P6JC is the perfect acoustic guitar for those who want a clear and bright sound. 
With its Maple back and sides, this guitar can project sound across a room, while the solid spruce top ensures you'll have even greater clarity and dynamics in your tone. 
The Cooltube CTP-3 preamp system gives the guitar's plugged-in sound more depth, making it perfect for live performances.
Whether you're playing on stage or in the studio, the Takamine P6JC will deliver outstanding sound quality.
Suppose you're a flatpicker or strummer looking for an acoustic guitar that will deliver a big, loud tone that can hold its own against other instruments. In that case, the Takamine P6JC is an excellent option for you.
Takamine acoustic guitars have a reputation for being bright and crisp, and the Takamine P6JC is no different.
The Maple back and sides brighten your sound while boosting its volume and projection. The solid spruce top ensures you'll have even greater clarity and dynamics in your tone for very expressive playing.
The P6JC is a loud acoustic guitar with a bright and clear tone. The asymmetrical neck profile of this performance-oriented acoustic feels comfortable in your grip. It feels smooth as you play up and down the guitar. The most excellent aspect about this performance maple neck design is that it makes playing for long periods a breeze, even for a larger-bodied guitar.
The P6JC comes equipped with a Cooltube CTP-3 preamp system, which keeps with the company's tradition of being excellent stage guitars. The tube within this preamplifier fattens up the plugged-in sound, giving the guitar's tone more depth and weight.
If you're primarily a country, bluegrass, pop, or rock player, the Takamine P6JC Acoustic-Electric Guitar will not let you down.
Pros
It has a beautiful, bright sound that will cut through the mix

The asymmetrical neck profile fits the shape of your hand for a smooth and comfortable feel

You'll sound incredible on stage with the Cooltube CTP-3 Preamp System

Built at the Japanese factory
Cons
Solid wood construction is more fragile than their laminated guitars. This can make traveling with the guitar more unpredictable

Not the best option for more delicate playing styles
Best for Gigging
Looking for an acoustic guitar that can keep up with your electric? Look no further than the Takamine TSP178AC! 
This Thinline body style guitar has a narrower, more comfortable body and a shorter-scale neck that makes it perfect for long gigs.
The CT-IIIN preamp system offers three-band equalization, an onboard tuner, and sweepable notch EQ to always sound your best.
With its great sound and easy playability, the TSP178AC is perfect for any gigging musician.
If you gig frequently, you know how crucial it is to have an acoustic-electric guitar you can count on. One that is adaptable, comfortable, and sounds fantastic in any space or sound system.
Building stage guitars is Takamine's bread and butter.
The TSP178AC is one of Takamine's top acoustic guitars for gigging because it combines the best aspects of an electric and acoustic instrument into one. The Thinline body style has a narrow, comfortable body and a shorter-scale neck that makes the guitar enjoyable to play for long periods.
This guitar produces a bright sound with excellent dynamics and projection thanks to its solid Flamed maple top, Maple back and sides, and arched back. Given how small the guitar feels in your hands, this was unexpected.
The CT-IIIN preamp system offers three-band equalization, an onboard tuner, and sweepable notch EQ to ensure your performance is free of feedback.
The TSP178AC is a "swiss army knife" acoustic-electric guitar that any style of guitarist can use. If you're searching for the perfect high-end stage guitar, this Takamine electro-acoustic model should be at the top of your list!
Pros
The comfortable, short-scale neck makes it easy to play for long periods

The tone is perfect for any venue or sound system

It has a bright sound with excellent dynamics and projection

Built-in notch filter helps eliminate unwanted feedback
Cons
The unplugged, acoustic tone isn't as rich as other guitars on this list

It's expensive
Best for Recording
The Takamine P3NY is perfect for recording. Its well-balanced tone is surprisingly robust for a tiny guitar, and the Cedar top provides great resonance when played softly. 
The Sapele back also gives you good projection and compression for a radio-ready recording. 
So if you're looking for an acoustic-electric guitar with a big sound in a small package, the Takamine P3NY is perfect.
Takamine is well-known for being a great stage guitar with its excellent preamp design and comfortable body shapes. However, does Takamine hold up to being mic'd in a studio?
Well, I'd dare to say there are some guitars in Takamine's line-up that rival the "Big 3" when it comes to a balanced, rich tone that records well. The Takamine P3NY is one such guitar.
The "New Yorker" acoustic-electric guitar's tone is surprisingly robust and well-balanced for a tiny guitar. When played softly, the Cedar top allows the entire resonance of the instrument to sing. At the same time, the Sapele back provides good projection and compression for a "radio-ready" recording out of the gates.
While the guitar's modest appearance won't turn many heads, and the laminated wood sides are a bit of a bummer for a guitar in this price range. Still, when it comes to this Japanese-made guitar, you won't find much to fault in terms of its sound and construction.
Suppose you're playing guitar in the studio often and are looking for a reasonably priced guitar that punches above its weight. In that case, the Takamine P3NY is a guitar to consider!
Pros
This guitar has a rich, balanced tone that records well 

Mahogany neck and rosewood fingerboard plays like butter

Punches above its weight for the price

Comes with CT4B II preamp system with three-band EQ for tonal flexibility
Cons
Laminated wood back and sides is a let down for the price

Cedar is a softwood that can easily dent and crack
Best for Budget
The Takamine GD20 acoustic guitar is an excellent choice for budget-conscious musicians. 
Constructed from solid Cedar, this guitar delivers a warm, rich tone perfect for beginners and experienced players alike.
With its great value and superb craftsmanship, the Takamine GD20 is perfect for beginner and intermediate guitarists.
The Takamine GD20 is a fantastic value for money, and a great beginner's guitar. It's made of solid Cedar, which is rare at this price range. Most guitars on the market competing for the entry-level player would be constructed from laminated wood.
The dreadnought design of the acoustic guitar produces a lot of volume while retaining clarity and delicacy. It has a slim mahogany neck that makes playing more comfortable and enhances projection. The instrument also has Mahogany back and sides for good projection and additional resonance.
Intonation issues are a common problem with more budget-friendly guitars. The instrument can sound out of tune when playing around the neck in various spots. Takamine incorporated a split-saddle design element into their pro-series guitars to address this issue inventively and include it on the GD20 guitar.
There are no electronics in this guitar, so you will not be able to plug this guitar into a PA or amp system. This shouldn't be a big problem for most, but it is something to be aware of when looking at which Takamine Acoustic Guitar to get.
This guitar has a well-balanced tone that won't disappoint and is a great first guitar for any aspiring player!
Pros
The solid wood top is rare at this price range

The dreadnought design produces a lot of volume while still retaining note clarity

Durable construction with a gig bag included

The slim Mahogany neck makes playing less fatiguing
Cons
Cedar topped guitars have a limited dynamic range. This can be a problem for players who have more aggressive playing styles.

Doesn't come equipped with any electronics
Have you ever wondered what the best guitar brands on the market are today? Well, I created an ultimate acoustic guitar brand guide and buyer's guide to help you choose your perfect guitar. Check it out today!
Want to discover more options for the best budget acoustic guitars?
Check out my Best Acoustic Guitar Roundups for the following price ranges:
The Best Takamine Acoustic Guitars Buyers Guide
When you browse through the Takamine acoustic guitar catalog, you'll notice that they have a wide range of guitars to select from. The options might appear infinite and overwhelming if you're unfamiliar with Takamine acoustic guitars.
However, once you understand how they structure their line-up, finding the perfect guitar isn't as hard as you might think. The following buyer's guide will assist you in determining what to look for while shopping for a Takamine guitar.
Body Shape
Acoustic guitars come in a variety of shapes and sizes. Each type has its own set of benefits and drawbacks. Before you make a purchase, consider your playing style and the body shape that would accomplish what you're after.
Classical Body
This body design is small and intimate. The classical design will come with nylon strings, making this a great guitar body shape for beginners.
Takamine classical guitars keep it relatively traditional with this body shape; however, a few designs feature an oval soundhole that helps project the sound over more distance.
Dreadnought
The dreadnought body shape is the most copied and imitated acoustic guitar bodies in history. It was designed in 1916 by Martin Guitars.
A dreadnought design is loud and projects sound across a room. It has a mid-range forwardness with big low-end bass response.
If you're playing in a band and need an acoustic guitar that can hold its own, a traditional Dreadnought design is what you're looking for!
FXC Body
This Takamine guitars body style is similar in size to a Grand Concert. A Grand Concert is a shorter-scale guitar that has "slinky" playability.
The FXC body has a shallower body design, making them great stage guitars because they are less prone to feedback.
FCN Body
The FCN is Takamine's full-size nylon string guitar. It's got more modern playability than the Classical Body shape making it great for the stage or studio.
Jumbo Body
A classic body design made famous by Gibson Acoustic. The Jumbo body is built to be loud, have a balanced tone, and have stunning clarity when playing chords.
The Jumbo guitar has several distinctions from a Dreadnought. The most notable is the pinched-in waist shape. This feature boosts the guitar's articulation and minimizes "mid-range mud" that can plague a dreadnought.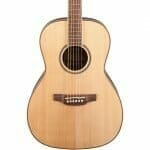 New Yorker
The New Yorker is Takamine's take on a parlor guitar. It's the tiniest of their full-size body types, and it's a breeze to play. This design has outstanding articulation and balance between the strings, making it ideal for intimate fingerstyle music.
NEX Body
An original body design for Takamine, the NEX is the most versatile in the catalog. The NEX is a scaled-down Jumbo with a similar projection to the Jumbo/Dreadnought but a thinner shoulder. The slim shoulder allows for improved playability in higher frets.
This modern design makes it great for jazz, blues, country, pop, and rock.
OM Body
Although these guitars are lightweight, they have a good amount of power. Because this body style is very responsive, this guitar works excellent for players with a lighter touch.
The OM Body has an excellent dynamic range and tonal balance across all strings.
Tonewood
Tonewoods are the materials used to construct your guitar. They have a significant impact on the sound of your instrument. Knowing how different tonewoods affect tone may assist you in selecting the perfect Takamine acoustic guitar for you.
The Soundboard (Top Wood)
The soundboard (or top wood) is the most critical tonewood in an acoustic guitar. It will have the most influence on your instrument's projection, playability, and dynamics.
Takamine uses various tonewoods on the soundboard, with solid spruce and solid Cedar being the most popular. However, there are alternative choices for guitarists seeking something unique.
Cedar
Cedar's softness makes an excellent material for guitar players who want their instruments to respond to delicate playing. Cedar is both warm and percussive, making it great for fingerstyle and classical guitarists.
Cedar is typically utilized on nylon-stringed guitars, but it has also become popular among steel-string guitars, especially for singer-songwriters.
The disadvantage of Cedar is that it's prone to cracking, and the guitar's sound degrades when subjected to hard picking or strumming.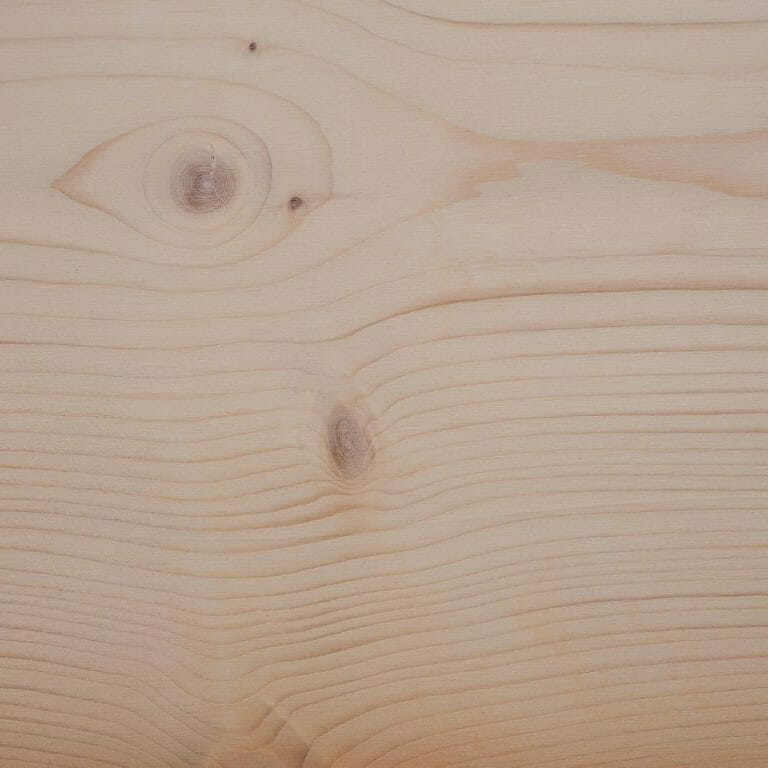 Spruce
Solid spruce is the most used top wood for acoustic guitars. Solid spruce is a softwood with a broad dynamic range and musical versatility.
Guitars with a solid spruce top have loads of dynamic range, which means it quickly responds to lighter picking and hard strumming while maintaining clarity in the notes.
Solid spruce is an excellent all-around tonewood that can be utilized in various styles, from country, blues, pop, and rock & roll.
Koa
Koa wood is a very beautiful-looking tonewood sourced from Hawaii. It's similar to Mahogany, although Koa wood has a brighter sound. Koa is an excellent soundboard choice for players who strum with the pads of their fingers and who would benefit from a more natural treble in their tone.
However, if you're a hard picker or dislike excessively bright acoustic guitars, this top wood probably isn't suitable for you.
Figured Ash
This tonewood is very beautiful to look at. It's a hardwood with a bright, aggressive tone and good sustain.
Body Wood
A guitar's body wood influences the guitar's EQ curves. In contrast, the top wood is responsible for playability, dynamic range, and projection.
Takamine Guitars offers a variety of body woods in its acoustic line. The most popular are Rosewood, Mahogany, Sapele, and Maple.
Rosewood
One of the most well-known woods used in acoustic guitar construction is Rosewood. However, Rosewood is becoming scarcer in guitar making due to overharvesting, while certain species are even endangered.
Rosewood can still be found on higher-end acoustics. It is famous for having a scooped midrange that benefits singer/songwriters who need their voice to sit on top of the guitar. Rosewood creates a sound with plenty of overtones and a smooth high end and is a classic pairing with a solid spruce top guitar.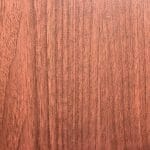 Mahogany
Mahogany is popular for guitar body construction because of its unique feel, warm midrange, and smooth, vintage resonance.
Mahogany naturally compresses sound. This makes it an outstanding body wood choice for recording artists and guitarists who haven't yet developed control in their strumming hand.
Sapele
Sapele has a similar sound to a Mahogany back and sides guitar but has a brighter tone. It's a versatile body wood that works for a wide range of playing styles.
Maple
The beauty of maple wood is obvious, and guitarists often choose a guitar made of Maple based on looks alone. It's frequently said to have a brilliant and bright tone. However, it's a very transparent tonewood with excellent projection.
Strummers will appreciate Maple because it has few overtones, so each chord note has clear and pure articulation.
Cocobolo
Cocobolo is a hardwood that gives notes an immediate attack with long sustain. It has a rich sound with beautiful overtones.
Bubinga
Bubinga has a warm, balanced sound with a bright midrange and clarity across the entire EQ spectrum. Bubinga also has a beautiful sustain.
Figured Ash
Figured Ash has a tight and punchy high-frequency response and a beautiful look.
Koa
A Koa guitar has a bright and focused sound due to the density of the wood. Koa's high-frequency emphasis, however, will mellow out over time.
Nato
Nato is a more cost-effective alternative to Mahogany. It shares the same dark look and tone.
Ovangkol
Ovangkol is a wood that has the characteristics of both Rosewood and Koa. It is slightly less scooped in the mid-range than Rosewood and has a brilliant high end similar to Koa.
Taylor Guitars introduced Ovangkol as a more environmentally responsible alternative to Rosewood. It's a versatile tonewood that will serve just about any style of player and musical genre.
Quilt Maple
Quilt Maple has a similar tone as regular Maple, except the grain pattern is more exotic and visually striking.
The Takamine Acoustic Guitar Series
Takamine acoustic guitars are categorized by series. Takamine has you covered whether you're shopping for a beginner guitar or a world-class build at a more affordable price than the competitors.
G Series
The Takamine G Series guitars are designed with versatility, quality, and sound in mind. These reasonably affordable guitars come in various body shapes, tonewood combinations, and electronics.
The Takamine G Series guitars have the same characteristics as the Pro Series guitars, such as a split saddle design and a pinless bridge system for ideal intonation and great action.
However, to keep costs lower for the G Series guitars, these guitars are built in China instead of Japan. So you are sacrificing a bit of the build quality with these guitars.
Suppose you are searching for a great playing guitar that will satisfy all musical genres at an affordable price. In that case, the Takamine G Series is worth looking into!
The Pro Series
The Takamine Pro Series is a collection of hand-crafted acoustic-electric guitars made in Japan by Takamine. Suppose you're a serious musician searching for a fresh alternative to the big-name acoustic manufacturers. In that case, the Takamine Pro Series won't let you down.
These guitars are expertly made, have a great sound, and are comfortable and easy to play. Some guitars in this line-up come with remarkable aesthetic features like the snowflake inlay making the Pro Series an under-the-radar beautiful acoustic guitar.
The Pro Series has a body shape and tonewood style to fit any type of player. The onboard proprietary electronics contain an actual tube in the preamp (series 4 and up) to help preserve and fatten the guitar's natural sound while plugged into an amp or PA.
This guitar is designed for the performance artist who doesn't want to sacrifice playability, tone, and craftsmanship. The Pro Series makes it obvious why so many famous artists favor Takamine!
Legacy Series
The Takamine Legacy Series is a tribute to popular yet discontinued guitar models. As a manufacturer grows, it will inevitably push the envelope in design and build to satisfy modern and forward-thinking guitar players.
However, certain guitar models helped define the brand's acoustic sound, and this is where Takamine's Legacy Series comes in.
The most popular guitars in the Takamine catalog get recreated in this collection, which pays homage to their classic versions.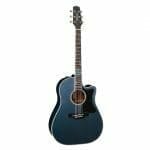 Limited
The limited series is something to pay attention to if you're searching for the most outstanding, unique Takamine guitar.
Only a handful of these guitars are produced yearly, and Takamine does not skimp on any design features.
The Limited series is a work of art that will inspire you to make art with extraordinary materials and unique custom designs.
Thermal Top
If you want a vintage-inspired guitar with a big sound that has a worn-in tone, the Takamine Thermal Top Series has you covered!
The tonewood is torrefied in a high-heat, low-oxygen environment to give the guitar the aged sound of decades past.
Many of the guitars in this series have excellent sound quality and beautiful design elements. Some of the pick-guards definitely took some inspiration from a Gibson acoustic!
Signature Series
Takamine guitars boast an impressive list of musicians who use their guitars.
I think it's fantastic (and interesting) that so many Signature Series guitars are Japanese-made for USA Country Artists.
The Signature Series boasts models from Kenney Chesney, Garth Brooks, Keith Urban, and Glenn Frey, to name a few.
Classical & Hirade
These guitars are built for the modern professional classical artist in mind. The all solid wood cedar or solid spruce top and Rosewood back and sides make for a great-sounding guitar.
This series comes in different shapes and tonewood combinations to satisfy any type of musician and playing technique.
Thinline
The Takamine Thinline series debuted at the NAMM trade show in 2019 and is intended for electric guitarists who want to make a quick switch to an acoustic-electric guitar on stage.
While this guitar sounds good unplugged, it shines when plugged in through its electronics system for live performance.
The lightweight body structure minimizes feedback, and the short-scale neck is effortless and comfortable to play.
The Thinline is Takamine's evolution into creating the best stage guitar in the world!
Electronics and Pickups
Takamine guitars' claim to fame is creating the first acoustic-electric guitar. Takamine has improved its reputation by creating its own proprietary acoustic electronics as one of the best on-stage performance guitars.
Takamine electronics include:
Preamps
Pickups and Transducers
The preamps that Takamine guitars feature depend on the model.
The premium Takamine acoustic guitars feature the Cool Tube preamp that makes the amplified sound rich and fat, similar to what you hear on classic records. The Cool Tube preamp includes a 3-band EQ, built-in tuner with a mute, notch eq, and gain control.
Other guitar models include variations of classic Takamine preamp designs. They come equipped with a three-band eq (or four-band eq), built-in tuner with mute, notch EQs, and gain control.
It's important to know that if you're replacing your Takamine acoustic-electric guitar components, not all electronics will be compatible with every guitar.
Takamine offers other pickup systems, such as the Tri-Ax 2 Active Soundhole Pickup and the Palathectic Pickup, that complement the preamp section of the guitar.
When blended with preamp sound, the Tri-Ax 2 Soundhole Pickup has been described by some users as "frosting on a delicious cake."
The Palathectic Pickup is also used in conjunction with the onboard preamps. It is excellent for stage performers who want to prevent feedback while playing loud and painting a balanced sound. Having these two electronics systems working together gives you more flexibility in your live tone.
Another option for adding more flavor to your electro-acoustic guitar is to install the Soundboard Transducer from Takamine. This transducer should be placed next to your other pickup for a more realistic plugged-in acoustic tone.
FAQ
Your most asked Takamine questions answered:
What are Takamine guitars known for?
Takamine Guitars are well-known for their excellent on-stage acoustic-electric playability and tone.
Like the NEX, their body shapes and styles play a lot like an electric guitar. Making it a perfect road companion for performers switching between electric and acoustic throughout their sets.
While Takamine is a Japanese brand, they are prevalent in USA Country Music.
What Takamine does Blake Shelton play?
Blake Shelton, the famous Country Star on the Voice, has often been seen playing the P5DC Takamine guitar model.
What model Takamine guitar did Glenn Frey play?
Glenn Frey of The Eagles favorite Takamine guitar was the EF360S.
This model was the inspiration for the Signature Series Glenn Frey Model EF360GF.
Why didn't you include any Takamine 12-strings on your list?
Because they are specialty instruments, I did not include any Takamine 12-string acoustic guitars on my list.
However, I created a separate article titled "The Best 12-String Acoustic Guitars for Every Style in 2023" that includes a Takamine 12-String on the list.
To Recap
Takamine isn't as well-known as Martin, Gibson, or Taylor. However, they have been producing high-quality guitars for over 50 years. They are the preferred instrument of many of our favorite musicians.
Also, the Takamine brand makes some of the most fantastic stage guitars available, and it should be a must-have for any musician who performs frequently.
If you're new to the Takamine line-up, then the GN93CE (the Editor's Choice) is the best value for money when it comes to all that Takamine has to offer!
Editor's Choice
Are you looking for an exceptional stage guitar with an excellent plugged-in tone? Takamine's GN93CE is your perfect choice. 
The TK-40d preamp system ensures clear, precise sound when amplified, while the built-in tuner and equalizer make on-stage adjustments a breeze.
The GN93CE is exceptionally comfortable to play with, thanks to its NEX body style and mahogany neck. Whether you're a beginner or a seasoned pro, this guitar will impress.