Taylor Guitars
Has a wide variety of guitars for any style and skill level

A leader in sustainable business practices

Innovative and forward-thinking designs

You'll have a guitar that will sound amazing for years to come

C.F. Martin & Company
Know you're playing on what many consider to be one of the best-sounding instruments out there

These guitars are expertly built and will last a lifetime

They've been making instruments for almost two centuries

They have quality guitars for every player and budget
Seagull Guitars
They use sustainable materials

Great construction for an affordable price

Classic, understated designs that look great

Considered a hidden-gem in the guitar world
Don't know which guitar brand is best for you in 2022?
Finding the right acoustic guitar can be challenging, especially if you're new to playing. There are so many options available that it can be overwhelming for players to know where to start.
Based on my 25+ years of playing guitar, my pick for the best brand in terms of quality, sustainability, innovation, versatility, product offerings, and price is Taylor Guitars. I believe that no matter where you are on your guitar journey, they will have something that will suit you perfectly.
However, plenty of great guitar brands are worth your attention.
Here's my list of the best acoustic guitars brands on the market today. I also included the ultimate acoustic guitar buyer's guide to help you sift through your options and find a guitar you will love.
Let's begin!
The Best Acoustic Guitar Brands in 2022 at a Glance
Editor's Choice
Are you looking for an acoustic guitar brand that offers consistently excellent quality and innovative designs? Look no further than Taylor Guitars. Their wide range of acoustic instruments is perfect for players of all skill levels, lifestyles, and playing styles.
Taylor's commitment to quality and innovation has made them one of the most respected guitar brands in the world. When you buy a Taylor guitar, you know you're getting a top-quality instrument that will bring you years of guitar playing enjoyment.
Let's say you're looking for an acoustic guitar brand that offers consistently tremendous and innovative guitars for all skill levels, lifestyles, and playing styles. In that case, Taylor Acoustic Guitars is a no-brainer.
I purchased my first Taylor (514ce Cedar Top) back in 2006. I love and play this guitar still to this day. Honestly, I have no reason to buy another guitar for practical purposes.
Taylor thoughtfully crafts their acoustic instruments with the end-user in mind. Taylor doesn't make a bad guitar. Whether it's the practicality of their Academy series (some of the best acoustic guitars for beginners on the market) or their luxurious Presentation series guitars that are pieces of art.
Taylor's manufacturing process is dialed in, and they have high quality-assurance standards.
This strength of Taylor's is critical in today's online guitar purchasing environment. To trust that when we spend our money on a guitar, we will get a guitar that plays excellently is now worth something. Often, we don't have access to demo the model of guitar we are researching.
Getting a lemon from Taylor is highly unlikely.
Taylor's tone is too bright for some. They prefer the woody, mid-range nature of other guitar brands on this list.
However, Taylor offers guitars in so many tonewoods and body shapes you can undoubtedly find one that will suit your tonal style without much hassle.
Finally, the Taylor guitar neck is by far the most pleasant to play of any brand I've ever played. It has a smooth, luxurious feel that makes moving up and down the fretboard a breeze.
All in all, I never regretted my purchase, and I don't think you will either if you go with a Taylor.
Pros
When you purchase a guitar from Taylor, you're getting the best of the best

Taylor is innovative and creates consistently high-quality guitars

They are leaders in sustainable sourcing and business practices

Every guitar in their lineup sounds awesome
Cons
The cheapest full-sized guitar is over $600

The modern tone might not be "vintage" enough for some players
I wrote a Taylor Brand Guide that goes through the best Taylor acoustic guitars for all budgets and styles for those that want to dive deeper into the brand.
Best Tone

Looking for the perfect acoustic guitar tone? Look no further than C.F. Martin & Company!
Our guitars are the inventors of the classic Dreadnought style and the X-Brace, and our sound is instantly recognizable worldwide.
Our guitars have a warm, mid-range tone that's perfect for any style of music. So if you're looking for an acoustic guitar with unparalleled tone, Martin Guitars is worth every penny!
C.F. Martin & Company (Martin Guitars) is the OG acoustic guitar brand and grandfather of modern guitar design.
Martin Guitars has been around since 1833 and is the inventor of the classic Dreadnought style guitars and the inventor of the X-Brace.
These inventions are still widely used by acoustic guitar brands in their construction and series to this day.
Martin guitars are also highly regarded for their classic worn-in, mid-range sound. Martin's tone is essentially the guitar sound you've heard on numerous records and is immediately recognizable.
Martin is frequently associated with high-end acoustic guitars. Still, they have a vast range that may meet any budget, use-case scenario, and playing style.
It's doubtful that you will buy a Martin and not love it, especially if you are tone-obsessed.
Pros
Martin guitars are some of the most sought after instruments in the world

They have that classic sound that is unmatched by any other brand

The company is still family-owned and has been around for almost 200 years

Martin guitars are made to last
Cons
Some users find Martins hard to play

They are expensive
I wrote a Martin Brand Guide that goes through the best Martin acoustic guitars for the tone-obsessed guitar player for those who want to dive deeper into the brand.
Best Martin Alternative
If you're looking for a classic acoustic guitar with a great sound and feel, then Blueridge is your brand.
Their guitars are inspired by vintage designs, but with a modern twist that makes them perfect for today's musicians. The solid wood construction and high-quality craftsmanship give these guitars a rich, full sound that is perfect for any style of music.
Blueridge Acoustic Guitars are gaining popularity in the guitar world for being high-quality, solid wood, vintage-inspired guitars for a great price.
They have a classic look and feel and, from a distance, could be mistaken for a Martin.
Chances are you will love your Blueridge Guitar. However, some users report that the guitar's construction does not hold up over time. Since the guitar is manufactured in China, some users have also said it is challenging to work with their customer service.
But with that said, suppose you're after that iconic Martin Standard Series sound quality but don't want to pay the price. In that case, a Blueridge Guitar is a beautiful alternative to consider as long as you don't mind the Martin name not being on the headstock.
Pros
Blueridge are premium quality guitars for a great price

Classic look and vintage feel

Extremely playable neck design that suits a variety of playing styles

Feels like you're playing a Martin
Cons
Some are disappointed these guitars are made in China

Some users have reported the construction of the guitar doesn't hold up over time
Best Boutique Brand
Looking for the perfect acoustic guitar? You'll find it in Collings. These guitars are the perfect addition to any musician's arsenal, expertly crafted and boasting a tone that is second to none.
With a price range that starts at over $3,000, Collings is not for the beginner but look no further if you're looking for a top-of-the-line guitar that will last you a lifetime.
Collings are handcrafted in Austin, TX. They are one-of-a-kind guitars that are expertly built with no detail unnoticed.
Collings is not a beginner's acoustic guitar brand; the cheapest one is over $3,000. However, suppose you're looking for one of the finest acoustic guitars that will become a family heirloom that plays and sounds fantastic. In that case, Collings is worth every penny.
Collings boasts quite an impressive roster of musicians who use their guitars. Artists such as:
Keith Richards
Brani Carlisle
Conor Oberst
Ray LaMontagne
George Strait
Marcus Mumford
Zac Brown
Conan O'Brien (Yes, that Conan O'Brien)
And so many more…
Collings Guitars are expensive and won't be a fit for most players. However, they are a musicians brand, and if you have the money, you won't be disappointed.
Pros
Expert craftsmanship, quality control, and handmade to perfection

Become part of an elite group of musicians who use Collings guitars

Collings guitars are a perfect representation of your personality

You'll proudly pass down this guitar to your kids one day
Cons
They are extremely expensive

You'll worry that you'll ding it when you play it because it's expensive 🙂
Best Iconic Style
Looking for an acoustic guitar that looks as good as it sounds? Then you need a Gibson! These iconic instruments are synonymous with class, style, and history.
Gibson has been making guitars since 1902, and their experience shows in every detail of their construction. These beautiful acoustic guitars are made in Gibson's Bozeman, Montana factory. They feature the company's trademarked muted high-end response, which gives them a warm, vintage sound.
Gibson's iconic style is evident in every aspect of their acoustic guitars, from the elegant body design to the carefully crafted finish. Whether you're a beginner or a pro, a Gibson acoustic guitar will elevate your playing to the next level.
Gibson Guitars is an iconic brand synonymous with rock n' roll, blues, and roots music.
Today they're most famous for their Les Paul series of electric guitars. Still, the company's history began with making acoustic instruments back in 1902.
Gibson's acoustic guitars have a muted high-end response, often referred to as warm and vintage.
All Gibson acoustic guitars are built in their Bozeman, Montana factory. Gibson designs some of the most beautiful, elegant, and iconic-looking acoustic guitars on the market today.
Their round-shouldered dreadnought and Super Jumbo guitar shapes are the most revered guitars. They are highly sought after by guitar players.
However, there are some questions about Gibson's current quality assurance standards. People often complain of build inconsistency with sloppy construction.
A video from Driftwood Guitars cuts open a Generation Series Gibson that explores this in detail, which you can check out here.
Pros
Every guitar is handmade in the USA

They're gorgeous to look at

Perfect guitar for rock n' roll, roots, and blues music

Gibson has a great vintage tone that is adored by songwriters
Cons
Very expensive with no budget options

The craftmanship can be inconsistent
I wrote a Gibson Brand Guide that goes through the best Gibson acoustic guitars for the inspired songwriter for those that want to dive deeper into the brand.
Best Gibson Alternative

One of the most trusted names in guitars, Epiphone has been a go-to for musicians since 1957. While often referred to as the "budget Gibson," Epiphone is known for producing high-quality instruments built to last.
Used by legends like Paul McCartney, Bob Dylan, and Billie Joe Armstrong, Epiphone is the only other guitar manufacturer with licensing rights to imitate Gibson designs.
Bought by Gibson in 1957, Epiphone is often referred to as the "Budget Gibson" brand.
However, Epiphone is recognized for producing high-quality, well-built instruments. They have been used by Paul McCartney, Bob Dylan, and Billie Joe Armstrong, to name a few. They're also the only guitar manufacturer with licensing rights to imitate Gibson designs.
They've recently released a guitar series titled "Inspired by Gibson" that replicates the famous Gibson models for a much more affordable price.
For individuals searching for a great blues and rock n' roll acoustic guitar, Epiphone is a fantastic, low-cost alternative to Gibson.
Pros
Solid construction and great playability

Affordable prices for authentic Gibson replicas

They are beautiful looking instruments

Have your dream guitar at a fraction of the cost
Cons
The sound isn't as rich as a Gibson

Some report the built-in electronics work poorly
I wrote an Epiphone Brand Guide that goes through the best Epiphone acoustic guitars for all budgets and styles for those that want to dive deeper into the brand.
Best For Gigging
Are you looking for a top-notch acoustic guitar that can keep up with your hectic gigging schedule? Takamine Guitars should be your go-to brand!
Takamine makes great onstage acoustic-electric guitars with excellent playability and tone.

The unique NEX body design is built to play more like an electric guitar, ideal for performers who often alternate between electric and acoustic guitars during their sets.
So if you're looking for an acoustic guitar that sounds great and is built to last, look no further than Takamine Guitars.
Takamine Guitars are known for their great on-stage acoustic-electric guitars with excellent playability and tone.
They were, after all, the first company to introduce the under-saddle guitar pickup, which revolutionized the acoustic guitar world.
It's also worth mentioning that the Takamine NEX body design is meant to play more like an electric guitar than a traditional acoustic. This makes them ideal for performers who often alternate between electric and acoustic guitars during their sets.
While Takamine is a Japanese brand, you will see these acoustic-electric guitars used often in USA Country Music.
They are the preferred guitar by Blake Shelton, Garth Brooks, and Kenney Chesney.
Takamine continues to push live-performance technology forward with their Cool Tube preamp design, which uses tube circuitry to fatten up a plugged-in tone.
A lot goes on under the hood with Takamine regarding construction and electronics, and they have a very loyal fanbase.
Takamine is a fantastic guitar brand to consider if you're a live performance musician.
Pros
Takamine's have a tremendous plugged-in tone, perfect for on-stage performances

Solid construction and high-quality proprietary electronics

Play your favorite songs with more freedom on stage

Great designs that are easy to play on and off stage
Cons
Some of the Chinese made Takamine's can be inconsistent in build quality

Great for the stage, but there are better options for studio recording

If you don't need the electronics, you could be paying a premium for no reason
I wrote a Takamine Brand Guide that goes through the best Takamine acoustic guitars for performing artists for those that want to dive deeper into the brand.
Best for the Environment
Looking for an acoustic guitar that's easy on the environment? Look no further than Breedlove Guitars.
As of 2021, Breedlove is proud to say that their guitars are made with sustainably sourced wood. They also work exclusively with suppliers who share their vision of sustainable forestry and ethical business practices.
Also, Breedlove's unique aesthetic and uncommon tonewoods are sure to turn heads wherever you go.
Breedlove guitars have quickly risen to be one of the top guitar brands in the United States.
Based out of Bend, Oregon, Breedlove has a unique aesthetic and often uses Myrtlewood as their tonewood of choice.
This gives Breedlove a distinct and beautiful look that will turn heads and start conversations wherever you play.
What makes Breedlove stand out is its environmental efforts. As of 2021, Breedlove makes all its guitars with sustainably sourced wood. They also only work with suppliers who support their exact vision of sustainable forestry and ethical business practices.
Company policies like the ones Breedlove Guitars has implemented are necessary for the acoustic guitar industry and our planet as a whole.
Supporting companies that practice sustainability and ethical business practices like Breedlove is an excellent way to partner and add fuel to their efforts!
Pros
Make a difference in the world by playing sustainably sourced guitars

High-quality guitars with most models being handcrafted in the USA

Every Breedlove guitar is made from sustainable materials

Built from extremely beautiful tonewoods
Cons
How they name their guitars gets super confusing

Resell value can be lower than other guitars
Best for Beginners

Looking for the best acoustic guitar brand for beginners? Look no further than Yamaha Guitars.
This world-renowned company has been crafting quality acoustic guitars since the 1940s.
Their entry-level FG series is perfect for beginners and intermediate players alike.
With a wide range of budget and premium options, Yamaha has the perfect guitar for any budget. So start your musical journey off on the right foot with a Yamaha acoustic guitar.
If you're new to the guitar world, you will most likely be confused to see Yamaha on this list. This is the same company that makes motorbikes and network devices.
However, Yamaha has been making acoustic guitars since the 1940s. They have become known for crafting great entry-level guitars.
Their Folk Guitar (FG) series of acoustic guitars are top-rated among beginner and intermediate guitar players. They also offer various options for different skill levels and budgets.
Yamaha also produces some of the most popular and best acoustic guitar starter kits on the market.
Whether it's a budget series guitar or one of their high-end L-Series guitars, Yamaha's quality is highly regarded.
Suppose you're just starting guitar and have a limited budget. In that case, Yamaha makes some of the best beginner-friendly guitars out there.
Pros
Yamaha offers high-quality guitars at an affordable price point

You can get a great sound at an affordable price

It is easier to play than other budget guitars

Solid wood tops are used on all guitars
Cons
Often back and side tonewoods are cheaper than competitors

Some budget Yamaha's may need to be set up by a professional luthier after purchase

Name is not usually associated with high-end acoustic guitar models
I wrote a Yamaha Brand Guide that goes through the best Yamaha acoustic guitar for all skill levels and playing styles for those that want to dive deeper into the brand.
Best for Bonfires
Fender has been making iconic electric guitars for decades, but they've stepped up their game in recent years when it comes to acoustics.
Their vintage-inspired designs are retro and hip and will look great on your Instagram feed. But don't let the good looks fool you - these guitars are built to perform. With slim necks and excellent playability, Fender acoustic guitars are perfect for beginners and intermediate players.
Fender is famous for its popular electric guitars like the Stratocaster and Telecaster. However, in recent years, they have made great strides in creating really cool acoustic guitar models.
Fender Acoustic Guitars have stuck to the surf culture roots and made some uniquely retro and Instagram-worthy looks to their instruments.
That doesn't mean that it's all looks and no substance.
Fender brings its expertise in electric guitar design to its acoustic guitars. They do this by making them comfortable with slimmer neck designs that offer excellent playability for beginner and intermediate guitar players. Although, sometimes, players have complained that the fret edges of Fender's Acoustics can be a bit sharp.
With that said, suppose you are an intermediate to advanced player looking for a guitar that grows with you as a player. In that case, you may want to look at some of the other guitar brands on this list.
With that said, a Fender acoustic guitar is perfect for those who want a versatile guitar for your next bonfire or party.
Pros
Great designs that echo back to the hey-day of surf culture

Fender offers a wide range of styles and designs to suit your personal taste

Fender has great resell value

Fender acoustic guitars are perfect for beginners and intermediate players who have tons of style
Cons
The California Series guitars tone falls flat for the price

Some claim the fret edges of the fingerboard are too sharp

Some consider Fender a better electric guitar brand than acoustic
I wrote the ultimate guide to the best Fender acoustic guitars for those that want to dive deeper into the brand.
Best for Electric Guitar Players
If you're an electric guitar player looking to branch out and try playing acoustic guitar, Ibanez is the brand for you.
Whether you're looking to strum traditional chords or tap out complex rhythms, Ibanez has a guitar that will suit your needs.
Ibanez's forward-thinking designs and high-quality construction make them a force to be reckoned with in the acoustic guitar world.
Ibanez is well known in the metal and hard rock communities for building an electric guitar that can shred.
However, they are often overlooked as an acoustic guitar brand, but Ibanez has a lot to offer in this category.
Ibanez's forward-thinking and highly playable acoustic-electric guitars are for players who want to expand beyond cowboy chords and get into alternative playing styles.
Percussive tapping, fingerstyle, open-tunings, and traditional strumming work great on Ibanez acoustics.
Ibanez guitars are worth your attention if you're looking for an acoustic-electric guitar with the playability of an electric guitar while still preserving the lovely aesthetics of an acoustic instrument.
Pros
Ibanez allows you to be as creative as you want with your guitar playing

Very versatile/comfortable neck designs that are perfect for beginners and advanced players

Ibanez's are great for percussive tapping, fingerstyle, open tunings, and traditional strumming

Expand your musical horizons with an acoustic guitar from Ibanez
Cons
Can be too alternative for more traditional acoustic players

No premium models and lack of diversity in tonewoods
I wrote an Ibanez Brand Guide that goes through the best Ibanez acoustic guitars for the alternative musician for people who want to dive deeper into the brand.
Best Value for Money
Looking for a unique acoustic guitar that won't break the bank? Look no further than Seagull Acoustic Guitars!
These Canadian-made beauties are made with sustainable materials and excellent value for your money. Whether you're a beginner or an experienced player, Seagull guitars will give you years of playing enjoyment.
Seagull Guitars is a Canadian guitar brand 100% made in Canada with sustainable materials. Seagull was started by Robert Godin of Godin Guitars in 1982.
Seagull is a quality acoustic guitar that is no-frills, responsibly made, and budget-friendly.
I've previously owned a Seagull acoustic guitar and found it to be a comfortable, good-sounding, and all-around affordable guitar. However, it wasn't the best playing guitar I've ever owned.
The guitar felt good for open chords, but when experimenting up the neck, it didn't play as well as other acoustic guitars I've owned. It also developed minor intonation issues over time. However, these issues are minor, and you can't beat these guitars for the price point.
You won't find a better value for your money for an affordable solid top, sustainably sourced handmade guitar.
Pros
Affordable guitars with quality craftsmanship

Responsibly made in Canada with sustainable materials

Seagull guitars sounds great and competes with guitars twice the price

A hidden gem in the acoustic guitar world
Cons
Wider necks can be hard for beginners and those with small hands

Cedar topped Seagulls can scratch and dent easily

Budget Seagulls often don't come with electronics/pickups
The Ultimate Buying Guide for Finding The Best Acoustic Guitars and Brands
Let me be clear: my list of the best acoustic guitar brands isn't the definitive list.
I know that most people will find an excellent guitar from one of the companies I recommended. Still, I don't want to forget about the smaller companies manufacturing acoustic guitars that are worth investigating.
However, when it comes to purchasing the right acoustic guitar for your style and skill level, there are many things to consider.
It can be pretty daunting when you don't know what you should be looking for!
So I've compiled a list of criteria and factors to assist you in your research for the best acoustic guitar so that you don't make the wrong choice.
Price Point
Acoustic guitar brands aren't all equal. In fact, acoustic guitars significantly differ between the cheap and expensive ones.
However, that isn't to say that you can't find great-sounding and highly playable acoustic guitars in the entry-level range. You just have to be careful when looking at cheap guitars.
Cheap guitars often are hard to play and discouraging. They also make it difficult to push through the painful periods of learning the instrument.
I think beginner guitar players shouldn't go with the cheapest guitar they find. They should look at a mid-range guitar ($500-$1000) because the playability, construction, and tone will motivate you to keep playing.
Also, the build quality you get at this price range is surprisingly good, and your resell value will be good if you decide playing guitar isn't for you.
If you're a seasoned player who knows that guitar is a lifelong passion, buying a high-end instrument is an excellent investment. It will keep you inspired to play and grow for years to come.
In my opinion, it's better to buy once and cry once. It's better than the alternative of settling for a less-than-ideal guitar for your needs and being bummed.
Related Articles
The Best Inexpensive Acoustic Guitar Under $300 in 2022
The Best Acoustic Guitar Under $500 for Every Skill-Level & Player in 2022
The Best Acoustic Guitar Under $1000 For Every Use Case 2022
The Best Acoustic Guitars Under $2000 For Every Guitar Player in 2022
The Best High-End Acoustic Guitars Over $2,000 in 2022
Playing Style and Use Case
Music is an art, and we all approach it differently. Acoustic guitar designs are created, developed, and refined to allow musicians to fully express their creativity.
However, if you are new to playing guitar, you don't have a style yet.
When I think of playing styles for acoustic players, three come to mind:
Intimate, fingerstyle players
Dynamic and versatile players
Strummers and flatpickers
If you're just beginning to learn guitar, you will want the most versatile musical instrument you can find. One that does everything well, but maybe no-one-thing great.
This will allow you to develop your style unhindered and keep playing your guitar fun.
As you advance, you'll want to invest in certain acoustic guitars that are particularly strong in one area. Knowing what you want to use the guitar for will assist you in determining what the best acoustic guitar is for you.
Here are some questions to ask yourself when looking for a guitar:
Do you record?
Do you play out a lot?
Are you playing in a loud band?
Are you looking for something that will travel well?
Do you live in an apartment with thin walls?
Do you play with a pick or your fingers?
Do you sing while playing guitar?
These questions will help you sift through the variety of guitar models, series, and constructions many guitar brands offer and market to you.
Body Shape
Once you have determined your budget and goals for your acoustic guitar purchase, it's time to start looking for a guitar.
The first thing you should consider is the acoustic guitar's body shape. The body shape will significantly influence the way your guitar sounds and plays.
Acoustic guitar brands have many names for their different body shapes. Still, ultimately they are all a variation of these classic types.
Parlor Guitar
A parlor guitar is the most miniature flat-top full-sized acoustic guitar that dates back to the 1800s.
It was meant to be played in wealthy people's "parlors" for entertainment purposes and designed to fit the smaller frames of females.
They went out of vogue at the turn of the 20th century but have recently gained popularity and are now a staple in most guitar brands' acoustic lineups.
The sound of a parlor guitar is beautiful, delicate, and punchy. Modern-day parlor guitars can be surprisingly well balanced and perfect for fingerstyle players and recording artists.
They're also quite attractive and have a lot of mojo, but they don't project as well as bigger-bodied acoustics, so if you want to perform live, you'll need a pickup.
Dreadnaught
Dreadnought guitars were introduced to the world by Martin Guitars in 1916. The dreadnought body shape is the most popular acoustic guitar shape, and each guitar brand has one in its lineup.
The dreadnought's large body produces a big sound. They are famous for bluegrass and country because of their ability to project over other loud instruments.
While they often have more low-end "oomph" than smaller-bodied guitars, they can sometimes have a "muddiness" in the mid-range. This can result in chords losing articulation and the guitar sounding unbalanced.
However, dreadnoughts are the way to go if you're searching for a guitar that can hold its own in a band setting.
0/Concert
A concert body style is a small-bodied guitar with rounded shoulders and a pinched waist. It is similarly sized to a nylon classical guitar.
These body types share many qualities as the Parlor, being a focused, punchy, and balanced acoustic guitar that is great for fingerstylists but doesn't hold up well to loud strumming.
00/Grand Concert
When you go through an acoustic brand's catalog, their "concert bodies" are often based on the Grand Concert design.
Grand Concerts beef up the Concert/Parlor into a more modern design.
A Grand Concert is a great body shape for singer-songwriters and solo performers because of the intimate and focused tone produced. These guitars don't project like a dreadnought-style guitar and won't overwhelm the singing voice.
They also are lovely guitars for fingerstyle players and a lighter strummer. The smaller, pinch-waist guitar design responds quickly, and it won't take much input to get the guitar to sing.
However, like the original Concert and Parlor designs, the sound of this guitar falls apart when strummed too aggressively.
000/Grand Auditorium
The Grand Auditorium body design is most versatile and popular for the modern acoustic guitar.
These guitar bodies often come with a cutaway to allow easy access to upper-frets for more modern/advanced playing styles.
With a larger body size than the Grand Concert, you can expect more volume and projection.
Unlike Dreadnoughts with a more boxy shape, Grand Auditoriums are extremely pleasant and comfortable to play because of their smaller waist design.
Suppose you're looking for the best acoustic guitars for a "swiss-army knife" guitar that will suit all skill levels. In that case, a Grand Auditorium body shape should be where you focus your research!
Jumbo
The Jumbo guitar is like a dreadnought on steroids. It's a big-bodied design that produces a loud, projecting tone that is great for big strummers.
The Jumbo was introduced to the world by Gibson Guitars in 1936 and is one of their most iconic designs. Many guitar brands make a Jumbo-style guitar, but they vary between manufacturers. They may have a different name to differentiate from Gibson.
The Jumbo stands out over a dreadnought guitar because it has a smaller waist. This produces a more balanced and articulate tone that allows for each note in a chord to stand out.
The bigger-bodied design does need a solid strumming hand to get the most out of the guitar's tone. This can make it unsuitable for beginners or people with smaller hands or smaller frames.
Tonewoods
Tonewood is a wood used to construct an acoustic guitar. Tonewoods greatly impact your musical instrument's sound, playability, and value.
Like Taylor or Martin, many guitar makers utilize a range of tonewoods in their instruments. This is to push musical instruments into sustainable and new sonic territories.
However, some acoustic brands still stick to the classic tonewood options. For example, Gibson Guitars uses only spruce for their top woods.
Understanding tonewoods, especially when shopping for a new guitar online, will help you choose the perfect guitar for your needs.
Solid Wood vs. Laminated Wood
When deciding what guitar brand and model will be best for you regarding tonewood, you first need to understand the difference between a solid wood guitar and a laminated wood guitar.
All solid wood acoustic guitars will often be on guitars that get into the $1,000+ range. Solid wood resonates better and has a deeper tone. It also ages and opens up to sound better with time.
Laminated wood is used in more budget-friendly guitars. It's generally constructed with multiple pieces of plywood pressed together to create the wood. Sometimes laminates are made from resins and other materials that aren't even wood.
Laminate is considered inferior in the acoustic guitar world and usually has a flatter tone than solid wood.
However, there are times that a laminate guitar makes sense even for more skilled players. Laminate is more durable than solid wood and is less prone to warping and cracking due to weather changes.
This makes laminated guitars a better choice for traveling and those living in climates with extreme weather changes.
Some of the best budget guitar brands like Yamaha Guitars will use solid top wood and then use laminate wood for the back and sides. This gives you resonance and durability while keeping the costs at a minimum.
Soundboard (Top Wood)
The soundboard (or top wood) is essential for an acoustic guitar. It will have the most impact on your instrument's projection, playability, and dynamics.
There are particular soundboard tonewoods frequently used by all guitar brands, with the most popular being spruce.
Let's go through these common soundboard tonewoods you will come across so you can easily sift through the noise.
Spruce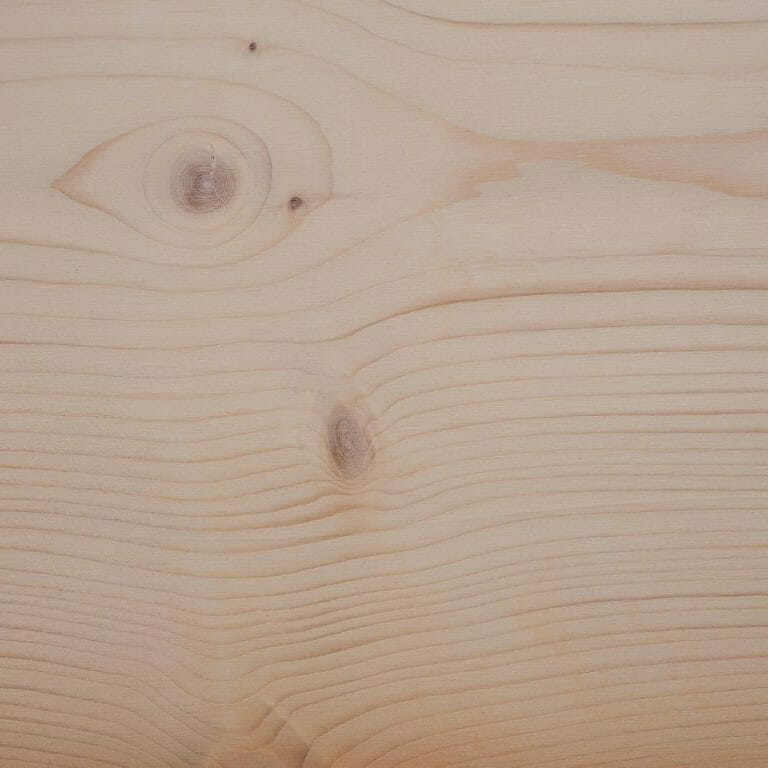 Solid spruce is the most frequently used top wood for acoustic guitars. Solid spruce is a softwood with a wide dynamic range and sonically diverse sound.
Spruce is a wonderful tonewood option because of its versatility. It will suit all styles of players, from lighter fingerpickers to heavy-handed strummers.
Spruce is a popular wood for many types of music, including country, blues, pop, and rock & roll.
You'll often come across multiple species of spruce, and each has its differences. Common Spruce species are:
Solid Sitka Spruce Top: Good dynamics, balanced and articulate
Solid Lutz Spruce Top: Very loud and vibrant
Solid Engelmann Spruce Top: Warm, mid-range-oriented tone
Solid European Spruce Top: Great dynamics and a pleasant warmth
Solid Adirondack Spruce Top: The tone is bright, loud, and clear
Spruce will be the most common and versatile tonewood you will find on acoustic guitars of any brand, and you can't go wrong with it.
Mahogany
Mahogany is a hardwood that is dark in color. It has a classic vintage tone that is warm and mellow when used as a top wood.
Solid Mahogany guitars are often considered the perfect guitar for folk, blues, and solo artists.
Mahogany top guitars are great for fingerpicking because the wood responds well to a light touch and has a good amount of sustain.
Another benefit of mahogany as a top wood is that it naturally compresses the guitar's tone. This can help players sound better because their playing will sound more even.
This also makes mahogany-topped guitars great for recording situations. You will have more controlled dynamics making for a better acoustic guitar recording.
Cedar
Cedar is a softwood with a light color, similar to spruce. It doesn't have the same dynamic range as spruce, but it does have its own unique mellow tone that you won't find in other woods.
It's an excellent choice for players who want a mellower-sounding guitar that is intimate and highly responsive.
Cedar is traditionally found on classical acoustic guitars. Still, some brands, like Taylor, use it for some of their steel string models.
The sound of cedar-topped guitars falls somewhere between mahogany and spruce. Cedar is excellent for light strumming and fingerpicking.
The downside of Cedar is that it doesn't hold up well to heavy strumming and can "blow out" when pushed too hard.
Koa
Koa is a Hawaiian wood that is hard and lightweight. It has a reputation for being one of the most beautiful tonewoods in the world.
Koa tops are often used on high-end acoustics guitars. Using Koa can add a lot of price to an acoustic guitar.
The tone of Koa is bright and clear with excellent projection and sustain. It's an excellent choice for players who want a guitar that will cut through a dense mix.
The brightness of Koa isn't for everyone. If you find yourself playing with heavy picks, then the brilliance of Koa might be overwhelming and brittle.
However, suppose you're a player who likes to strum with the pads of your fingers. In that case, the extra brightness of Koa could be an excellent benefit to preserving the articulation of your notes.
Redwood
Redwood is another softwood occasionally used as a top wood for acoustic guitars. It has a similar tonal quality to Cedar but a better dynamic range similar to spruce.
Redwood is a delicate wood prone to cracking and is often found on premium acoustic guitars because it's not an easy wood to work with.
On some of their most expensive guitars, Taylor Guitars famously employs Sinker Redwood. The supply of Sinker Redwood comes from massive old redwoods that have been at the bottom of riverbeds in California's rivers for more than a century!
Body Woods
While the soundboard is a critical part of a guitar's overall tone, the rest of the construction is equally important to how a guitar will sound overall.
The body tonewood of a guitar acts as an EQ to a guitar. Some tonewoods, like rosewood, will scoop out the midrange making it a great guitar to sing over because it provides a nice pocket for a vocalist to sit.
While other tonewoods like mahogany will add more mid-range and "woodiness" to a sound giving a more worn-in and mellow tone.
Acoustic guitar brands use a variety of different body and side tonewoods. I'm going to cover the most common you will come across.
Rosewood
Rosewood is the most well-known body wood in acoustic guitar construction.
However, rosewood is becoming used less because it is being overharvested, with certain species on the endangered list.
On the other hand, rosewood is still often seen in higher-end acoustics. It has a scooped midrange suited to singer/songwriters.
Rosewood also creates a sound with rich overtones and a smooth high end.
Ovangkol
Ovangkol is an excellent alternative to rosewood with a little more mid-range presence and a brighter high-end, comparable to Koa.
Taylor introduced Ovangkol to the acoustic guitar scene as a more environmentally friendly substitute for rosewood. It's a versatile tonewood that will suit a wide range of players.
Mahogany
Mahogany is one of the most popular woods for guitar body construction due to its distinctive tone, sustain, warm midrange, and mellow sound.
With the natural sound compression characteristic of mahogany, this is an excellent body tonewood choice for recording artists and guitarists who haven't yet mastered their strumming hand.
Mahogany is said to help guitarists sound better than they actually are 🙂
Sapele
Sapele has a similar tone to mahogany on the back and sides, except being somewhat brighter. It can be used for various musical genres because it's very versatile.
It's often used as a more sustainable substitute for mahogany.
Nato
Nato is a more cost-effective alternative to mahogany. It shares the same dark appearance and mid-range tone.
Nato is also used as the tonewood for guitar necks and can also be called Eastern Mahogany.
Koa
Koa has a similar tone to mahogany, except for some extra brightness. It's an excellent choice if you want some clarity and high-end articulation for your acoustic guitar.
It's a beautiful-looking tonewood, but the high-end response can be a little too much for some. However, the wood will soften in time, which will mellow out the guitar's tone.
Maple
Maple wood is one of the most attractive-looking tonewoods. It's often referred to as having a bright tone.
However, it's a very transparent tonewood with lovely projection in reality.
Because maple has few overtones, it's excellent for strummers. It helps each note in a chord be more balanced, articulate, and focused.
Often you will find maple back and sides on Jumbo guitars.
Walnut
A more woody, earthier version of maple. Walnut has a rich sound and outstanding sustain that you'll enjoy on your guitar.
If you're seeking a tonewood that won't color the tone of your guitar and projects loudly across a room, consider choosing one with a Walnut body and sides.
Myrtlewood
A tonewood that has been made famous by Breedlove Guitars, Myrtlewood is a dense tonewood that doesn't crack easily. It shares the tonal characteristics of maple with the look of Koa. It produces a very clear and round tone with excellent projection.
Suppose you're looking for something that will turn heads, start conversations, and is sustainable and unique. In that case, a Myrtlewood guitar is something that you should look into.
Neck Wood
The neck wood on acoustic guitars is often mahogany. Since mahogany is a dense and solid wood, this makes a beautiful guitar neck because it's less prone to warping. This will keep your guitar playable with less effort with maintenance.
Because of mahogany's natural compression, this neck wood will soften the attack of notes and produce a warmer tone.
Mahogany is also a very responsive guitar neck, making it easy to play on.
Some budget-friendly acoustic guitars will be made with Nato, comparable to mahogany and used as a budget alternative.
Fingerboard
Rosewood Fingerboards are the most common on acoustic guitars because it's a hard and dense wood with a clear sound. It's also very smooth to the touch, making it a favorite amongst guitar players.
Ebony is another widely-used wood for fingerboards and has a very slick and fast feel. It's great for players who want to play lead lines up and down the neck.
It's more durable than rosewood and has a brighter attack and better sustain.
Ebony generally is found in more expensive than rosewood and will be found on the higher-end guitar.
Bracing System
Bracing is an acoustic guitar is the internal support structure that reinforces the guitar's strength. It also has a direct effect on the way your guitar resonates.
When looking for your next guitar, you will come across three bracing systems:
Scalloped X-Bracing
Unscalloped X-Bracing
V-Class Bracing
Scalloped X-bracing is the most common you will find in acoustic guitars. It's when the wood is shaved off from the internal bracing to help the soundboard resonate more easily.
This gives the guitar more dynamics, loudness, and bass response. However, the downside of this bracing is the loss of sustain in your notes.
On the flip side, Unscalloped X-Bracing does not shave off wood from the internal bracing, creating better stability in the top wood and a more balanced tone.
However, you tend to lose loudness with the added stiffness but get better note sustain.
Then you've got V-Class Bracing, the patented Taylor-only design invented by head luthier Andy Powers.
V-Class Bracing improves a guitar's loudness and sustain while creating near-perfect intonation. It's a giant leap forward for guitar building and one of the reasons why I choose Taylor Guitars over other guitar brands.
Neck Radius
Neck radius affects the way a guitar feels within your hand.
A thicker 7″-9″ neck radius will feel more rounded and may be more comfortable for chord playing but not as comfortable for playing scales.
On the other hand, a larger 16″ neck radius will feel more like an electric guitar and allow you to "shred" your guitar with greater ease.
Some acoustic guitars have tapering necks with a thicker neck radius for open chords and then get slimmer as you move up the fingerboard.
If you are a beginner guitar player, look for a more modern neck design that takes a "middle of the road" radius design for more effortless playability.
Nut Width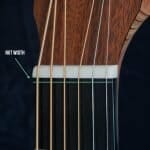 The nut width is the distance between the strings and the edge of the fretboard.
You must consider your playing style while selecting a nut width. As a rule-of-thumb, a wider nut width allows for more incredible fingerstyle performance, and a narrower one works better for flatpicking and strumming.
On average nut width sizes are:
Small: 1.61 inches (1 11/18")
Average: 1.73 inches ( 1 3/4")
Large: 1.875 inches (1 7/8")
It's important to note that nut width affects the fretting hand more than your picking hand.
Scale Length
You can discover the scale length by doubling the distance between the bridge nut and the 12th fret.
A full-size guitar has a scale length of around 25.4 inches. On the other hand, a shorter-scale instrument has a scale length of roughly 24.7 inches.
Shorter-scale guitars have less string tension, giving a "slinkier" playing feel. This makes the guitar easier to play, especially for beginning guitarists.
However, full-scale guitars tend to keep their tuning better when playing in alternate tunings.
Appointments
Most people love a beautiful-looking guitar. This beauty comes from various fretboard inlays, rosettes, bindings, purflings, headstock design, tuning machines, and finish.
Most of these appointments are purely aesthetic and can significantly raise your guitar's cost.
While some manufacturers have very few appointments to keep the cost low and the quality and playing standards high, like Taylor and their Academy Series guitars.
The big things to look for when searching for the best acoustic guitar brand in terms of their appointments are:
Finish
Bridge
Nut
Tuning machines
These four things will have the most impact on your sound.
For example, a guitar's finish helps protect the guitar's wood and provides some aesthetic beauty. However, when a finish is too thick, it prevents the wood from properly resonating. It causes the sound of the guitar to sound "choked."
Some factory-made guitars might error on the side of a thicker finish to provide a more durable and long-lasting guitar. So be aware of this when purchasing a low-end guitar.
Also, there's no avoiding it: if you buy a cheap acoustic guitar, the components of the instrument will almost certainly be low-quality.
Although nothing is inherently wrong with that, you should be aware of the problems associated with poor-quality nuts, bridges, and tuners. Things like intonation difficulties as well as other playability issues.
You can get this fixed by taking your guitar to a professional luthier for a professional setup. Or you could even replace some parts to make your budget-guitar play more like a high-end guitar.
Electronics and Pickups
These days, it's tough to find an acoustic guitar that doesn't have some sort of electronics system built-in.
However, acoustic guitars are still available based on vintage specs, and some cheap guitars don't include any electronics. Doing your homework to see if the guitar you're considering contains electronics is a good idea.
You don't want to overlook this and purchase a guitar without it if you need it. On the other hand, if you don't need it, you can save yourself some money.
Most acoustic guitar brands have their own "proprietary" electronics system that is always marketed as "superior" to the competition.
Others will partner with popular pickup manufacturers for their guitars.
In my opinion, electronics never get you the most authentic tone out of your guitar. If you are purchasing a cheaper guitar, I wouldn't worry about what system it comes with. This is because it will likely be a piezo under-saddle pickup that will sound decent enough but never great.
However, as you get into some higher-end models of famous brands, you will see some premium pickup designs. These often make a difference in your plugged-in sound, but non is ever better than the other. It becomes a matter of taste.
Remember, you will never be able to truly re-create the tone of your acoustic when amplified.
Carrying Case
A gig bag or a hardshell case is usually included with almost every guitar purchase.
However, these will vary in terms of quality.
Taylor, Martin, and Gibson are some of the best-known names that will offer high-quality cases to safeguard your guitar and investment.
When it comes to higher-end guitar purchases (1,500+), look for a guitar that comes with a high-end hardshell case.
It's disappointing to receive a soft shell gig bag after purchasing a $1,500+ guitar, but it does happen with some models out there.
A great case will go a long way when searching through the best acoustic guitar brands to do business with.
Sustainability
One critical point consumers of electric and acoustic guitars often overlook is whether or not the guitar brand practices ethical and sustainable business practices.
One-fifth of global greenhouse gas emissions come from deforestation, and it's been stated that 20-40% of wood sourcing is done illegally (1).
When purchasing a guitar, thinking about our environment is a level deeper than most want to think. However, some of the best acoustic guitar brands lead the pack with sustainable practices.
Some of the top guitar brands in this regard are:
Breedlove
Taylor
Seagull
Martin
There are some tremendous budget-friendly guitars from all of these brands. Sometimes paying a little extra goes a long way to support an ethical supply chain, from the raw resources to the people who build your guitar.
Where is it Made?
When a guitar brand offers musical instruments at many different price points, one way they cut costs is to manufacture them in China or Mexico.
Since these locations have cheaper labor and are more "factory-oriented" to produce at volume, you often won't get a guitar that is as consistently high-quality as guitars handbuilt in the main facility.
However, this isn't always true. For example, Taylor Guitars consistently produces high-quality, affordable guitars from their Tecate, Mexico facility. And other guitar brands are redefining what "Made in China" means, making high-quality guitars for lower costs offshore(2).
Just be aware when navigating the acoustic guitar market to look at the location where your instrument is made. The playability and quality can suffer from the lack of quality assurance in some of these facilities.
To Recap
If you're looking for a guitar that will suit your needs, I recommend Taylor Acoustic Guitars.
They produce high-quality, consistent guitars in all price ranges and a wide variety to choose from. Whether you are just starting out or have been playing the instrument for years, they have something that will be a perfect fit for you!
Taylor Guitars
Has a wide variety of guitars for any style and skill level

A leader in sustainable business practices

Innovative and forward-thinking designs

You'll have a guitar that will sound amazing for years to come

C.F. Martin & Company
Know you're playing on what many consider to be one of the best-sounding instruments out there

These guitars are expertly built and will last a lifetime

They've been making instruments for almost two centuries

They have quality guitars for every player and budget
Seagull Guitars
They use sustainable materials

Great construction for an affordable price

Classic, understated designs that look great

Considered a hidden-gem in the guitar world
Related Articles:
The Best Guitar Capo for Acoustic & Electric Guitars 2022
The 9 Best Chairs and Stools for Guitar Playing in 2022
How a Guitar Humidifier Will Protect Your Investment in 2022 (Buyer's Guide)
The 6 Best Clip-On Guitar Tuners For All Budgets 2022