Editor's Choice
J-45 EC Inspired by Gibson
A timeless look crafted for bluesy tone, projection, playability, and aesthetic beauty

Great for fingerpicking, strumming, and singers

An affordable alternative to Gibson
For Recording
L-00
Produces a punchy and articulate vintage sound

Great for recording artists and songwriters

Affordable and compact size
For Gigging
J-200 EC Studio Parlor
Big, bold sound in a smaller package

Great for portability and touring

You'll be able to play for long periods without getting tired
Are the best Epiphone Guitars as good as Gibson Guitars?
Suppose you're one of the many guitar players on a budget, and the price tag associated with a Gibson is just out of your reach. However, you can't shake the desire to own one of those beautiful and classic instruments.
So you might be looking into buying an Epiphone but are unsure if they are quality guitars that could give you that Gibson mojo.
Well, rest assured. Epiphone makes excellent, low-cost copies of Gibson's vintage acoustic and electric guitars that look wonderful and have good sound quality, especially with their "Inspired by Gibson" line of guitars.
In this article, I've used my decades of guitar playing experience to create the list below on the Epiphones that are perfect for certain playing styles and player needs. Whether you just started playing guitar or are an experienced pro, I'm sure there is something that will pique your interest!
Let's look at some of the best acoustic guitars Epiphone makes, shall we?
The Best Epiphone Acoustic Guitars in 2023 at a Glance
Editor's Choice
Epiphone's J-45 Acoustic Guitar is a beautifully crafted tribute to an absolute legend. 
The original J-45 debuted in 1942 and quickly became known as the standard by which all other dreadnoughts would be judged. With its balanced, robust low end and rugged midrange, the J-45 is perfect for musicians with a bit of swagger.
If you're looking for an acoustic guitar that can do it all, the Epiphone J-45 is a clear choice.
The Epiphone J-45 EC Inspired by Gibson is a great pick for anybody looking for a guitar that looks as good as it sounds!
It features a solid Sitka spruce top and mahogany back and sides, giving it a warm vintage tone emphasizing the mid-range.
This cutaway dreadnought has a timeless look and is crafted for a bluesy tone, projection, playability, and aesthetic beauty.
The construction of a 24 3/4″ short-scale body, a mahogany neck, and a laurel fingerboard has proven popular among guitarists. It produces a pleasant deep tone while being comfy to play.
The gorgeous aged gloss finish accentuates its distinct look and perfectly suits the artist who wants to stand out from the crowd.
The J-45 EC includes Fishman Sonicore under-saddle pickups that will bring the great sound of the guitar to your live performances.
This is the best Epiphone acoustic-electric guitar for intermediate players and even pros alike!
Pros
Beautiful guitar with a classic, vintage tone

Perfect for fingerpicking, strumming, and singing

Has the classic dreadnought body style that can cut through a busy mix

You'll have an instrument that you'll want to keep and play for years
Cons
The mid-range can be a bit muddy

It lacks the depth and weight of other dreadnought style guitars
Best for Budget
The Epiphone J45 Studio is the perfect guitar for budget-minded players who still want a great-looking and playing instrument. 
With its unique bell-like shape and larger lower bout, the J45 Studio has a very distinctive voice that is perfect for various styles.
So if you're looking for a great deal on a great classic guitar, the Epiphone J45 Studio should definitely be at the top of your list.
The J-45 Studio is the toned-down version of our Editor's Choice pick. It is one of the best affordable guitars for beginners.
Most inexpensive guitars have all laminate construction, but the Epiphone J-45 Studio features a solid spruce top and mahogany body, providing fantastic sound and balance. Solid wood also ages, improving the guitar's sound with time.
The neck has a slim and comfortable feel. The classic dreadnought body style provides a timeless acoustic tone and excellent projection.
The J-45 Studio is sure to please any player with its beautiful aesthetic and great playability.
Pros
Solid spruce top provides excellent value for money

The neck has a slim and comfortable feel to it

Classic design that will stand the test of time
Cons
This is an entry-level guitar, so while it looks great, the sound is 2-dimensional

It lacks the "coolness" factor of other Epiphone guitars on this list
Want to discover more options for the best budget acoustic guitars?
Check out my Best Acoustic Guitar Roundups for the following price ranges:
Best for Wall Mounting
The Epiphone Hummingbird Pro acoustic guitar is a marvel of beauty and sound. 
The distinctive hummingbird pickguard sets off the body while beautiful, split parallelogram inlays give the Pau Ferro fingerboard an elegance all its own. 
Suppose you're looking for an acoustic-electric guitar that sounds great and looks even better. In that case, the Epiphone Hummingbird Pro is the perfect choice for you.
OK, before you start flaming me in the comments, I'd want to clarify one thing: guitars are meant to be played! However, I know that guitars are sometimes appreciated for their craftsmanship and beauty, and people want to display them for the world to see.
With that out of the way, the Epiphone Hummingbird Pro is an acoustic-electric guitar with gorgeous vintage appointments. It is as much a work of art as it is a musical instrument.
While this guitar will look fantastic on your wall in your home office or recording studio, it should be noted that it features a Solid Spruce top. So please be careful exposing it to humidity or extreme weather conditions to avoid cracking and warping the guitar.
Suppose you're a collector or a guitar player seeking one of the most beautiful guitars from any guitar brand. In that case, the Epiphone Hummingbird Pro is for you!
Pros
Comes with the beautiful and iconic hummingbird pickguard

Great affordable alternative to the more expensive Gibson models

Comes standard with classic and elegant split parallelogram fret inlays
Cons
It has a thin-sounding low-end compared to other dreadnought style guitars

Onboard electronics suffer from the piezo "quack"
Best for Flatpicking and Strumming
The Epiphone J-200 Acoustic Guitar is the perfect instrument for flatpicking and strumming.
This acoustic guitar is the perfect choice for players who want that classic vintage Gibson design and playability without paying an arm and a leg.
The Epiphone J-200 Inspired by Gibson is a fantastic acoustic-electric guitar for flatpicking and strumming. This guitar has a solid Sitka spruce top and maple back and sides. This tonewood combination creates great projection, a wide dynamic range, and a balanced tone ideal for country, rock, and blues performers.
The fantastic vintage pickguard with a flower-and-dot pattern will catch the attention of anyone who sees it. While the maple mustache bridge with curving inlays adds a unique touch to this guitar that you won't find on any other model.
The Indian laurel fingerboard is easy to play. The classic mother-of-pearl graduated crown inlays add to its timeless elegance.
The J-200 by Epiphone provides a soundhole mounted preamp with easy access to a rotary tone and volume control, designed for performing artists who need to make quick adjustments while playing live.
The Epiphone J-200 easily equips the guitar player who wants their cowboy chords and big lead lines to project and fill a large room!
Pros
Excellent projection and loud sound

Great for country, rock, and blues performers

A beautiful and timeless design that will catch anyone's attention

Great affordable alternative to Gibson's more expensive model
Cons
Jumbo body size can be uncomfortable for smaller players

The tone, when strummed, can lack articulation and depth
Best for Recording
The Epiphone EL-00 Pro is the perfect guitar for recording and campfire jams. 
With its easy-to-play design and classic Vintage Sunburst finish, this guitar will produce a tight, woodsy, focused sound that will sit great in your next track.
So if you're looking for an acoustic-electric guitar that's perfect for recording, the Epiphone EL-00 Studio is an excellent choice.
The Epiphone L-00 is a tiny, sleek acoustic-electric guitar with a focused, punchy voice. If you're a recording artist, this is the best Epiphone guitar for you.
The small, pinched body shape produces an articulate and balanced sound. This helps a great acoustic guitar microphone pick up every nuance, resulting in an audio track that is easy to manipulate and blend into a mix.
The guitar's mahogany body also generates a warm, rich sound with plenty of sustain. The 24.75″ scale length makes this guitar simple to play, particularly for lengthy periods. This is crucial when you need to record many passes of the same take in the studio!
While this guitar can produce excellent recordings, it is also fantastic for the guitar player sitting around strumming chords or picking out melodies on the couch at home.
Pros
Produces a punchy and articulate vintage sound

Great for recording artists and songwriters

Affordable and compact size
Cons
The tone lacks some weight and depth compared to other parlor guitars

You may have to modify the guitar to get it to play the way you want
Best for Gigging
The J-200 EC Studio Parlor from Epiphone is the perfect guitar for gigging musicians. 
This acoustic delivers a big, full, rich sound that will impress any audience. The Maple neck with Walnut center stringer and Pau Ferro fingerboard offers incredible response and feel for hours of comfortable playing. 
Whether you're strumming chords or finger-picking melodies, this guitar will become your go-to instrument for any gig.
The Epiphone J-200 EC Studio Parlor is a classic acoustic guitar with modern touches.
This smaller-sized jumbo acoustic-electric guitar has the same tone, volume, and playability as the American classic, the J-200.
The J-200 by Gibson was designed and appreciated for its loud and cutting sound. This was essential for guitar players to be heard over drums and other musical instruments. However, as amplification became more prevalent, the J-200 EC Studio Parlor was created to commemorate the power of the original J-200 but with modern conveniences like portability and pickups.
This guitar's 24.75″ scale length makes it simple to play for lengthy periods, making it ideal for your next tour.
If there's one thing to remember, the J-200 EC Studio Parlor will never let you down in any genre or style you play—from rock to country to
and pop; this guitar has your back!
Pros
Feel the power of the J-200 in a more convenient package

The smaller size is great for portability

It's easy to play for long periods, making it perfect for your next tour

Extremely versatile guitar
Cons
When playing with a strap, you'll feel some slight "neck dive"

Laminated back and sides slightly hinder the full tone you could get from this style of guitar
Best for Travel
When you're looking for an excellent Epiphone acoustic-electric guitar that can travel anywhere, the Lil' Tex is your best choice. 
With its compact size and robust full tone alike, this little instrument offers much more than a cool-looking finish.
Whether you're hitting the beach, hanging around a campfire, or want a guitar to keep in your car, the Lil' Tex Travel Acoustic is a perfect choice.
The Epiphone Lil' Tex is a great travel acoustic guitar that captures the spirit and tone of a vintage full-size Epiphone Texan.
This guitar features a solid spruce soundboard and an all-mahogany body for robust, full tone and impressive projection.
The Mahogany neck has an excellent feel and playability. At the same time, the passive under-saddle piezo pickups produce incredible amplified acoustic sound.
The small Epiphone Lil' Tex Acoustic Guitar makes it perfect for taking on any journey!
Pros
Great for travel

It's an excellent guitar for kids and beginners

Affordable

Comes with a gig bag
Cons
Tone lacks depth and weight

Some users reported intonation issues with the factory setup
If you're in the market for a great travel guitar or kids' guitar, then you should check out my articles:
Have you ever wondered what the best guitar brands on the market are today? Well, I created an ultimate acoustic guitar brand guide and buyer's guide to help you choose your perfect guitar. Check it out today!
The Epiphone Acoustic Guitar Buying Guide
Suppose non of the Epiphone acoustic guitar reviews mentioned above was an exact match for you. In that case, the following buying guide will show how to choose the best Epiphone acoustic guitar for your style and vibe.
Body Shape
The perfect guitar is one that you don't want to put down. The first thing you want to consider when purchasing any guitar should always center around the body shape, no matter what type or brand it may be from.
Body shape has a massive impact on tone and playability. Some bodies have more projection and overtones, which are great for big cowboy chords. In comparison, some have more articulation between notes with less projection, great for fingerstyle.
Also, certain body types are going to be more comfortable than others. A parlor guitar sits closer to the body and feels more intimate. At the same time, a Super Jumbo might be uncomfortable for smaller-framed players.
Small Body
Traveling musicians and kids will love this guitar style because of the small body design. It's a shrunken version of Epiphone's full-size guitars, meaning it has all the classic features that fans know and love but in a portable package!
If you're looking for something beautiful, practical, and has a small footprint, a small-sized Epiphone is designed for you. 
Popular Epiphone Small Body Acoustic Guitars:
Parlor
Epiphone parlor guitars are well-known for their woody sound. Blues musicians favor this body shape because it gives them a more aged and worn-in tone.
These guitars are great for guitar players with small hands, kids, and fingerstyle because the short-scale of parlors makes them easy on the fretting hand.
Popular Epiphone Parlor Style Guitars:
Round Shoulder
Round shoulder dreadnought Epiphone guitars are the body shape of flagship Gibson models, which Epiphone replicates.
Martin Guitars created the classic dreadnought shape in 1916. It is the most well-known acoustic guitar body design in history. However, Martin designs their guitars with a square shoulder.
Gibson, the cool, rebellious brand, wanted their unique take on the traditional dreadnought shape. So they built theirs with a round shoulder they used on other Gibson acoustics and brought a new identity to the dreadnought guitar.
Suppose you're searching for a vintage, pre-war Gibson dreadnought at an affordable price. In that case, the round shoulder Epiphone will be the model to choose.
Popular Round Shoulder Epiphone Acoustic Guitars: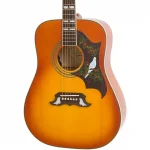 Square Shoulder
As previously stated, Martin produced squared shoulder acoustic guitars, whereas Gibson produced round shoulder acoustics.
However, in the 1960s, Gibson released square shoulder acoustic guitars like the Hummingbird and Dove. There is a lot of debate if there are any fundamental tonal distinctions between round and square shoulder dreadnought guitars.
When it comes to the best Epiphone acoustic guitar for you, it will come down to what aesthetic style you prefer for your dreadnought.
I think the two most beautiful-looking guitars are in the square shoulder family. These would be the Epiphone Hummingbird Pro and the Epiphone Dove.
So use your eyes and your ears with your decision 🙂
Popular Square Shoulder Epiphone Acoustics: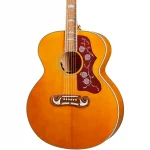 Super Jumbo
The Super Jumbo is undoubtedly one of the most well-known acoustic guitar body shapes available, crediting its design to the Gibson/Epiphone brand.
Hailed as the "King of Flat-Tops," this body style produces giant projection and a bold tone. It's also got a beautiful look that will turn heads at your next gig.
If you're searching for a performance guitar perfect for strumming and flatpicking, the Super Jumbo is the one to choose.
Popular Super Jumbo Epiphone Acoustic Guitars:
Tonewoods
It's crucial to consider the woods from which your guitar is constructed. Tonewoods all sound distinct, and knowing what they are could help you choose the best Epiphone acoustic guitar for your style and needs.
The Soundboard (Topwood)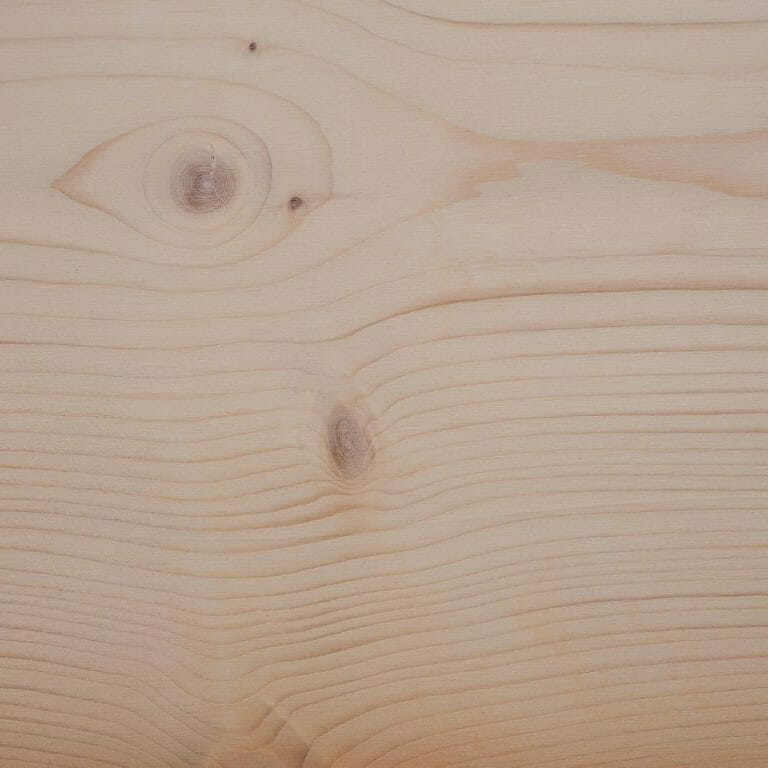 The soundboard (or top wood) of an acoustic guitar is the most essential tonewood. It will have the most significant impact on the projection, playability, and dynamics of your guitar.
Spruce is the most popular tonewood for acoustic guitar soundboards, and the characteristics of spruce are:
High Dynamic Range
Warm Overtones
Scooped Mid-Range
It won't be difficult for you to choose an Epiphone based on top wood. All of their guitars are constructed of spruce. So the only choice is between solid spruce or laminated spruce guitar.
Laminated Spruce vs. Solid Spruce
Acoustic purists will insist that you only buy a guitar with a solid spruce top. Anything else is a waste of money.
Solid wood guitars have a superior tone, appearance, and sound quality. The wood ages; thus, the guitar's sound improves with time.
However, due to weather changes, solid wood is more fragile and susceptible to cracking and warping.
If you travel a lot, a laminated guitar might be an excellent fit for you.
Suppose you're searching for a tone that complements the beauty of the best Epiphone acoustic guitars. In that case, I recommend choosing a solid wood top.
Body Wood
The guitar's body adds "seasoning" to the sound. It must be considered when selecting the best Epiphone acoustic to suit your needs.
Because Epiphone uses only spruce as their top wood, the body wood choice will be the biggest differentiator for the tone and style of guitar you're purchasing.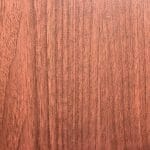 Mahogany Wood Body
Mahogany's resonant tones are typically deep and mellow. Its combination with the other tonewoods typically results in a warm tone and helps even out the sound of the top wood.
A solid Mahogany body is easy to maintain because it is durable and resistant to changes in weather and moisture.
Maple Wood Body
Maple wood generally has a big, bright tone with a flat eq response. This means that maple doesn't color the guitar's sound as much as mahogany.
Maple is a hardwood commonly used as the back and sides of Epiphone guitars with a more oversized body style. Maple has an excellent projection, making it an ideal tonewood to use if you want your acoustic guitar to cut through a busy mix of drums and electric guitars.
Ovangkol Wood Body
Ovangkol was introduced by Taylor Guitars, which is known for its focus on sustainability. Ovangkol has been used as a substitute for Rosewood because it is a far more environmentally friendly tonewood.
The Ovangkol tone is characterized by full, rich lows and highs and a somewhat more emphasized mid-range than Rosewood.
However, there is still a little "scoop" in the mid-range, making this body wood ideal for singer/songwriters since the vocals can occupy that frequency range without clashing with the guitar.
Laminate Body
Some less expensive Epiphone guitars will have a laminated wood back and sides. As stated earlier, laminate isn't always a negative thing. It can be considerably more durable than solid woods.
Laminate, on the other hand, has a less resonant sound. Because laminate materials produce fewer overtones, laminate guitars are sometimes described as sounding flat and two-dimensional.
Consider an Epiphone guitar constructed of laminated wood if you're searching for a durable instrument that won't break the bank.
Neck Profile
Gibson guitars introduced a slim-taper neck shape in the 1960s, and it has since been used on most Epiphone guitars.
This neck design starts rounder at the neck nut for more comfortable cowboy chords and gets more flat as you move up the neck to be more comfortable for faster lead playing.
However, not everyone is a fan of the slim-taper neck style, so keep it in mind while shopping for the best Epiphone acoustic guitar for you.
Scale Length
You can find the scale length by taking the distance between the nut and the 12th fret and doubling it.
A full-scale guitar is approximately 25.4 inches. On the other hand, a shorter-scale instrument has a scale length of around 24.7 inches.
Shorter-scale guitars have a more "slinky" playing style and are generally easier to play, especially for beginning guitarists.
However, full-scale guitars tend to stay in tune better if you want to play in alternative open tunings.
Electronics and Pickups
When purchasing a new acoustic, you must consider whether you want electronics and pickups.
When performing, an acoustic-electric guitar allows you to connect to an amplifier or PA system, reducing feedback caused by using an external microphone.
Most Epiphone models feature Fishman Sonicore under-saddle pickups. However, suppose you don't require this function. In that case, you may be able to purchase a higher quality guitar for less when it doesn't include the electronics or pickups.
FAQ
Commonly asked questions when looking for the best Epiphone acoustic guitars.
Are Epiphone acoustic guitars good for beginners?
Yes, Epiphone guitars are excellent for beginner guitar players and kids.
They make acoustic guitar models with different price points to meet any budget.
Epiphone also makes plenty of short-scale guitars, which are generally easier to play for children and beginners who haven't built up the strength in their fretting hand.
Also, with classic body styles and beautiful finishes, these eye-catching musical instruments are built to showcase to friends and family. When a guitar is displayed in plain sight, it gets played more.
Are Epiphone guitars any good?
Yes. Epiphone guitars are excellent instruments and provide an economical alternative to the Gibson acoustic line. They also produce a variety of sizes, types, and price points to meet the needs of most players.
In addition, Epiphone provides a wide range of finishes to choose from, so you can find the perfect look for your style.
What famous musicians play Epiphone Acoustic Guitars?
Guitar players and songwriters have been playing Epiphone guitars for over half a century.
Some famous musicians that have been seen playing an Epiphone Guitar are:
• Bob Dylan
• Paul McCartney
• James Bay
• Marc Bolan
• Tom DeLonge
• Trent Reznor
• Billie Joe Armstrong
• Noel Gallagher
Why aren't there any acoustic bass guitars on this list?
You may have noticed that I didn't include acoustic short-scale bass guitars on this list. Acoustic bass guitars are a breed all their own, so I created an article that goes over the best bass acoustic guitars that you can check out here.
To Wrap Up
If you want a guitar with a vintage rock n' roll sound but don't want to spend a fortune on it, an Epiphone acoustic is a great option. There are lots of guitars for every budget and playing style.
The best Epiphone guitars have a rich sound, good playability, and a beautiful appearance that will turn heads no matter what setting you play your guitar in.
If you're searching for the most versatile guitar in their lineup that will serve you well for years to come, our Editor's Choice J-45 EC is the one to choose!
Editor's Choice
J-45 EC Inspired by Gibson
A timeless look crafted for bluesy tone, projection, playability, and aesthetic beauty

Great for fingerpicking, strumming, and singers

An affordable alternative to Gibson
For Recording
L-00
Produces a punchy and articulate vintage sound

Great for recording artists and songwriters

Affordable and compact size
For Gigging
J-200 EC Studio Parlor
Big, bold sound in a smaller package

Great for portability and touring

You'll be able to play for long periods without getting tired