Editor's Choice
A great guitar strap with strap locks that don't require modifying your guitars hardware

Very comfortable and will allow you to play for long periods standing up

Practical and affordable
For Adjustability
Easily adjustable length for all size players

Many different patterns and styles to choose from

RipChord technology ensures a quick and easy adjustment without having to take the strap off
For Acoustics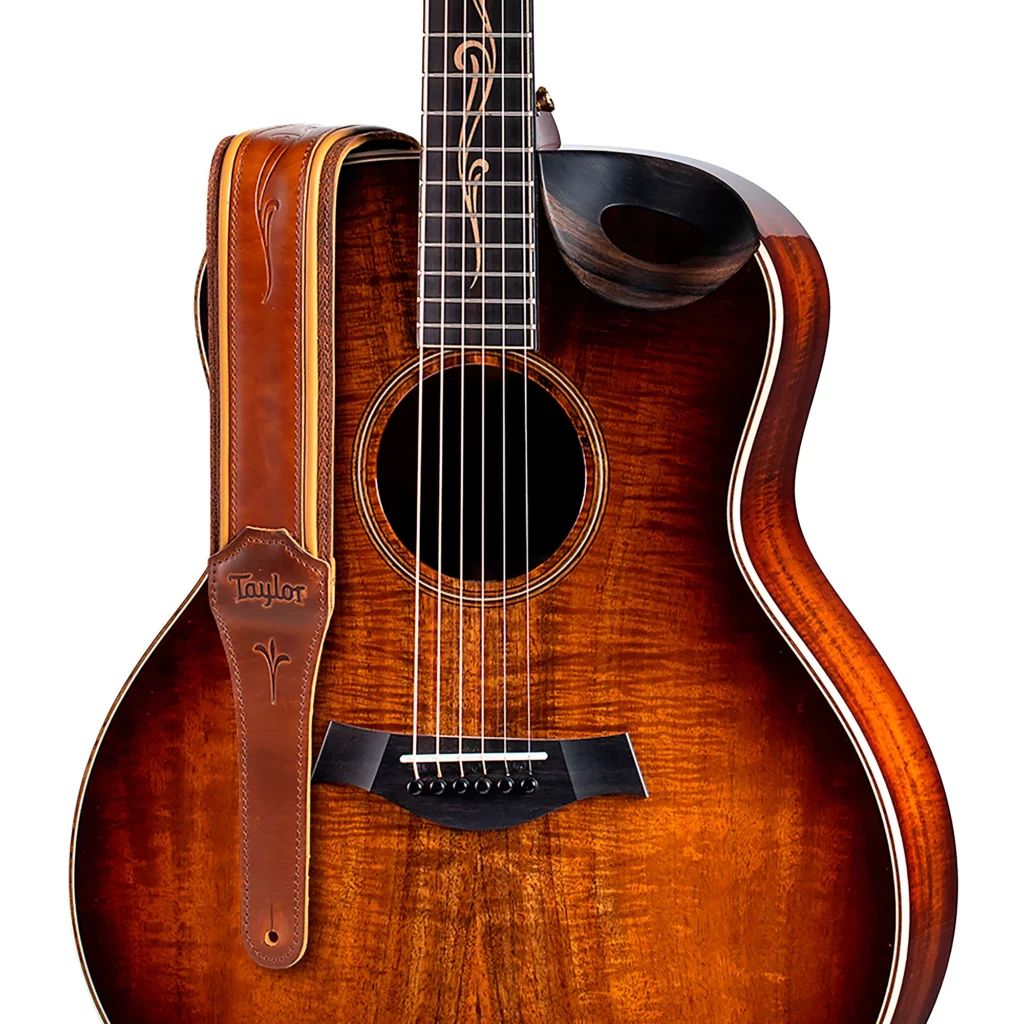 It's beautifully made and will look great with any acoustic guitar


It's very comfortable and adjustable

It's made from high-quality materials and will last a lifetime
A guitar strap should be a simple purchasing decision on the surface. However, looking for the best guitar straps, you'll quickly get overwhelmed with all the choices.
With all the different materials, colors, and styles to choose from, it can be hard to know which strap is the perfect fit for you.
Well, I've got you covered. This blog post will give you eight options for the best guitar straps in budget and use cases. I've also included a helpful buyer's guide and FAQ at the end to help you with your further research if non of these straps call your name.
Let's get started!
The Best Guitar Straps in 2023 at a Glance
Editor's Choice
Looking for a comfortable guitar strap that won't fall off your strap buttons and is affordable? Then you have to check out the Ernie Ball Neoprene Polylock Guitar Strap! 
Constructed with cushy neoprene, this strap is built to make it comfortable to play for acoustic, electric, and bass guitar players. 
So if you're looking for the best guitar strap that will protect your guitar, and is comfortable to use, choose the Ernie Ball Neoprene Polylock Guitar Strap!
Ernie Ball is an iconic brand that makes incredible guitars, strings, and accessories.
Their Neoprene Polylock Guitar Strap is a comfortable, practical, and an affordable guitar strap that will work for acoustic, bass, and electric guitar players.
The main feature of this guitar strap is the Polylock strap locks that don't require replacing your guitar's strap locks. This will ensure that your strap doesn't fall off while performing and potentially ruin your guitar.
The strap comes in a 2" or 3" width. For most players, the 2" should be enough, but if you have weaker shoulders or play a weighty instrument, you should purchase the 3" for the extra support.
Constructed with cushy neoprene, this strap is built to make it comfortable to play your guitar standing up for long periods. The construction of this guitar strap is understated and only comes in black. So if you're looking to show off your personality with your guitar accessories, you'll want to look at other options on this list.
There's also one thing to consider that could make this guitar strap a deal breaker. If you play a guitar where your strap button is on the back of your guitar, this strap won't be a good fit.
Also, shorter people and players who want their guitar to be up along their chest have mentioned that the guitar strap is too long for them.
Suppose you're looking for the best guitar strap that is practical, will protect your guitar, and will last a lifetime. In that case, the Ernie Ball Neoprene Polylock Guitar Strap is a great purchase.
Pros
Polylock does an excellent job keeping your guitar strap from falling off


Very comfortable and makes playing for extended periods easy

Affordable and practical
Cons
It can't be used with guitars that have strap buttons on the back

Not an excellent strap for shorter players
Best for Adjustable Length
Looking for a reliable and comfortable guitar strap? Look no further than Levy's Leathers.
Their Right Height models are perfect for players of all sizes, thanks to their innovative RipChord technology. With this feature, you can easily adjust the length of the strap on the fly.
Also, with Levy's 40 + years of experience, you'll have peace of mind knowing you're using one of the best guitar straps on the market!
Levy's guitar straps have been making straps since 1973 and have a wide range of artists who love what they produce.
Levy's has been around for enough time to know what pain points guitar players have with a relatively simple accessory and create some innovative designs to address these problems.
One such problem is having a strap that has easily adjustable length for all sizes of players.
Levy's has addressed this problem and created the RipChord technology, allowing players to adjust the guitar straps as they play.
This technology comes on a plethora of Levy's guitar straps, ranging from cotton to leather straps. Also, you can find many different patterns and sizes, so you will be sure to find one that fits your style and ensure maximum comfortability.
Suppose you're in the market for a guitar strap that will allow you to quickly and easily adjust your guitar strap to your liking. In that case, the Levy's Leather Right Height is worth checking out.
Pros
Affordable options that come with a lot of pattern options


Easily adjustable for quick changes and fits all styles and heights

Levy's are high-quality and will last you a long time
Cons
Straps with leather ends are stiff when you first buy them. This can make putting it onto your strap buttons challenging
Best for Preventing Neck Dive
The Levy's Wide Black Suede is the best option on the market if you're looking for a guitar strap to help prevent "neck dive."
This strap is made from suede, which provides an excellent grip to keep your guitar in place. The wide straps also help to distribute the weight more evenly, preventing fatigue. This guitar strap is also adjustable, making it a great option for players of all sizes.
If you own a Gibson SG, you know what neck dive is.
Neck dive is when the weight of a guitar is unbalanced and has more weight distributed through the neck and headstock of the guitar. This causes the neck to "dive" towards the floor.
This problem is made worse when playing with a guitar strap with a slippery construction like neoprene. This is where a suede guitar strap comes in to save the day. Suede grips your shirt (or skin if you're into that sort of thing), helping keep a heavy guitar from pulling your strap down.
While there are plenty of suede guitar straps you could buy, the Levy's Wide Black Suede is top of its class. This guitar strap features a 3" strap width, which helps to have a more even weight distribution on your arm to prevent fatigue. It also is very adjustable and is great for players of all sizes.
Levy's is also considered one of the best guitar strap manufacturers, and this suede leather strap will last you a lifetime.
If you're looking to solve the problem of serious neck dive, then the Levy's Wide Black Suede Guitar Strap is the one you need to check out today!
Pros
Suede leather is very breathable and will help wick away sweat


Made of high-quality materials and will last a long time

It has many adjustable heights for players of all sizes
Cons
It doesn't come in a flashy design

Suede will show sweat stains after awhile
Best for Acoustic Guitars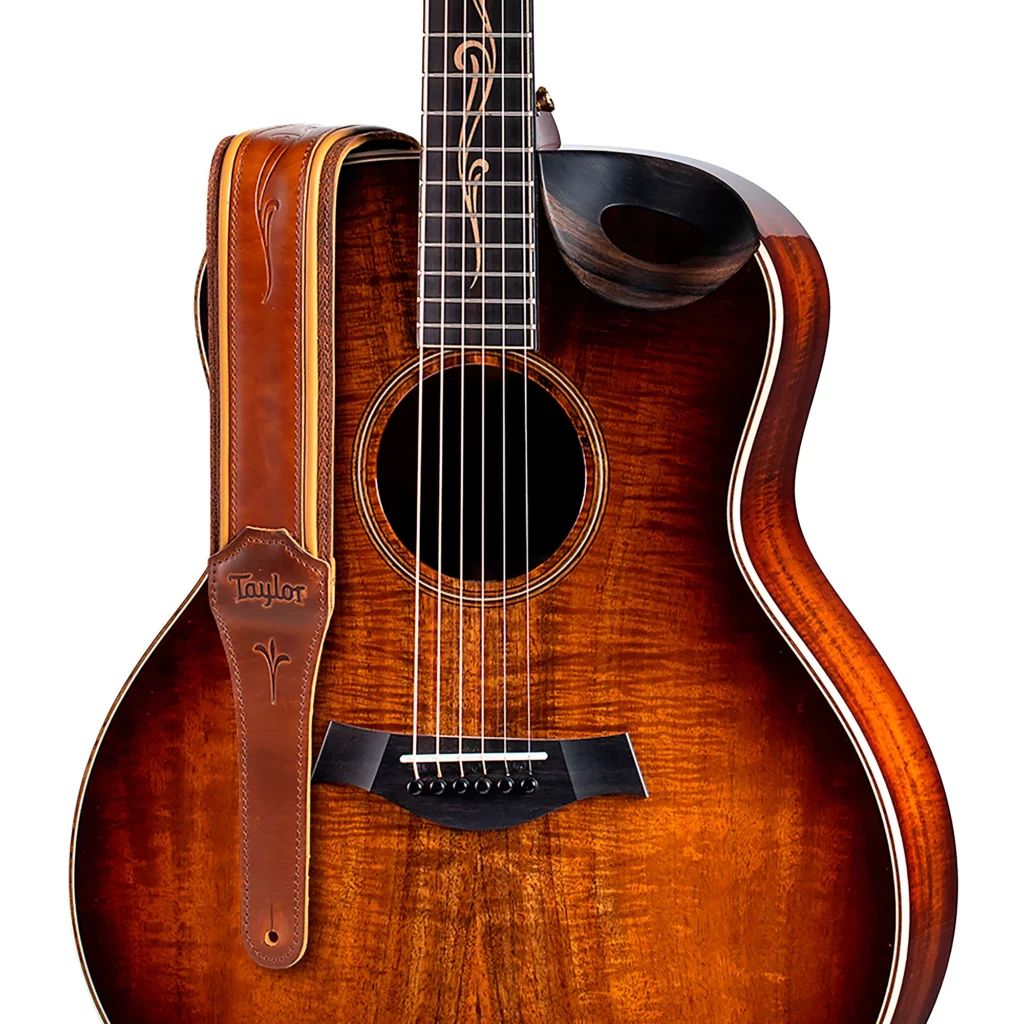 Looking for a premium guitar strap that will last you a lifetime? Check out the Taylor Embroidered Leather 2.5'' strap! 
This beautifully made strap is perfect for acoustic guitars and will give you a timeless look. This strap is made from high-quality genuine leather, is comfortable, and looks great. 
Taylor Guitars is one of the leading acoustic guitar manufacturers out there today. So it makes sense they would make some great accessories for acoustic guitars.
Well, their embroidered 2.5" genuine leather strap is beautifully made and will give you a timeless look around your shoulder.
It comes in two styles: traditional tan leather and dark chocolatey leather with a vine embroider. I like the traditional leather look as the vine embroider (based on the neck inlays on their Koa Series) is too flashy for my taste.
This leather strap is very comfortable and adjustable. However, this guitar strap might be too long for you if you're a shorter player (below 5′ 6"). Also, while this strap is high-quality and will last you a lifetime, it is very expensive.
If you're looking for the best guitar strap for your acoustic guitar that looks timeless, well made, and comfortable, then the Taylor Embroidered Leather 2.5" strap is for you!
Pros
Beautifully made and will give you a timeless look


Made of high-quality leather

Very comfortable
Cons
It's expensive

If you're shorter (less than 5' 6''), the strap may be too long for you
Best for Heavy Instruments
Suppose you're looking for a guitar strap that can handle your heavy instruments and keep you comfortable during long gigs. In that case, the Kliq AirCell is a perfect choice.
The patented AirCell design helps distribute the weight of your guitar evenly, so you don't have to worry about sore shoulders after a long night of playing. And because it's affordable and built to last, you can use the Kliq AirCell strap for years to come. 
The Kliq AirCell Guitar Strap has done the impossible in the guitar strap market, making something innovative.
The Kliq AirCell is a 3" wide guitar strap features a patented AirCell core technology that helps disperse the weight of your instrument evenly across your shoulder. While the guitar strap itself is made of neoprene, a firm but elastic material that provides enough give without being bouncy.
This design makes the Kliq AirCell one of the best guitar straps for heavy instruments like bass guitars. This strap should also be highly considered if you are gigging out a lot and want to reduce the fatigue on your shoulder.
While the Kliq AirCell Guitar Strap is exceptionally well made and comfortable, not every player will enjoy its futuristic look.
Suppose you own some heavy bass or electric guitars that you want to make more comfortable for extended playing periods. In that case, the Kliq AirCell is the best option.
Pros
Innovative AirCell and neoprene design make this guitar strap comfortable and perfect for heavy instruments


It comes with a choice of different lengths, so it will suit players of all sizes

It's affordable
Cons
The futuristic design won't be for everyone

Neoprene is slippery, and this can be problematic for neck-heavy guitars
Best for Budget
If you're looking for an affordable, no-frills guitar strap that will do the job well, look no further than the Ernie Ball Polylock.
This basic polypropylene strap is sturdy and won't slip out of strap locks, thanks to the Polylock function. It's also highly adjustable, so players of all sizes can use it.
Whether you're just starting or you've been playing for years, the Ernie Ball Polylock is an excellent choice for a hard-working guitar strap.
You may double-take if you've read this roundup from top to bottom because we have already reviewed this guitar strap. It's the Editor's Choice!
However, the 2" Guitar Strap we are discussing here is about the basic woven polypropylene version.
Polypropylene is used for your standard guitar straps that come in starter packs and are very affordable.
The thing that makes the Ernie Ball Polylock standout over another cheap strap on the market is the Polylock function that helps secure your guitar and keep the strap from falling off. Another great benefit of this guitar strap is that it has a wide adjustable length and can be used by players of all sizes.
The Ernie Ball Polylock features leather strap ends, but if you take your guitar on and off a lot, this will wear down and begin to slip off your guitar easily.
This polypro guitar strap isn't flashy, but it's practical and an excellent option for most guitar players looking for a reliable and affordable strap.
Pros
Extremely Affordable


The Polylock design works great for keeping your strap from falling off

It has a wide range of adjustability
Cons
It's basic

Not the most comfortable strap
Best Brand for Fun Designs
Looking for a new guitar strap that shows off your personality? Levy's Leathers is sure to have one that will suit you.
Levy's leather guitar straps are of the highest quality and built to last a lifetime. Because each strap is made from natural leather, each one is slightly unique – meaning you'll have a one-of-a-kind strap for your guitar.
If you don't want to settle for a dull, traditional guitar strap – check out what Levy's has to offer today!
Levy's leathers have shown up a lot on this roundup. They specialize in making some of the coolest guitar straps in different materials, sizes, and patterns. When you purchase Levy's Leather guitar straps, you will get something that is quality and lasts you a lifetime.
Levy's specializes in leather straps, and because of this, each guitar strap will be slightly unique. Levy's Leathers goes beyond a traditional strap and creates products to help you express your personality and find the perfect strap for your guitar.
There isn't much bad to say about Levy's, and this is why you see this brand name pop up so often on this roundup. Check them out today and see why they are one of the best guitar strap brands!
Pros
Sturdy, high-quality leather straps that will last forever


Fun and funky designs that help you express your personality

A variety of different build materials to choose from
Cons
Some of their straps are expensive

With so many options to choose from, it's easy to get analysis paralysis
Best for Environment & Vegans
Levy's has plenty of guitar straps to serve the vegan community. They offer three types of sustainable and vegan-friendly build materials cork, hemp, and vegan leather. Also, you can trust that you get a great product when you buy a Levy's strap.
So if you care about the environment and our animals and want to buy a product that reflects your values, Levy's vegan-friendly straps are the way to go!
Levy's has plenty of guitar straps to serve the vegan community. They offer three types of sustainable and vegan-friendly build materials cork, hemp, and vegan leather.
Levy's has plenty of width options and designs in each construction material. There is a strap to suit all guitar players, and the only thing you will have to decide between is what kind of material you want and what pattern you want.
The vegan leather strap gives you classic leather looks with all its timelessness.
The vegan cork is an exciting and out-of-left-field build material that has become popular in yoga mats. Cork is durable, lightweight, soft, and has a broken-in leather feel.
Hemp straps are all organic and one of the best guitar straps for environmentally conscious consumers.
Suppose you care about the environment and want to ensure your purchasing power goes to ethically produced products, or you're a vegan. In that case, the Levy's Vegan-Friendly line of straps is something you should check out today!
Pros
Plenty of high-quality, vegan-friendly guitar strap options


Made of sustainable materials that are good for the environment

It comes in all kinds of patterns and designs
Cons
These guitar straps lack some of the innovative design elements of other straps
The Best Guitar Straps Buyer's Guide
Searching for the best guitar straps can be a daunting task. There are so many options on the market that it can be challenging to know what will be the right purchase for you.
The following buyer's guide will help demystify the process so you can narrow your options and make a confident decision.
The Weight of the Guitar
The general rule of thumb is that the heavier your guitar is, the wider your strap should be. A wide guitar strap will more evenly disperse the pressure on your shoulder, making it more comfortable.
You should consider a 2.5" to 3" wide strap for electric guitars. For even heavier instruments like bass guitars, a guitar strap of 3.5" to 4.5" is what you should look for.
Attachments
The way a guitar strap attaches to the strap buttons is something to consider. Some guitar straps, such as the Ernie Ball Polylock, have a proprietary strap end that acts like a strap lock without needing extra hardware. This is an excellent option for players who move around while playing and don't want their strap falling off the guitar.
However, most straps simply slip on over the guitar's strap button. If you have a more budget-friendly guitar strap, the materials will wear down quickly, making it easier for the strap to fall off.
A guitar strap with genuine leather ends will maintain its hold and shape much better, but you will pay a premium.
Another solution is adding strap locks to your guitar. A strap lock can be used to secure your guitar to any kind of guitar strap safely. With strap locks, you can jump around and throw the guitar over your shoulder without worrying about the guitar flying off.
Construction
Guitar straps are made with all types of materials, which all factor in the strap's price, durability, and comfortability.
Most affordable guitar straps are made with nylon, polypropylene, or cotton. There is nothing wrong with these guitar straps; if you don't jump around while playing and your instrument isn't hefty, these straps can last a long time.
However, they dig into your shoulder and aren't the most comfortable for extended playing periods. The ends also wear down quickly, and you run the risk of the strap slipping off the strap buttons if you move around a lot.
The sweet spot for the best guitar straps is in the 30-70 dollar range. You will find straps made with durability and comfortability in mind. You will get a great range of strap widths that will help make it more comfortable playing heavier instruments.
You also have more construction material options in this price range, the most popular being the leather guitar strap.
However, you can also find some excellent sustainable materials like hemp, cork, and vegan leathers in this price range if this is something that you look for in products.
You also get the benefit of a selection of straps that can solve specific problems you may have with certain instruments.
For example, the Kliq AirCell comes with a neoprene construction that helps create "suspension," making it a fantastic option for those who quickly get sore shoulders. 
You can also choose between the different leathers, such as suede, that have a firmer grip and won't allow your guitar to get unbalanced while playing.
Once you get into the premium range of guitar straps, you often pay for personality and name brand. 
However, for most players, standard nylon, neoprene, or cotton-constructed guitar straps should be all they need for most applications.
Width
As mentioned earlier, a guitar strap's width helps reduce stress and pressure on the shoulders. This is especially true with heavier instruments.
A good rule of thumb is using a 2.5" to 3" wide strap for a heavy electric guitar. For a bass guitar, use a 3.5′ to 4.5", depending on the weight.
Generally speaking, the heavier the guitar, the wider the strap should be.
While you may think that you should just purchase a wider guitar strap for all of your guitars, this can be a mistake.
For lighter guitars, such as acoustics, a wider strap may feel overly bulky and provide too much support to the guitar. With acoustic guitar playing, having a little more gravity pulling on the guitar can make it feel more secure and solid in your hands.
Length
Most straps fall within the 40" to 60" range. This length should be suitable for all players unless you're really tall or really short.
If you're on the shorter side, you may want to look for a strap starting from 35" to 37".
If you're taller, look for a strap up to 70".
Additional Features
Usually, when shopping for a more premium strap, you will find a leather guitar strap and straps with lots of unique patterns.
However, in recent years guitar strap manufacturers have thought of more innovative features to push the humble guitar strap into more modern territories.
These features can look like quick adjustment pulls, found on the Levy's Right Height models or the strap locking ends on the Ernie Ball Polylock.
Often these features come from years of having to "deal" with specific pain points. So choosing a strap that thinks a bit outside the box can be an excellent option for finding a practical strap that solves everyday problems guitarists face.
FAQ
What is the Best Material For Guitar Straps?
Your guitar typically determines the best material for guitar straps.
For example, suppose you have an acoustic guitar. In that case, you might want a strap made from natural materials like leather or hemp. These materials will be strong and durable and also look great with the wood finish of your guitar.
However, if you have an electric guitar, you might want a more modern-looking strap made from synthetic materials. These materials are often lighter and don't add as much weight to your instrument. No matter what type of guitarist you are, there is sure to be a strap out there that is perfect for you!
Are Expensive Guitar Straps Worth It?
It depends on what you're looking for in a guitar strap.
Some people prefer expensive guitar straps because they offer better quality and longer lifespans. Others simply prefer the look or feel of more expensive straps.
Ultimately, it comes down to personal preference. If you can afford an expensive guitar strap and believe you'll have a more comfortable playing experience, and help you express yourself better, go for it!
However, if you're just looking for something to allow you to play standing up, then a less expensive guitar strap will do the trick.
Should I Purchase a Strap Lock?
Strap locks are a wise investment if you play in a band, jump around the stage, or frequently take your strap on and off your guitar.
They will keep your guitar securely fastened to your strap and help prevent it from slipping off and dropping your guitar.
Is a Leather Guitar Strap the Best?
There's no definitive answer to this question since everyone's preferences will differ. However, a few things to consider when considering the best guitar straps for you.
A leather guitar strap is often considered the premium option since it's durable and long-lasting. It also tends to feel nicer against the skin, so it might be a good choice if you plan on wearing your guitar strap for hours at a time.
Other materials like nylon or polyester can also be good choices depending on your needs. Nylon straps are generally more affordable and lightweight, while polyester straps are resistant to moisture and sweat. So if you like to play outdoors or in humid environments, polyester might be a better option.
The Bottom Line
So, what's the best guitar strap for you? It honestly depends on your individual needs and preferences. But hopefully, this post has given you a good starting point to finding the perfect strap for your playing style and needs.
If you're still unsure where to start, check out what I consider the best guitar straps by following the links below.
Thanks for reading!
Editor's Choice
A great guitar strap with strap locks that don't require modifying your guitars hardware

Very comfortable and will allow you to play for long periods standing up

Practical and affordable
For Adjustability
Easily adjustable length for all size players

Many different patterns and styles to choose from

RipChord technology ensures a quick and easy adjustment without having to take the strap off
For Acoustics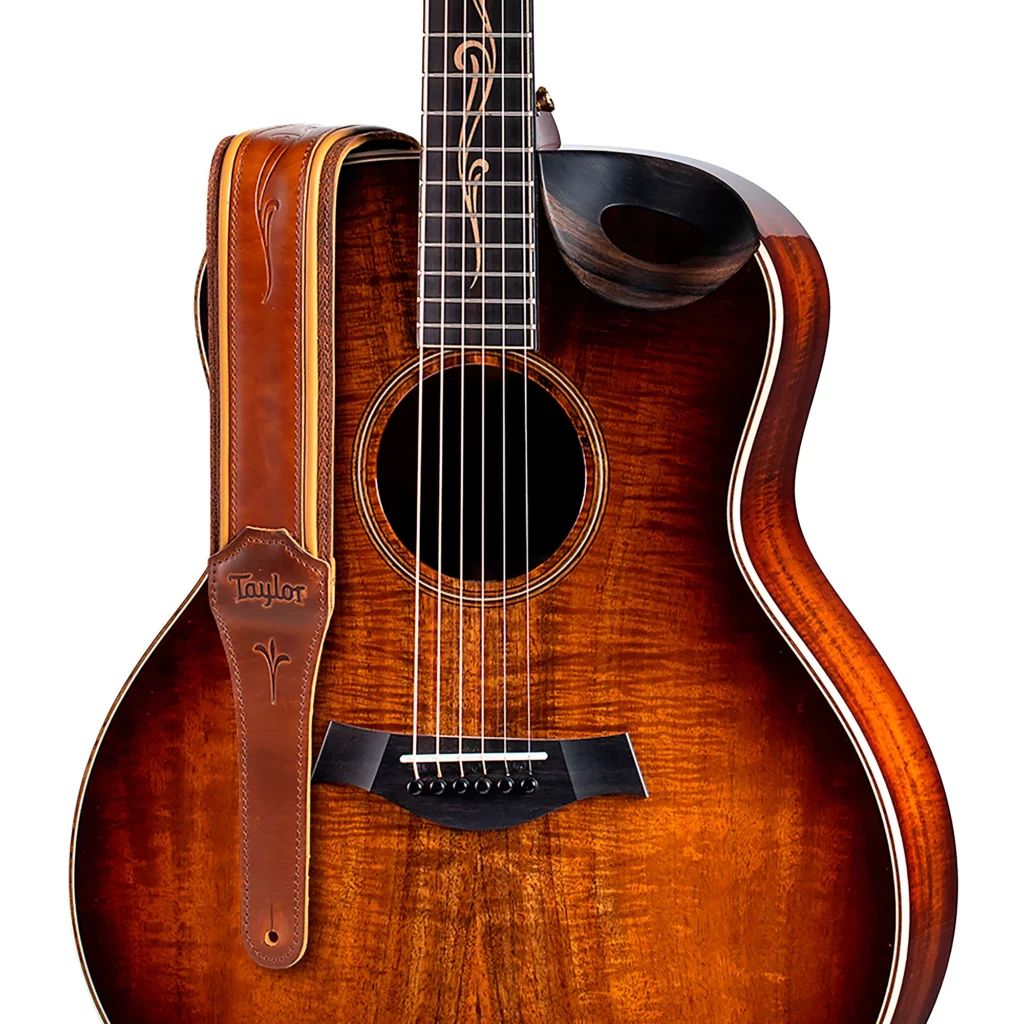 It's beautifully made and will look great with any acoustic guitar


It's very comfortable and adjustable

It's made from high-quality materials and will last a lifetime
Related Guitar Accessory Roundups:
The Best Guitar Capo for Acoustic & Electric Guitars 2023
The 9 Best Chairs and Stools for Guitar Playing in 2023
How a Guitar Humidifier Will Protect Your Investment in 2023 (Buyer's Guide)