I'm late to the party when it comes to TrueFire. When I first came across the platform, I was excited and overwhelmed by its immense library of over 50,000 video tutorials and the talent of the teachers showing you their secrets to guitar playing and songwriting.
It's no wonder that TrueFire has made a name for itself as a top player in online guitar education. No matter your skill level, genre, and aspirational playing style, TrueFire has something for everyone.
However, you may be asking yourself if Truefire is worth the time and investment or if other online guitar courses are a better option for you.
In this Truefire review, I'll give you my first-hand thoughts as an experienced guitar player on the platform and whether or not you should give it a shot.
For a limited time, you can get $100 off an annual All Access Subscription using the code BradJohnson100 at checkout. This only applies to new customers and is not valid with other promotions & discounts.
Let's begin…
My First Thoughts
When I first got access to the TrueFire All-Access Subscription, I was impressed by the wide selection of available lessons, teachers, and guitar styles. While overwhelming at first, they run you through a questionnaire to help determine the best education path for your goals.
As a guitarist and songwriter who hasn't considered lessons in years, I was impressed by how quickly I found courses that intrigued me and inspired me to approach my instrument differently.
If you're wondering, the first two courses I jumped into were Greg Koch's "30 Gristleman Guitar Licks" and Ariel Posen's "The Electric Storyteller."
This platform has an all-inclusive vibe for guitarists. I can see this being a great "lifetime" companion that you use to continually sharpen your skills.
I find the TrueFire website to have a user-friendly interface. The lessons are organized into various categories, making it simple to find the specific courses, teachers, and styles that appealed to me as a guitar player.
Some lessons and courses that are available include:
Fundamental skills & "must-know" guitar tricks
Specific techniques
Guitar styles such as blues, jazz, fingerstyle, metal, flamenco, and singer-songwriter
Series-specific teachings like masterclasses, survival guides, and my guitar heroes
"In the Jam" sessions (Not included in All-Access)
While I found TrueFire to be a treasure trove of learning resources, it could be daunting for complete beginners unfamiliar with the basics of guitar playing or those still discovering their sound.
TrueFire seems to be better suited for those who already have a foundation in the instrument and seek to expand and enhance their skills. Motivated beginners can still find value in the platform with their excellent beginner lessons. I feel most of the lessons are more intermediate and advanced-focused. In this case, total beginners may be better off with a specifically structured program to get them off the ground.
As someone who has settled into a particular guitar style over the years, TrueFire proved to be a valuable resource in helping me get inspired to play and write again. If you're looking for a platform you can live with and use as an ongoing resource to sharpen your skills, I think TrueFire is worth your time and money.
The Course Layout Truefire Offers
By Guitar Styles
TrueFire leaves no stone unturned regarding the playing styles they teach. There's a course that will inspire you from blues, jazz blues, Americana, funk, R&B, and flamenco, to name a few.
Such a broad spectrum of genres allows learners to dive deep into their "sound" and explore different techniques to broaden musical horizons. The best part is that these online lessons are taught by guitar players who know and are experts in the genre and style.
By Instrument Type
What makes up a bulk of TrueFire's content is focused on electric guitar. However, there are lessons around acoustic guitar, bass guitar, ukulele, banjo, harmonica, and a few courses on mandolin and dobro.
Even though these instruments aren't primary for me, I like that I can brush up on how to play these instruments to sharpen my songwriting, arrangement, and production skills.
By Guitar Topic
To ensure comprehensive learning, TrueFire offers lessons categorized by topics such as technique, chord melody, exercises, CAGED, improvisation, songwriting, and more.
I like this approach to the website's navigation. By grouping all the courses and lessons into topics, you can quickly get a plan to fill in gaps within your knowledge and skills. It's a more structured approach than trying to sift through hours of random YouTube videos.
By Series
TrueFire series breaks down lessons into thematic groupings. There are series titled Guitar Gym, My Guitar Heroes, Licks You Must Know, and Masterclasses.
Most of the Series approach is aimed at intermediate to advanced players. You often follow along with backing tracks and are introduced to more complex patterns and ideas. However, some "First Steps" videos will cover the guitar for people who know nothing about guitar.
Overall, the Series breakdown is extremely helpful for getting complete training in specific areas. I found it enjoyable to jump into a random series and see a playing style from a guitar player I wouldn't typically follow and see what new tricks I could pick up.
The User Interface
The Homepage
When I first visited TrueFire, I noticed their website has a clean and intuitive interface. The information is displayed in a non-chaotic fashion, making it easy to find what you're looking for, even if unfamiliar with guitar-related terminology.
The design and layout of the homepage facilitate easy navigation, allowing you to access different courses without confusion.
There is a clear list of popular and new courses, as well as, genre breakdowns and free lessons to make it easy to jump right into a lesson that will inspire you.
Recommendations
When you sign up for a TrueFire account, they immediately ask you to fill out your Musician's Profile. The Musician's Profile will ask you questions like how long you've been playing, your goals, and "styles you dig."
This is an excellent way for TrueFire to immediately create a personalized playlist of videos to help you get started using the platform immediately. This will also help TrueFire recommend different learning paths and structured courses towards a specific goal, like learning blues guitar.
While I found these recommendations to be a good jumping-off point into what TrueFire offers, I found them incomplete. I still had to dig around in their library to see the videos I found to be my preferred starting point.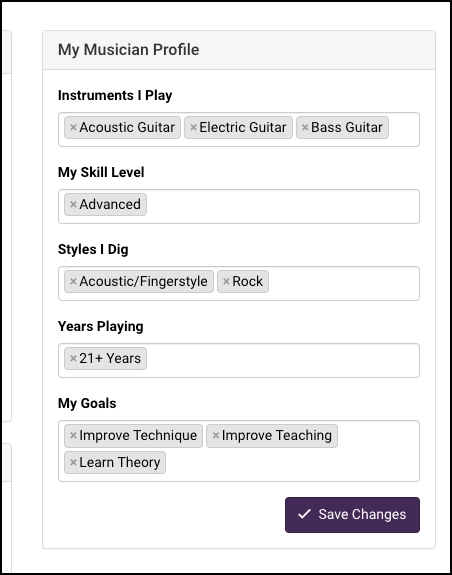 Learning Paths
TrueFire offers well-structured learning paths that will help you progress in a logical and organized manner.
The learning path is designed to guide users' guitar journey through courses and lessons covering different aspects of playing the guitar. Each path caters to a specific skill level and area of focus, allowing you to choose the best route for your goals.
Learning paths cover everything from beginner, intermediate, and advanced topics and leverage a la carte courses from their library to supplement what you're learning. I appreciate the supplemental recommendations because I connect with specific instructors' teachings over others.
This is one of the significant benefits of the TrueFire courses is that you aren't pigeonholed into one instructor's teaching style, you have options and will certainly find someone you connect with.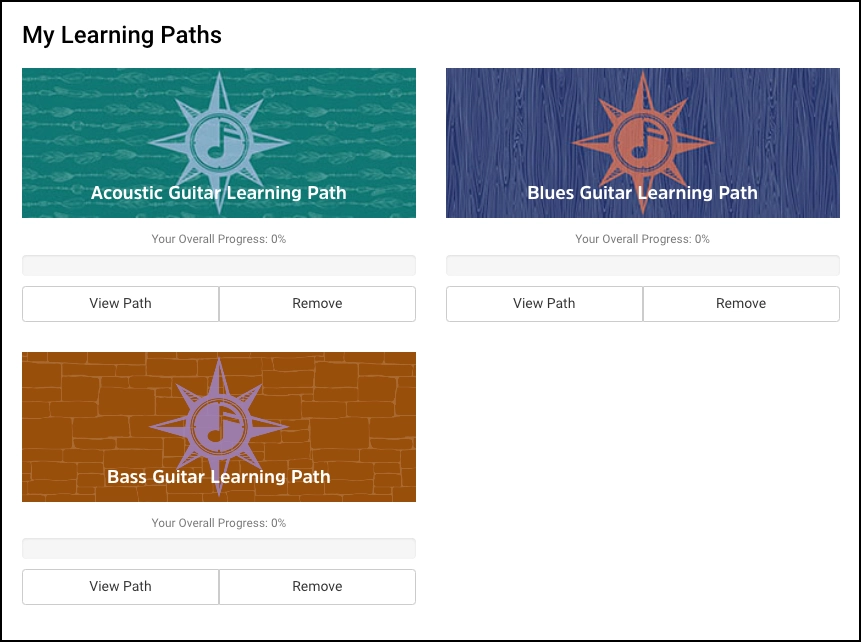 The Instructor Quality
So the thing that drew me to TrueFire was the caliber of instructors. Many instructors are available on the platform, all famous musicians to varying degrees. This, coupled with high-quality video presentations, makes learning guitar fun and engaging.
Another aspect of TrueFire that I appreciate is the diversity of the instructors. They come from various backgrounds and have varied teaching styles, providing students with a comprehensive learning experience. This diversity also allows me to find instructors who better align with my musical preferences and goals.
Some of the notable instructors that have contributed to TrueFire are:
Steve Vai
Joe Bonamassa
Sonny Landreth
Ariel Posen
Tommy Emmanuel
Dweezil Zappa
Greg Koch
Eric Haugen
The list of instructors is mind-boggling, and you can go on to the TrueFire website and see for yourself.
Video Quality & Lesson Interface
There's nothing bad to say about the video quality and player features with the TrueFire platform.
Each video is shot in high-definition and multi-angles, so you can see what your instructor is doing without squinting at your screen, trying to figure out what the instructor is doing.
The video player is also fantastic and perfect for following along and getting the most out of the online learning experience. TrueFire offers essential playback features like play/pause, volume control, and setting the playback speed to match your learning pace.
Moreover, they offer a looping tool, allowing you to loop a specific section of the video and practice it repeatedly, which helps reinforce the learning.
In addition to the video player, TrueFire lessons include many supplementary materials that aid the learning journey. These materials include:
Interactive tabs, notation, and sheet music: They sync with the video and provide real-time fretboard or piano diagrams, making it easy to visualize the fingerings, see notes, and follow the instructor's guidance.
Metronome and Tuner: There is a built-in tuner for the video lessons, so you're always in tune and have a meter to develop your internal rhythm.
Backing tracks: Along with the video, you'll get access to backing tracks that help you practice playing with a virtual band, honing your new skills against actual music.
Finally, TrueFire's guitar lesson interface is not just limited to desktop or laptop devices; it is mobile-friendly too. You can access lessons on my smartphone or tablet, making it convenient for you to learn and practice guitar anywhere and anytime; this is a game-changer for traveling professionals.
In summary, TrueFire's video quality and lesson interface have exceeded my expectations, providing a rich and engaging learning experience that has made the online lessons intuitive and enjoyable.
Education Styles of TrueFire
TrueFire offers many ways to learn guitar. Here's the breakdown:
On-Demand Video Lessons
With the Truefire All-Access Subscription, the bread and butter are in the amount of on-demand lessons you get access to…over 55,000!
With lessons covering various styles, such as rock, blues, folk, jazz, and metal, there is a video that will cater to guitar players of all skill levels. These high-quality videos can be accessed through any device with a web browser or on iOS and Android apps (TrueFire 3).
If you purchase videos on-off, you can also download the video to your local device (not included in All-Access).
Private Lessons
Online education is fantastic, and I've learned so many things thanks to on-demand courses. However, there is no substitute for one-on-one coaching/training.
With the TrueFire platform, you can get private lessons on either a one-off or ongoing. It's worth noting that these lessons won't be live. You will submit a video to your instructor, and they will reply with feedback and resources to help you achieve your goals.
You get to select your instructor, and each instructor profile comes with an introduction video and what skill level, style, and type of instrument they are best at teaching. The classes are affordable, comparable to in-person lessons, and worth checking out if you want more dedicated support and feedback.
It's worth noting that I haven't used this service, so I can't speak to the quality of the lessons. However, based on my experience with the rest of the platform, I can imagine it's good. They also have a 100% satisfaction guarantee, so there isn't a risk in trying it out.
"In the Jam" Practice
You can jam with top musicians in various genres with Truefire's "In the Jam" practice feature. This interactive platform lets you improve your playing skills, by playing with pre-recorded backing tracks. You can even adjust the individual level of the jam tracks to customize the experience.
It's worth noting that "In the Jam" isn't included in the All-Access Subscription and is an additional one-off charge.
World Tour of Music
Another fun program that TrueFire puts on is The World Tour of Music. Each day they have teachings from an instructor from a particular part of the world and a lesson and course that dives deeper into that region's popular styles.
This is a fun and engaging way to explore sounds and techniques you wouldn't typically explore independently.
Download and Go
Truefire also offers the ability to download lessons and learning materials, which comes in handy when I want to learn offline or away from an internet connection. This feature allows you to practice lessons on the go at your own pace.
You will have to purchase the lesson to get downloadable access. You won't be able to download sessions from the All-Access Subscription.
Live Events & Q&A
One of the unique benefits of Truefire is the live events and Q&A sessions with instructors and special guests.
These sessions are live webinars that go over specific topics and ask the instructor(s) specific questions. These live events are also recorded, and you can watch the reply with your All-Access Subscription.
Community Forum
Truefire offers a community forum where I can connect with fellow experienced guitar players and enthusiasts and discuss various topics related to guitar playing. Engaging with other students in the community provides a supportive and encouraging environment to learn and grow as a musician.
What I like about the community options is that they have a Facebook and Discord groups. So you have the option if you want to be a part of a community that is off of social media (if you're into that sort of thing :))
Additional Tools & Resources
TrueFire has several helpful tools and resources to make learning easy.
Chord Finder
If you've ever discovered a cool-sounding chord on the guitar and wanted to know what the chord was called, then Chord Finder is the tool for you.
I remember having a flip book of all the guitar chords, and finding anything in it was near impossible. With Chord Finder, you click a fretboard with the notes you're playing, and it will give you the chord and all other variations of it on the neck.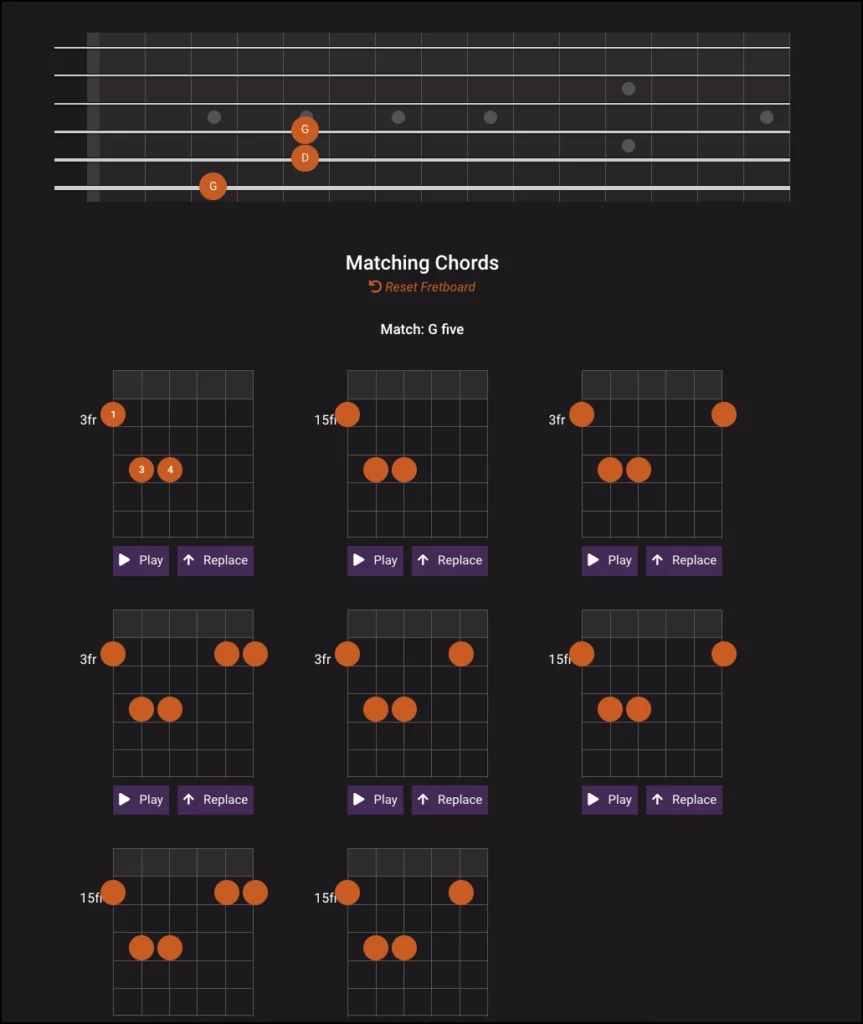 Chord Charts
Speaking of those flip book chord charts, TrueFire does have an excellent PDF document of all the chords in every scale and enharmonic equivalent. This helps you discover new chords and for chord memorization.
Guitar Scale Chart
TrueFire also provides guitar scale charts, which help me understand the different scales across the fretboard. These charts are excellent for improving your improvisation skills and soloing techniques.
This is downloadable and printable if you want to create a binder for offline practice.
Riff Journal
The Riff Journal is an online print publication by TrueFire that releases new issues every quarter. Each edition is themed and has artist interviews and practice lessons.
Online Guitar Lessons vs. In-Person Lessons
Benefits of Online Guitar Lessons
Online guitar lessons, like those offered by TrueFire, have several advantages.
Affordable
Online guitar lessons are more cost-effective than in-person lessons in the long run. A year's subscription to services like TrueFire typically costs between $149 and $249 (depending on if they're running a sale).
You save on transportation costs since no travel expenses are involved in attending an online lesson.
Flexible
You can access the lessons at any time that suits your schedule, making it possible for busy individuals to learn guitar in their free time.
You can also learn at your own pace, rewinding and rewatching lessons as needed to grasp concepts and improve.
Access to World-Class Teachers
Online platforms often provide access to a wide range of highly skilled guitar teachers, some of whom may even be celebrity educators.
You can learn various genres and styles as these platforms host extensive lessons catering to different interests and skill levels.
Benefits of In-Person Private Lessons
While online guitar lessons offer many benefits, in-person private lessons also have distinct advantages, which could be better for you in the long run.
One-on-One Coaching
In-person private lessons allow for real-time, personalized feedback from an experienced teacher.
The teacher can observe your technique and provide targeted advice to help you improve faster.
Customized Curriculum
A private teacher can tailor the lessons to your learning style, level of expertise, and musical interests.
This personalization can lead to a more enjoyable and practical learning experience than following a pre-determined online curriculum.
Accountability
Having scheduled lessons and a personal relationship with your teacher can motivate you to practice more diligently.
A teacher's support and encouragement can also help build confidence and maintain interest in learning.
In my experience, both online guitar lessons and in-person private lessons have their own merits, and it's up to the individual to decide which format best suits their needs and goals.
TrueFire Pricing Options
14-Day Free Trial
TrueFire offers a 14-day trial to access the entire library of on-demand content. You'll only need to provide basic information (no credit card required!) to create an account and get access to the free trial.
Monthly Payments (All-Access)
TrueFire offers a monthly All-Access plan for those who prefer a flexible subscription. For $29 per month, you can access all courses and lessons on the platform.
This option is ideal for people like me, who have varying schedules and might need to pause or cancel the subscription without incurring additional fees.
Annual Payments (All-Access)
For a more cost-effective approach, TrueFire provides an annual All-Access plan. Priced at $249 per year, this option allows you to access all courses and lessons on the platform with a significant discount compared to the monthly plan.
By opting for the annual plan, you'll save $99 over a year.
Purchase One-Off Courses
If you're only interested in specific courses, TrueFire allows you to purchase individual courses. One-off courses range in price from around $10 to $60. This option is great if there's a specific topic, instructor, or skill you want to focus on without needing access to the entire TrueFire library. To summarize the different pricing options:
14-Day Free Trial: Full access at no cost (All-Access only)
Monthly All-Access Plan: $29 per month
Annual All-Access Plan: $249 per year (save $99 compared to monthly)
One-Off Course Purchase: On average, $30
Private Lessons: $39 one-off, $84 monthly fee
In the Jam Sessions: $30-49.99 per session
Alternatives to TrueFire
While TrueFire is a one-stop shop for sharpening your skills and becoming a guitar hero, some may be looking for alternative online courses to learn how to play guitar.
One option to consider if you're brand new is Fender Play. Fender Play offers lessons catered to beginner and intermediate guitar players. It won't be as overwhelming as TrueFire regarding the amount of content. However, some users have complained that the progression from lesson to lesson is less consistent than other courses.
GuitarTricks is another top-rated online platform for learning guitar. Users rave about how well-organized the lessons are and the quality of the instruction and videos. Their core learning system teaches you specific songs to learn over theory and exercises. I appreciate this approach as this is the way that I learned.
Overall, each of these platforms has its own unique features and teaching methods. I recommend exploring each to find the right fit for your learning goals and preferences.
FAQ
My Final Thoughts
I found TrueFire All-Access a fantastic platform for not beginners but intermediate and advanced students who want to enhance their guitar skills. The extensive selection of courses available caters to a wide variety of guitar styles and techniques.
TrueFire offers an impressive roster of professional instructors catering to various styles and genres. This provides a more personalized learning experience, allowing you to select teachers based on your preferences, goals, and skill level.
TrueFire is more of a long-term companion for keeping your skills sharp than a course you complete. There are also many add-ons to dive deeper into your learnings, and this platform is worth the investment.
For a limited time, if you use coupon code: BradJohnson100, you'll get $100 Off an All Access: Annual Plan to TrueFire. Check it out today!