Editor's Choice
Auralex Deluxe Plus Roominator Kit
The easiest way to get better recordings and mixes

Easily eliminate unwanted reflections and reverberations

Create an immersive listening experience that will transport you to another place
For Budget
Primacoustic London 8
Very affordable solution

These acoustic panels are more elegant in design than foam panels

Easy to add more as your studio grows
For Customization
Audimute
An excellent soundproofing company for recording studios and corporate offices


They will give you custom solutions that fit your needs and budget

Their foam is eco-friendly and won't deteriorate
Engineers know the secret to getting the best possible quality recordings is soundproofing.
However, finding the best soundproofing panels can be difficult because so many options are available on the market.
Not all soundproofing panels are created equal. Some are better than others, and some are not worth your time or money. How do you know which one to choose?
After reading this article, you'll have all the information you need to decide which soundproofing panel is right for you.
Also, at the end, there's a buyer's guide to help you understand sound treatment so you can be confident you're finding the best acoustic foam panels your needs.
Let's begin!
The Best Acoustic Panels of 2023 at a Glance
Editor's Choice
If you're looking for an easy and "out of the box" solution to acoustically treating your room, look no further than the Auralex Deluxe Plus Roominator Kit.
The Roominator kit has everything you need to significantly reduce high-frequency smearing and bass build-up while getting that sought-after "3D" monitoring experience.
Plus, Auralex will give you a free room analysis to ensure that you place all the panels in the correct spot for your specific room. Don't wait any longer - order your Auralex Roominator Kit today!
If you want to make the process of acoustically treating your room as easy and "out of the box" as possible, then the Auralex Deluxe Plus Roominator Kit is for you.
Auralex is a leader in the acoustic space and develops high-quality products that work as advertised.
When you purchase the Auralex Roominator Kit, you will significantly reduce high-frequency smearing and problematic bass build-up to get that 3D listening experience.
If you still think that paying $1,000+ is too much for foam panels you put on the wall, take a look at this list of people who use Auralex.
Auralex will also give you a free room analysis to ensure that you place all the panels you purchase in the correct spot in your specific room to make your purchasing decision even easier.
The package does come with Auralex EZ Stick Adhesive Strips to put the foam onto your walls. However, some users have complained the adhesive loses grip over time, and the panels fall off the walls.
It is advertised by Auralex to be permanent, so if it does its job and you want to take off the panels one day, you will most likely destroy the paint on the wall. So it's best to buy the Roominator kit to install in a room you won't be moving out of any time soon.
Another critique of Auralex acoustic foam panels is that they are ugly. While they aren't the most aesthetically pleasing, they do the job well. If you want a beautiful acoustic treatment for your room, then you're better off making your own so you can choose a breathable fabric that suits your style.
Suppose you want easy-to-install soundproofing panels for your entire room. In that case, there is no easier solution than purchasing the Auralex Deluxe Plus Roominator Kit.
Pros
It's straightforward to install


It's an all-in-one solution for reducing high and low-frequency sound energy in your room

It comes with a free room analysis for proper placement in your specific room
Cons
It's expensive

If you ever move, you'll have to do some serious touch-ups on your wall
Best for Budget
If you're looking for a cost-effective way to improve the sound quality of your room, the Primacoustic London 8 sound panel is a great option.
Made from high-density fiberglass, these panels are very effective at absorbing high-frequency soundwaves and improving the overall acoustics of a room. And unlike foam panels, the Primacoustic panels have a much more elegant design and are available in different color options.
If you're looking for budget-friendly sound panels that won't sacrifice style or quality, go with the Primacoustic London 8.
Suppose you're not recording bass-heavy instruments or mixing at loud volumes. In that case, you don't need to spend a fortune on sound absorption panels.
This is why I'd recommend the Primacoustic London 8 sound panels for those on a budget.
The Primacoustic is built using high-density fiberglass, a superior soundproofing material for absorbing soundwaves and improving the sound quality of a room.
The London 8 comes with four 12″x 36″ x 1.5″ acoustic panels and eight 12″ x 12″ x 1″ acoustic panels for good surface coverage of a 100-square-foot room.
While these acoustic panels are slightly thinner than I think you need for proper sound dampening (2″ for high-frequencies and 4″ for bass), they will still positively affect your recordings and playback.
Also, the Primacoustic design is much more elegant than acoustic foam panels, and you have different color options to choose from.
The included mounting hardware will securely fasten these acoustic tiles and panels to your wall, but if you aren't handy, you may find installing it a headache.
If you are serious about getting the most out of your music but aren't ready to spend lots of money on acoustic treatment, then the Primacoustic London 8 is a great starting place to expand upon as your studio grows.
Pros
A very affordable sound solution for recording studios


The acoustic panels are more elegant looking than foam panels

Easy to add more Primacoustic panels as your studio grows
Cons
It doesn't include any bass traps

The panels are thin and are only suitable for controlling high-frequencies
Best for Budget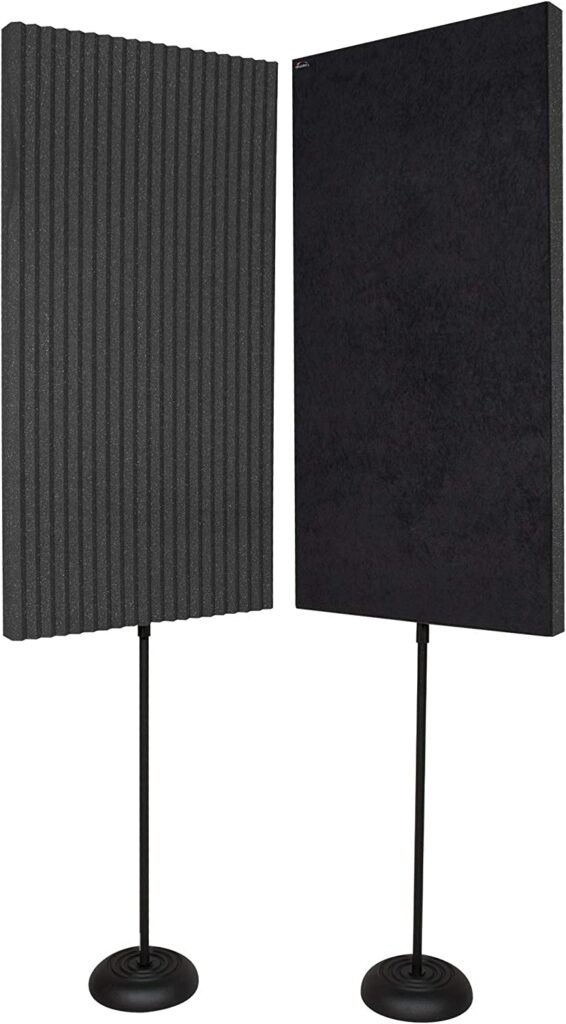 Looking for an acoustic panel that won't damage your walls? Auralex Acoustics ProMAX is your perfect solution!
These stand-mounted panels are easy to store and use and won't leave any damage behind. They're perfect for musicians, podcasters, voiceover artists, and streamers who want to create tighter recordings without hassle.
Their portability makes them ideal for portable sound solutions for on-the-go producers. However, their high price tag may not make them the best option for everyone.
The problem with acoustic and foam panels is that you must install them on your wall using adhesive or hooks. This damages the walls and, in the case of adhesive, can damage your acoustic panels.
This is where having stand-mounted acoustic panels is a lifesaver.
Auralex Acoustics ProMAX is a 48" x 24" x 3" foam panel that is mounted. on a high-quality stand.
These panels are incredibly portable, easy to store, and won't damage your walls. They also are thick enough to do a great job at controlling both high-frequency and low-frequency sounds.
They are also great for podcasters, voiceover artists, and streamers who want to create a tighter vocal recording without hassle. They also have a desktop version of this product called the Auralex DeskMAX, a more elegant solution for these use cases.
The DeskMAX is a 2″ x 2″ x 3″ acoustic panel with a desktop stand for easy placement around your microphone.
The drawback of this type of solution is that it's expensive. Also, if you want full room coverage, you will have to buy multiple, becoming one of the most costly solutions on this list.
If you are looking for non-destructive acoustic panels to treat your room, then the Auralex Acoustics ProMAX & DeskMAX are your best options.
Pros
Get pro sound treatment without ruining your walls


Their portable

Great for treating both high-frequency and low-frequency waves
Cons
Expensive

If you aren't careful with taking the acoustic panel on and off the stand, you could damage the foam
Best for Customized Solutions
Audimute is the best choice for custom soundproofing solutions. They specialize in creating beautiful and comprehensive noise reduction treatments for various needs and settings.
If you're looking to improve your corporate workspace or make your home recording studio more effective, Audimute has a soundproofing solution for you.
If you're looking for a premium noise reduction solution beyond acoustic panels for bedroom recording studios, you must check out the company Audimute.
They create custom panels that will meet every budget and need. If you have conference rooms that you want to be a better work environment, they can design soundproofing panels that will bring your space to life.
Let's say you need a simple solution for windows, well they have soundproof curtains that you buy one and done. Need a solution for a bedroom door? They have you covered there as well.
Whatever solution you need, from an independent musician's practice room to corporate offices, Audimute has an acoustic treatment solution for you.
They also manufacture environmentally friendly foam, made in the USA, that won't deteriorate.
They also have a generous return policy and want to ensure you're happy with any product you purchase.
Also, like Auralex, Audimute will do a free room analysis and recommend solutions that will fit your specific room and needs.
Audimute is a premium sound treatment company. They don't offer a simple solution as a company like Auralex. However, their sound absorbing acoustic panels are like art pieces. They amplify your space's creativity; for that reason alone, they are worth every penny.
Suppose you are looking for more than sound treatment and want a truly customized space. In that case, you must check the Audimute website and see what solutions are available!
Pros
Their designs are beautiful and customized for your setting


Eco-friendly foam that won't deteriorate over time

They will give you a free room analysis and provide you with a custom solution
Cons
Their solutions aren't as turn-key as others on this list

Expensive
Best DIY Solution
Looking for a more affordable way to get quality acoustic treatment for your room? Consider building your acoustic panels!
It's not as complicated as you think, and with the right materials, you can fully treat your room for around $600.
The more affordable way to get quality acoustic treatment for your room is to build them yourself.
It isn't as hard as you would think.
As long as you know your way around a table saw and have the materials, you can fully treat your room for around $600. This would include 4″ bass traps and 2″ high-frequency absorbers.
To build your acoustic panels, you would need high-density mineral fiber insulation. This mineral fiber (also known as mineral wool) will cost you less than cheap acoustic foam, and you can build them to fit any style and shape of room.
Because this is only insulation, you will need to build a frame around it, so it holds its form and wrap it in breathable fabric for looks.
If you want to know more about building your own acoustic panels, please check out this in-depth article here.
Pros
Get high-quality acoustic panels for a fraction of the cost


You can customize the look however you want with breathable fabric

Feel the satisfaction of building a piece of your recording haven
Cons
You have to be handy

If you ever need to sell them or get rid of them, it's pretty difficult
Buyer's Guide
Sound treating can seem like wizardry. However, it's not that complicated once you understand some basics.
The following buyer's guide will help you to understand what to look for when searching for the best acoustic treatment for your project studio.
Soundproofing vs. Sound Absorption Panels
There's a misconception about soundproofing and sound absorption. When you are treating your room acoustically, you are sound dampening. You are trying to control the reverberation and sonic build-up within your room.
Sound dampening does not block outside noise or keep loud music from escaping your room.
While soundproofing equipment generally involves more intense construction, like floating floors and walls.
This will prevent sound from coming in or out, thus effectively reducing noise and "soundproofing" a room.
Controlling High-Frequency Sound Waves
High-frequency waves have short cycles and ricochet off of walls. This causes reverberation, fluttering, and smearing of sounds.
Stand in a hallway and snap your fingers; the echo you hear is high-frequent.
Controlling high frequencies is easier than low frequencies. You need less mass to absorb high frequencies, and placing a few strategic soundproofing panels in your room can dramatically reduce these sound waves reflecting off surfaces.
Controlling Low-Frequency Sound Waves
Low-frequency waves have a long cycle. In fact, a bass wave can be as long as 51 feet! This means that a bass wave can't breathe in a small room. A low-frequency wave collides with itself in small spaces, creating a standing wave.
A standing wave creates room nodes and modes, which are pockets of space where bass seems to disappear or be way too prominent. This wreaks havoc on music mixing as you will make decisions based on the room's problems over what you hear from your speakers.
Bass Traps are the solution to helping control low-frequency waves. A bass trap is placed in the four corners of a room and needs to be at least 4″ thick for proper sound absorption.
Diffusers
Diffusers don't absorb sound. Instead, they redirect it to decrease echos and flutter echoes. A diffuser will keep a room sounding lively.
They aren't necessary for acoustically treating your room, but they are a great add-on to your standard acoustic panels.
FAQ
Can you use egg crates to soundproof a room?
No. Using an egg crate to try and treat the acoustics of your room is not very effective. You need the sound wave absorbed by your acoustic panel and turned into heat; there isn't enough mass in an egg crate to accomplish this.
Do acoustic panels work?
Yes. Properly constructed acoustic panels will turn soundwaves into heat and stop them from reflecting off hard surfaces.
Do sound-absorbing panels reduce noise?
Not really. Sound-absorbing panels will help improve your room's sound quality by reducing echo and reverberation. However, they will not significantly reduce outside noises from entering your room.
Also, the sound will still exit a room even when acoustically treated. To fully soundproof a room, you must go through more intense room construction and use different materials.
For a full breakdown of this, please refer to this article.
How many acoustic panels do you need?
The number of acoustical panels for soundproofing will depend on your use case.
If you are looking to stop early reflections to get clean vocal or acoustic guitar recordings, three to four 2" sound proof panels should suffice.
However, suppose you are trying to treat a room for mixing, mastering, or recording louder instruments. In that case, you will need to consult a specialist and invest in many panels.
The Bottom Line
So, what's the best soundproofing panel for you? It depends on your needs and budget.
But if you want the easiest solution, we recommend checking out the Auralex Deluxe Plus Roominator Kits. These kits have everything you need to get started and do an excellent job.
Ready to give them a try?
Editor's Choice
Auralex Deluxe Plus Roominator Kit
The easiest way to get better recordings and mixes

Easily eliminate unwanted reflections and reverberations

Create an immersive listening experience that will transport you to another place
For Budget
Primacoustic London 8
Very affordable solution

These acoustic panels are more elegant in design than foam panels

Easy to add more as your studio grows
For Customization
Audimute
An excellent soundproofing company for recording studios and corporate offices


They will give you custom solutions that fit your needs and budget

Their foam is eco-friendly and won't deteriorate