Is there a sound more synonymous with rock 'n' roll than an electric guitar with P90 pickups?
These classics have been gracing the stages of music venues for decades, and their raw and fat tones are beloved by guitarists of all styles.
However, P90s go beyond rock n' roll; they also make great jazz guitars if placed in the right ax.
So you're in the market for the best P90 guitar or just curious to explore some alternative tones, I promise there is something on this list for you.
Let's get started!
TL;DR: My Top 3 Picks
Editor's Choice
Gretsch Jim Dandy
A beautiful mashup of a Fender and Gibson electric guitar

Semi-hollow body design balance out the aggressive tone and adds more sustain

Very expressive and an excellent choice for a variety of modern genres
Best Semi-Hollow
Gretsch G2G55T P90 Streamliner
The FidelSonic Pickups have an incredible range of tones

You won't believe the price of this guitar is so affordable after playing it

A fantastic P90 guitar for classic rock and blues players
For Premium
Gibson Les Paul Standard 50s Gold Top P90
Get the sound and feel of a classic Les Paul guitar for a great price


Smooth playability and impeccably constructed

Own a piece of guitar history
The 8 Best P90 Guitars in 2023 at a Glance
Table of Contents
Editor's Choice
Looking for a guitar that will give you an edge in the studio or on stage? Check out the Fender Jim Adkins JA-90 Telecaster.
This unique guitar is a perfect mashup of a Fender Telecaster and Gibson Les Paul. The result is a guitar that is an excellent choice for any style of music.
The Fender Jim Adkins JA-90 Telecaster is a weird but fantastic guitar. It has the telecaster shape but a Gibson's hardware and scale length. And while telecasters are well known for their bright, twangy chicken-pickin' country tones, this Thinline Telecaster has so much attitude.
Fender Telecasters already have a piercing tone that cuts through a mix. With the addition of the soap bar Seymour Duncan P90 pickups, you get a hot-rodded sound where the rolled-back cleans sound like they have gravel in them and are always on the verge of breaking up. Then when you roll the tone and volume knob up, you get this beautiful aggression that maintains a stunning clarity.
However, where this combination could almost be too shrill and ear-piercing on other telecaster guitars. However, this being a thinline semi-hollow body telecaster, you get a bit more roundness to the tone, adding more sustain and midrange body.
This guitar is an excellent option for players who want a guitar for modern country, pop-rock, and punk.
This guitar features a set-in neck. This is different than traditional telecasters that feature a bolt-on neck. Still, it's a nice touch that makes playing the upper frets more comfortable.
However, take care of your guitar and store it with a guitar humidifier. A set-in neck is challenging to repair.
The C-shape maple short-scale neck with an Indian laurel fingerboard feels excellent to the touch and slightly "slinky and bendy" than a traditional telecaster at 25.5" length. However, this guitar features a gloss finish on the back of the neck. This guitar is very playable, but if you're a picky player about gloss finish, you may want to look at a different guitar, like an SG, with a satin neck finish.
Fender guitars, alongside Jimmy Eat World frontman Jim Adkins, have created a fresh take on the classic telecaster shape. Suppose you are looking for the classic P90 bite that is versatile enough for different genres. In that case, the JA-90 telecaster is the best p 90 guitar for you.
Pros
It has a versatile sound that can be used for many modern genres of music


Get that classic Fender twang with a bit of dirt mixed in

The semi-hollow body design balances out the aggressive tone and creates more sustain
Cons
Expensive for an Indonesian-made guitar

The hardware could be higher quality for the price
A great guitar amp will bring out the best in this Telecaster guitar. To get some ideas of amps that you could add to your arsenal, please check out my article "The 5 Best Amps for Telecaster Guitars To Get the Most of Your Tone 2023"
Editor's Choice
The Epiphone Billie Joe Armstrong Les Paul Player Pack is the perfect way for beginner guitarists to jump into pop-punk and alternative music.
This bundle comes with everything you need to get started and packs a lot of value with a high-quality guitar you'll love learning on.
So don't wait any longer; grab the Epiphone Billie Joe Armstrong Les Paul Player Pack and start making music today!
If you're new to guitar playing and are inspired by pop-punk and alternative music, then you need to consider the Epiphone Billie Joe Armstrong Les Paul Junior Player Pack.
Designed with the legendary Green Day frontman and based on the famous Gibson Les Paul Junior, this player pack has everything you need to start unleashing your inner punk.
This starter pack can be out of the price range of most beginner guitarists' budget; however, you are getting a better than usual player-pack guitar.
This Les Paul Junior slim-taper D neck has a slim feel in hand, making playing chords very comfortable for beginners. Also, it features a single dog ear P90 bridge pickup, making this guitar straightforward to use.
This starter pack includes:
Billie Joe Armstrong designed Les Paul Junior
15-watt Epiphone amp (with a headphone jack)
Electronic Clip-on Tuner
Gig Bag
Guitar Cable
Guitar Picks
If you're a budding
er searching for the perfect first guitar, the Epiphone Billie Joe Armstrong Les Paul Junior is it.
Pros
This bundle is packed with tons of value, and a great guitar


The neck is comfortable, especially for smaller players

The simple design provides a distraction-free instrument for learning on
Cons
It's expensive for a beginner pack. While it comes with everything to get started, you will want to invest in a better amp as you progress

It's a one-trick pony tonally
Best Semi-Hollow Body
There's something special about a Gretsch guitar. Maybe the beautifully retro finishes, affordable prices, and high-quality craftsmanship. Or perhaps it's the vast range of tones you can get from their pickups. Whatever it is, Gretsch guitars have a particular "secret sauce" that makes them stand out from the crowd.
This guitar is perfect for anyone who wants to play with class and depth, whether you're strumming chords or shredding lead lines.
Gretsch guitars create some of the best and most beautiful hollow and semi-hollow body guitars today. The Gretsch G2G55T Streamliner takes the vintage Gretsch ethos and supercharges it into a highly-rippable short-scale guitar.
This guitar features a mahogany body with beautiful retro finishes, cream binding, an Adjusto-Matic bridge, Bigsby B-50 vibrato, and Gretsch's FidelSonic P90 pickups. This guitar looks incredible, and at first glance, you would think it costs much more than it does.
What makes this guitar stand out over others on this list is the FidelSonic P90s. These are a Gretsch model with loads of attack you would expect from a P90 guitar, but the roundness and depth you get from a chambered guitar.
While most other P90 pickups have a scorching hot output that makes the guitar's clean tones teeter on the edge of distortion, this isn't true for the FidelSonic's. The FidelSonic P90 pickups have smooth and clean clarity that could be right at home in the best jazz guitars. This is true in both the bridge and neck pickup.
When you turn up the gain, you get the aggression you're looking for in a P90 guitar. Still, instead of feeling like you're playing a modern rock guitar, it pushes into a classic vintage tone.
This guitar is built for neck playing and bluesy lead lines. The 12" radius, set-in neck, and double cutaway ensure that bends are easy and accessing the upper frets are effortless.
If you want to play chord inversion and lead lines with class and depth, then the Gretsch G2G55T Streamliner is the guitar for you.
There's very little negative to say about this guitar. It actually would have made the top spot on this list. However, I had to relegate it to its sub-niche category because it isn't your most traditional P90 guitar sound.
Suppose you're looking for an excellent classic rock and blues guitar that can go from warm cleans to gritty and aggressive tones. In that case, the G2G55T is a great guitar that will not disappoint you.
Pros
Stunning-looking guitar with near-flawless construction


FidelSonic pickups have a unique tone that is more balanced and round than traditional P90s

Extremely fun to play, especially for chord inversions and lead playing
Cons
It doesn't come with a gig bag or case

If you're after that traditional P90 sound, then this guitar may not be what you're looking for
If hollow body and semi-hollow body guitars are of interest to you, I've written some roundups on the best ones:
The Best Hollow Body Electric Guitars Under $500 in 2023
The Best Hollow Body Electric Guitars Under $1000 in 2023
There's a Tie for the Best Hollow Body
Alright, we have a tie for the best hollow body P90 guitar. Regarding this category, we have two outstanding contenders that offer two completely different vibes, and I couldn't choose one over the other.
Best Hollow Body P90 Guitar
Godin 5th Avenue CW Kingpin II p90
: An excellent choice for jazz music, delta blues, and singer-songwriters
: Sustainably made in North America in a family-owned facility
: It looks old-school but plays like a modern guitar
Best Hollow Body P90 Guitar
Epiphone Casino
: An iconic guitar that feels great to play
: Easily get that gritty, vintage indie tone you're after
: An excellent value for the money
Godin 5th Avenue CW Kingpin II P90 Guitar
First, we have the Canadian brand Godin's 5th Avenue CW Kingpin II P90 electric guitar. This hollow body is a gorgeously built archtop guitar with many premium and unique features.
The 5th Avenue Kingpin II topwood, back, and sides are made of Canadian Wild Cherry. Canadian Wild Cherry has a beautiful mid-range roundness, good projection, and excellent note clarity.
This guitar has a mellow and laid-back acoustic vibe and beautiful style with the f-holes that is great for jazz music, delta blues, and singer-songwriters.
While this archtop electric guitar has a vintage look, its playability is designed for modern guitar players. The shorter scale silver leaf maple neck and rosewood fretboard have an effortless glide. The flat radius (16") makes up-the-neck lead playing and bending notes easy.
Another great perk of purchasing a Godin is supporting a family company that sources all its materials in North America and assembles them in their Canadian factory. They are also an environmentally conscious guitar brand.
The 5th Avenue CW Kingpin II P90 guitar has two Godin Kingpin P90 single-coil pickups. However, if you want to save some cash and are looking for a smooth jazz guitar, then you can purchase the 5th Avenue with one P90 in the neck. You can check out that one here.
The Godin 5th Avenue CW Kingpin II P90 guitar is one of the market's most consistent and reliable modern jazz guitars. It's especially great for acoustic guitar players who want the same richness and resonance plugged-in but don't like the sound of acoustic guitar pickups.
If this sounds like you, you must check this guitar out today!
Pros
Beautiful construction and design that uses unique woods like Canadian

Vintage look but has modern playability

Made in North America at a family-owned facility

It has a beautiful round tone that projects with great acoustic presence
Cons
It won't give you that sought-after P90 bite

The case is sold separately
Epiphone Casino
Ok, and now for something a little different, the Epiphone Casino.
The Epiphone Casino has a particular something about it that oozes cool. Perhaps it's the stylish vintage appearance or that this guitar was played by legendary musicians such as John Lennon and George Harrison of the Beatles.
The Casino is an entirely different hollow body flavor than the Kingpin. The dog ear P90 pickups in the Casino run hot and have grit and mid-range aggression with a rolled-off high-end that produces incredible vintage tones.
This guitar can be overdriven and retain a remarkable clarity within the notes, which makes this a great indie rock and blues guitar.
The Epiphone Casino has a thin body and SlimTaper "D" mahogany neck, making the guitar feel very comfortable and intimate for a hollow body guitar.
This guitar isn't versatile in its tones and doesn't have the same fat clean sound the Kingpin does. Also, Epiphone sometimes suffers from some minor quality control problems.
However, for the price and heritage of the Epiphone Casino, you won't be disappointed if you're looking for that 60s – 70s rock guitar sound.
Pros
It has a vintage midrange sound that's perfect for indie, blues, and classic rock


The thinline body is lightweight and comfortable to play

Looks fantastic and oozes cool

Own a guitar that the Beatles loved
Cons
The neck pickup can feedback quickly on high-gain

The case is sold separately
Best for Players With Small Hands
The Fender Player Mustang 90 is the perfect guitar for players with small hands.
With its lightweight body and short-scale neck, the Mustang 90 is easy to play and produces those classic sun-soaked surf tones that Fender offset guitars are known for.
If you're on the search for an iconic-looking P90 guitar that's fun to play and sounds great, the Mustang 90 is a perfect choice.
Fender Mustangs have an iconic offset solid body look instantly recognizable from being in the hands of Kurt Cobain, PJ Harvey, Matt Healy, and Belinda Butcher.
The Fender Player Mustang 90 effortlessly produces those sun-soaked surf tones that these Fender offset guitar models have become synonymous with. It can go from those jangly, glassy cleans to spanky mid-rangy fuzz rock thanks to the extra help of the two MP-90 single-coil pickups.
Mustangs are excellent P90 guitars for smaller female guitarists and players with small hands. This is because it's very lightweight (7lbs) and has a very short-scale neck (24"). This short-scale length gives the strings a more "slinky" feeling, making fretting less painful on the hands. It also will sit more snuggly into your body.
Another thing I like about the Mustang 90 is the simplicity of the controls. It has a one tone knob, volume knob, and a three-way selector switch. While this simplicity won't excite guitar players who like to endlessly tweak their tone, it helps you focus on the music and not on the knobs of your guitar.
Also, it doesn't have a term system like the other offset Fender electric guitar models like the Jazzmaster and Jaguar. While you won't be able to do those classic surf warbles with the term bar, you will get better tuning stability thanks to the fixed bridge.
One of the downsides of a guitar with such a short scale is that they have a "plucky" sound and lacks sustain. Also, suppose you want to experiment with dropped tunings. In that case, the Mustang won't provide enough string tension, and your strings will become a floppy mess.
If you're a guitar player with a more petite build and are looking for a P90 guitar that will give you those sun-baked Fender tones, then the Fender Player Mustang 90 is an instrument to highly consider.
Pros
Produces those classic sun-drenched surf tones


Short scale length makes fretting less painful

It comes with some unique and inspiring finishes
Cons
The guitar might not have enough sustain for some players

It doesn't have enough string tension for dropped tunings
Best for Budget
The Epiphone SG Special is a budget-friendly alternative to the Gibson SG that still offers the same excellent playability and tone.
This guitar shines when put into overdrive, making it perfect for big chords and long sustaining notes.
If you want to add an SG to your collection without breaking the bank, the Epiphone SG Special P90 is a perfect choice.
The SG is an instantly recognizable solid body guitar that you have seen used by some of the most famous guitar players in history. While the SG is a Gibson Guitars model, Epiphone recently came out with its "Inspired by Gibson" range. This guitar is a fantastic option to get your hands on an SG and spend a lot less.
The Epiphone SG Special P90 features a mahogany body and set-in slim-tapered mahogany neck. This provides a very comfortable playing guitar that feels great in your hands. Playing the upper frets with the double cutaway and set neck feels easy and unobtrusive.
The P90 pickups add to the mid-range, thick sound you get from an SG, and this is an excellent guitar for big chords and long sustaining notes.
The Epiphone SG Special P90 shines when put into overdrive, and if you're looking to play some hard rocking riffs, this is a perfect guitar. However, suppose you want something more versatile that excels at clean and distorted tones. In that case, you may want to look at one of the other guitars on this list.
The Epiphone SG Special 90 features a lightning bolt wrap-around tailpiece based on a vintage design. Some users have complained the intonation is tricky to dial in with this bridge. However, you'll have a great-sounding guitar with a proper setup and maintenance.
If you want an ABR-style bridge with a tailpiece, you could purchase the Epiphone SG Worn P90 instead. These guitars are identical in spec besides the tailpiece and the finish.
If you want to add an SG P90 guitar to your collection but don't want to invest in the Gibson range, the Epiphone SG Special is an incredible value.
Pros
This guitar has that thick, mid-range growl that all SG lovers are after


It's an easy-to-play and fun guitar that you won't want to put down

An excellent value for money
Cons
The vintage-inspired wrap-around tailpiece gets tricky to dial in

The gig bag is sold separately
Best Premium
Looking for an electric guitar that encapsulates the essence of rock n' roll? Say no more – the Gibson Les Paul Standard 50s Gold Top P90 is the guitar that defined the sound.
With its striking gold top finish and vintage-inspired P90 pickups, this guitar is guaranteed to turn heads when you're onstage. Also, the tone is just as fantastic as the look – the perfect blend of aggression and body that will have you sounding like your favorite records in no time.
So if you're ready to channel your inner rock god, don't hesitate – the Gibson Les Paul Standard 50s Gold Top P90 is waiting for you.
The Gibson Les Paul Gold Top is a legendary electric guitar. Gibson, in recent years, has released the 50s Standard to give Gibson guitar lovers what they want, a Les Paul that plays like a vintage Les Paul.
P90 pickups were in the original Gold Top design, giving this guitar a more aggressive and "springy" sound compared to a thick and creamy sound you get from the humbucker version.
This P90 guitar is all rock n' roll, and if the classics inspire you, then this guitar will help your playing sound like your favorite rock records.
What's great about the Gibson Les Paul Standard 50s Gold Top is that it is spec'd like a 50's era guitar. All the electronics are hand-wired, and the mahogany neck with rosewood fretboard has a chunkier, vintage feel. The rolled edges and plek'd frets make the playability smooth as butter and very comfortable.
The Les Paul Standard 50s Gold Top is built with a mahogany body and maple body. While this tonewood combination gives this guitar great body and sustain, it also makes it heavy.
While Gibson has gotten a bad wrap over their quality control issues, they've seemed to turn it around on these Les Paul Standards. The craftmanship on these is impeccable.
Either way, the guitar looks and plays beautifully. Also, while this is a premium guitar, the price is very reasonable considering the cost of a genuine vintage Gold Top.
If you're looking for that classic rock n' roll tone, then there is no debate that the Gibson Les Paul Standard 60s Gold Top P90 is the only guitar that will get you there.
Pros
This beautifully crafted guitar bucks the notion that Gibson has lost its touch


Plek'd frets, and rolled edges make the playability smooth as butter

Own an iconic, vintage Les Paul without taking out a second mortgage
Cons
It's expensive

It's heavy in weight
Buyer's Guide
The best P90 guitar is subjective. I think my list will get you an electric guitar that you will love, but if you still need more research, the following P90 guitars buyer's guide should help you sort through the options.
The P90 Pickup Sound
P90s are most known for being a hot-rodded single coil pickup. The same kind of pickup that has come to define the Fender sound.
The difference between traditional single-coil pickups and P90 pickups is the P90 pickups have a wider wire coil. This produces a sound that is considered to be in between a single coil and a humbucker.
P90s have a fat, mid-range girth but maintain excellent clarity. You've heard the sound of P90 pickups on countless classic records and gained a resurgence in
for its ability to produce a crunchy forward tone.
P90 pickups with less output produce gorgeous clean tones that a regular single coil would struggle to make. Our pick for the best hollow guitar, the Godin Kingpin, is an excellent example of a P90 guitar that is a great jazz instrument.
However, like single-coil pickups, they still suffer from 60-cycle hum and are very noisy. However, if you plan on using this for rock music, then play loud and proud, and the noise won't be much of an issue.
Style of P90 Pickups
When shopping for a P90 guitar, you may come across different styles. These differences are cosmetic and won't affect the guitar's tone.
Soap Bar
The soap bar P90 pickup is what you would find in the Gibson Les Paul Standard 50s guitar. It looks like a piece of soap, hence the name.
Dog Ear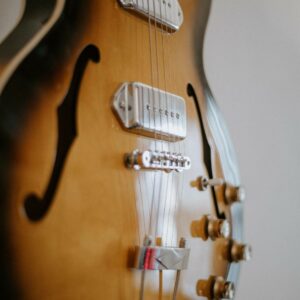 The dog ear P90 pickup is the style of pickup found in the Epiphone Casino. It has little flaps that hold the guitar in place and look like dog ears.
Humbucker Style
If you want to mod one of your current guitars with humbucking pickups with a P90 pickup, you will need a pickup that will be wide enough to fit a humbucker cavity. Some manufacturers, like Seymour Duncan, make modifications to the casing of their P90s, which is supposed to help reduce the hum.
Bridge Pickup & Neck Pickups
You'll notice with P90 guitars that many popular models only feature one pickup, while some feature two.
Two pickups offer you more tonal variety as you can choose one or the other or blend them both. However, having only one pickup will reduce the strings' magnetic pull, reducing extra guitar resonance from being picked up and can help focus the tone.
Also, sometimes simple is better.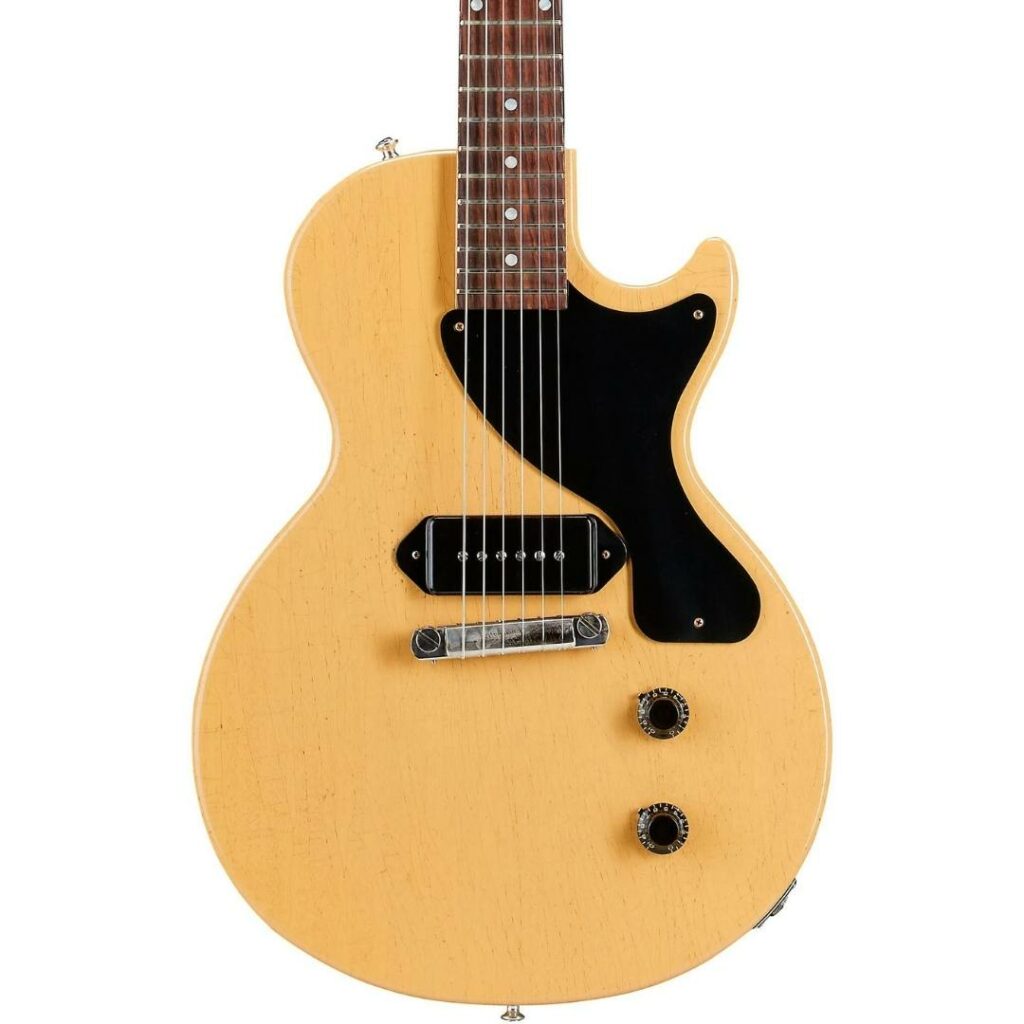 FAQ
What Music is P90 Guitar Pickups Good For?
P90 pickups are often described as sounding "thick" and "fat," which makes them ideal for certain styles of music. They work well with overdriven and distorted tones and can help give your guitar a powerful, hard-hitting sound.
That said, certain P90s are versatile enough to be used in various genres. They can be heard in jazz, blues, and even country music.
Are P90 Pickups or Humbucker Pickups Better?
Some guitarists prefer the sharper, aggressive sound of P90s, while others find humbuckers' warmer, creamier tones more appealing. Ultimately, it's up to each player to decide which type of pickup they prefer.
To Wrap Up
I hope this list has given you some ideas of some great P90 guitars to check out.
However, the Fender Jim Adkins JA-90 Telecaster is my favorite option for the best P90 guitar. It has the perfect mix of that classic P90 tone but with tones of fun and exciting design elements that make it a guitar like none other.
Check prices on Sweetwater here.
Thanks for reading!
Editor's Choice
Gretsch Jim Dandy
A beautiful mashup of a Fender and Gibson electric guitar

Semi-hollow body design balance out the aggressive tone and adds more sustain

Very expressive and an excellent choice for a variety of modern genres
Best Semi-Hollow
Gretsch G2G55T P90 Streamliner
The FidelSonic Pickups have an incredible range of tones

You won't believe the price of this guitar is so affordable after playing it

A fantastic P90 guitar for classic rock and blues players
For Premium
Gibson Les Paul Standard 50s Gold Top P90
Get the sound and feel of a classic Les Paul guitar for a great price


Smooth playability and impeccably constructed

Own a piece of guitar history