Editor's Choice
Gretsch G5222
Incredible gritty tones and an excellent value for money

Great build quality that punches well above its weight

An excellent option for rhythm and lead players
For Pop Punk
Fender American Performer Stratocaster HSS
A timeless guitar that can easily cross genre boundaries

The HSS pickup design gives sonic versatility and that bright, snappy guitar tone perfect for pop punk music

Very affordable for an American-Made Fender
For Hardcore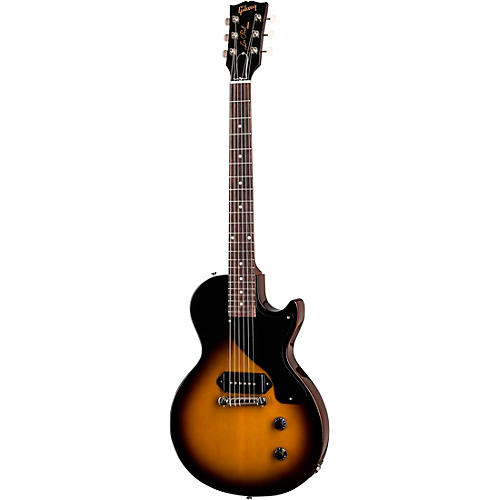 Gibson Les Paul Junior
A perfect choice for aggressive, in-your-face tones


A well built guitar that is hand-wired and comes with plek'd frets for maximum playability

Round neck is ideal for rhythm guitar players
Punk rock is all about breaking the rules and doing things your way. So why would you trust an article that tries to tell you what the best guitar for punk is?
And if punk is about attitude and a DIY ethos, any guitar should do, right?
While this is true to some extent, some guitars are better suited for the in-your-face attitude punk rock exudes.
So I've curated this list from my experience of 25+ years of guitar playing and my history of playing in punk bands.
When searching for the best guitar for punk rock, I based my decisions on sub-genre, construction, and popularity with other punk guitarists. This list is by no means end-all-be-all but should help you quickly sort out your best option and find some gems.
Let's get started!
Table of Contents
The Best Guitars for Punk Music at a Glance in 2023
Editor's Choice
Looking for an attitude-filled, versatile, and affordable punk rock guitar? Look no further than the Gretsch G5222 Electromatic Double Jet!
The Gretsch G5222 is an incredible value for money. With high-quality construction, a round gritty midrange, and attention to detail, these guitars pack a serious punch - perfect for any punk rocker!
The Gretsch G5222 Electromatic Double Jet is an excellent choice for punk rock musicians looking for attitude, versatility, quality, and affordability.
This guitar has a thick, round mid-range growl thanks to the chambered mahogany body, arched maple top, and Broad'Tron humbucking pickups.
What I love about the Gretsch G5222 are its versatility and playability. The double-cutaway makes accessing the entire fingerboard easy. While most punk rock guitarists will be smashing out power chords, for those who want to expand into screaming solos, the Gretsch G5222 will get you there.
The Electromatic series of Gretsch electric guitars are an incredible value for money and punch well above their weight class in construction and quality control.
The Gretsch G5222 will satisfy most punk rockers and multi-genre players. However, because of this guitar's shorter scale length (24.6"), you will run into issues if you want to play in heavier drop tunings.
If you are looking for a guitar with lots of flexibility in gritty tones, affordable, and excellent playability, the Gretsch G5222 Electromatic Double Jet should be at the top of your list.
Pros
An excellent value for money


There's plenty of tonal flexibility that can cover a wide range of genres

The chambered body gives this guitar insane sustain
Cons
It doesn't come with a case

Not the best option for heavier drop tunings
Best for Beginners
Are you a beginner looking for a tough, edgy, powerful punk rock guitar? Then you need to check out the Epiphone Les Paul Junior Player Pack!
This guitar is modeled after the Gibson Les Paul Junior designed by Green Day's Billie Joe Armstrong. It's perfect for beginners who want to play punk rock.
Designed after the legendary frontman's Gibson Les Paul Junior, this is a perfect choice for a straightforward and aggressive punk guitar. With its distinctive looks, powerful sound, and everything you need to get started, this is the ideal punk rock guitar starter kit for beginners.
Although this starter pack may be too expensive for beginner guitarists just starting, the quality of this player-pack guitar is much higher than average.
This Les Paul Junior slim-taper D neck feels slim in hand, making learning chords comfortable for beginners. Also, this guitar is bare bones and only has a single P90 bridge pickup. This makes this guitar distraction-free, keeping you focused on playing music and not tweaking knobs.
This starter pack includes:
Billie Joe Armstrong designed Les Paul Junior
15-watt Epiphone amp (with a headphone jack)
Electronic Clip-on Tuner
Gig Bag
Guitar Cable
Guitar Picks
Pros
This bundle is jam-packed with value


It's a great-looking guitar that is easy to play

The simple design keeps you focused on playing and not tweaking knobs
Cons
Not the cheapest player pack

The amp might not provide enough power to be heard over loud drums
Best for Pop Punk
Looking for an electric guitar that will match the high energy of your pop punk songs? Then you need to consider the Fender American Performer Stratocaster HSS.
This guitar is perfect for those who want versatility and bright, snappy tones, giving your music the uplifting energy it needs.
Fender Stratocasters aren't usually the first electric guitar to come to mind when considering aggressive music. However, they have a long history of being used in punk rock bands. Bands such as Green Day, Blink-182, and the Stooges are a few notable mentions.
When it comes to playing pop punk music, the Stratocaster has loads to offer with its bright, snappy tones that work great for the upbeat energy of this style of music. This contrasts to more mid-range focused punk guitars like a Gibson Les Paul.
The Fender American Performer HSS is a fantastic option from the Stratocaster lineup. This is because it's one of the most affordable American-made Fenders and comes equipped with the HSS pickup configuration.
The HSS pickup configuration has two single coil pickups in the neck and middle position and a humbucker pickup in the bridge. This gives you incredible sonic versatility that will allow you to sound great through the differing dynamics of pop-punk. Need aggressive tones for your anthemic choruses; check. Need glassy cleans for your ballad; check.
The Stratocaster is an iconic guitar that can do it all.
However, if you're looking for tones that will be more dark and aggressive, you may want to consider another option on this list. Also, the Fender American Performer guitars don't come with a hardshell case (it does have a gig bag), which is a bummer for a guitar at this price point.
If you are on the search for the best pop-punk guitar, then the Fender American Performer HSS isn't going to disappoint you.
Pros
The Stratocaster is a timeless guitar that can do it all


The HSS pickup configuration gives you a ton of sonic versatility

It's an American-made Fender, and one of the most affordable options
Cons
It doesn't come with a hardshell case

The tones may not be "thick" enough for some
Best for Post Punk
For a post-punk guitar that will turn heads and deliver great tones, look no further than the Danelectro 59XT. This guitar is perfect for those who want an unconventional guitar with loads of attitude and can withstand the rigors of gigging.
Danelectro has a retro look that doesn't resemble your typical electric guitars. They also have a bit of a punk rock ethos with their alternative constructions and unique body shapes.
The Danelectro 59XT is a guitar with loads of grit, tonality, and vibe, perfect for players inspired by post-punk and rock bands like Sonic Youth, Bauhaus, or The Smiths.
The Danelectros 59XT has slanted P90 pickups in the neck and a dual lipstick humbucker pickup in the bridge. The bridge pickups can be split into single-coil if you want a more jangly and present tone.
Danelectros are designed with hardwood tops and backs against a hardwood frame. These bodies are chambered to add to the guitar's resonance, but they are also incredibly durable. This makes this a top contender for the best guitar for punk players who gig out and play in sweaty basements and clubs. 
The guitar won't appeal to purists who want their guitars built from traditional woods. Also, while this guitar is affordable, it doesn't come with any carrying case. So you will have to factor that into the cost.
However, if you're looking for an unconventional guitar with great post-punk tones that will turn heads at your next gig, then the Danelectro 59XT should be at the top of your list.
Pros
The Danelectro 59XT has great post-punk tones


It's an affordable guitar that is built to last

The unique body shape and design will turn heads at your next gig
Cons
The guitar doesn't come with a case

Some purists may not like the unconventional construction and look
Best for Hardcore Punk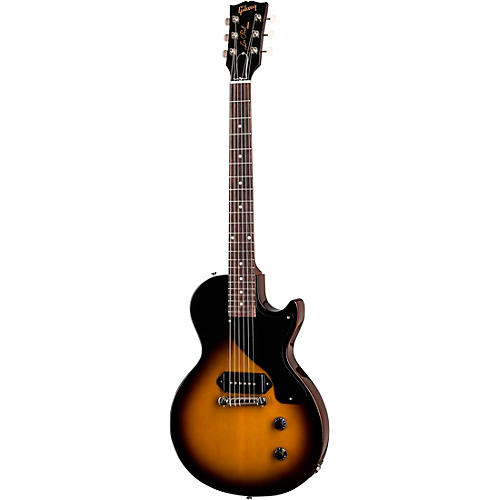 Looking for a guitar to help you unleash your inner punk rocker? The Gibson Les Paul Junior is a perfect choice!
With its single P90 bridge pickup, this guitar has the raw aggression you need to create hardcore punk music with that trademark sense of urgency.
Suppose you're a musician inspired by the rhythmic pummeling of hardcore punk bands like Terror, Champion, or Modern Life is War. In that case, you should check out a Gibson Les Paul Junior.
Simplistic in its design with a single P90 bridge pickup, this guitar has in-your-face raw aggression. Something that you're looking for when creating music with the urgency of hardcore punk music.
The Gibson Les Paul Junior is a solid body guitar that's a rhythm player's dream. The 12" radius, D-shape neck can often be described as a baseball bat. This makes for a really comfortable guitar for chords. However, if you're looking to do more intricate lead lines, the rounder feel of this guitar's mahogany neck may not do it for you.
While this guitar is not cheap for a more one-trick pony instrument, you are getting a quality instrument. The Gibson Les Paul Junior is all hand-wired with orange dropped capacitors and comes with plek'd frets to ensure maximum playability.
If your only goal in your punk rock playing is aggressive guitars that stay in your face, then the Gibson Les Paul Junior will be your forever guitar, no doubt. Don't sleep on it.
Pros
The Gibson Les Paul Junior is perfect for aggressive, in-your-face punk tones


The guitar is hand-wired with orange drop capacitors

It comes with plek'd frets for maximum playability
Cons
The guitar is a bit pricey for a more one-dimensional instrument

The round neck may not be ideal for more intricate lead playing
Best for Metalcore
The LTD EC-1000 is the perfect guitar for metalcore players who want a durable and highly playable guitar.
The EverTune bridge will keep your guitar in tune no matter how hard you play it and what dropped tunings you play in. This coupled with the EMG pickups that offer a thick growl and punchy guitar one, this axe is tailor-made for metalcore. 
Metal guitar players are tough on their instruments. The challenge with aggressive strumming, tons of movement on stage, and tremolo picking is the guitar quickly going out of tune. ESP has solved this problem with the creation of the EverTune bridge.
EverTune bridges take some time to get used to, but once you dial it in, it's pretty much impossible to make your guitar go out of tune. This is a massive plus for musicians playing gigs night after night in differing environments like basements and DIY clubs.
The LTD EC-1000 is a Les Paul inspired guitar designed for performance. The satin mahogany neck-through construction with ebony fingerboard makes this guitar play like butter. This makes it ideal for intricate lead lines and quick transitions from open to upper positions.
While this is a shorter scale length guitar (24.75"), because of the EverTune bridge, you can experiment with dropped tunings that you would normally use a 7-string for without your strings getting too floppy and creating tuning issues.
The EMG pickups offer that thick growl and mid-range punch that you want from a metalcore guitar, which makes this guitar stand out from other guitars on this list, like a Les Paul.
The LTD EC-1000 is an excellent choice for metalcore players who want a forward-thinking and highly playable guitar that will last them for years.
Pros
The EverTune bridge means your guitar will stay in tune no matter how hard you play


The guitar is smooth, fast, and incredibly fun to play

Can play in dropped tunings without losing playability and tone
Cons
Some users mention buzzing of the high E string. However, this can be fixed with a Side Spring Clip you install on the EverTune

It doesn't come with a case
Best for Emo
For an emo guitar that breaks the mold, look no further than the Jim Adkins JA-90. With its unique take on a Fender Telecaster, this hot-rodded guitar has tons of sonic versatility that will enable you to play all styles of emo music.
Jimmy Eat World's Jim Adkins JA-90 Fender Telecaster is a weird and wonderful guitar for emo. This guitar has the familiar telecaster shape but with Gibson-style hardware and scale length. And while telecasters are often associated with bright, twangy country tones, this Thinline Telecaster offers a more aggressive sound.
The Seymour Duncan P90 pickups boost your sound, making the clean sounds gritty and on the edge of breaking up. But when you crank the volume, you get a mid-range grit that is stunningly clear and articulate.
Mid-range isn't something you would typically associate with a Fender Telecaster. Still, thanks to the semi-hollow body design of the JA-90, you get more warmth and roundness in the tone.
There isn't much bad to say about the JA-90. However, some design elements might turn you off depending on what you're looking for in a guitar.
First, the neck is a set-in neck compared to a bolt-on neck. While this is a more premium feature for this guitar, it's also a more significant expense and headache if you ever need a neck reset or repair. Also, the neck has a gloss finish that some players find too sticky.
Suppose you're looking for a unique take on a classic guitar design that will perfectly suit all types of emo music. In that case, the Jim Adkins JA-90 is a worthy contender for your next guitar.
Pros
The JA-90 has unique tones that will suit all styles of emo


The semi-hollow body design rounds out the telecaster's twangy tones and creates a guitar with more sustain

A beautiful mashup of a Fender and Gibson style electric guitar
Cons
Expensive considering it isn't a USA-made Fender

The set-in neck can be costly to repair
A great guitar is only half the battle. If you want to take your tone into true punk rock territory, then you have to get the right amp. I've created a resource about fantastic punk rock amps to complement your new guitar here.
Buyer's Guide for the Best Punk Guitars
Pickups
You must consider the pickups in your search for the best guitar for punk rock music.
Pickup configurations will either be single coil or humbucking. Single Coil pickups tend to be more jangly and cutting. If your single coil is a P90 pickup, expect it to have more grit and growl.
The downside of single coil pickups is that they are noisy. However, this noise will not be an issue if you play fast and aggressive music.
Humbucker pickups have a rounder, thicker and mid-range tone. Humbuckers don't suffer from the noise that single coils do, but they lack the "cut" that single coils offer. However, a humbucking pickup will have more girth, which lends itself to music that centers around breakdowns.
Scale Length
The scale length of a guitar affects the tension in the strings. A short-scale guitar has less tension making the guitar have a more "slinky" playability. However, with less tension, you generally get a guitar that has less sustain and doesn't work well with drop tunings.
Neck Shape
You'll have to consider the style of punk rock you're playing to find the best guitar for punk. If you're primarily playing rhythmic chord progressions, you'll want a more D-Shaped, rounder radius guitar.
However, if you plan on adding in soloing and intricate lead lines, a flatter radius neck will be more in line with what you need.
Bridge
Punk rock guitarists aren't often known for huge tremolo dive bombs and whammying. In fact, these types of bridges can add issues around tuning, and fixed bridges are usually a better choice for the aggressive style punk rockers are known for.
Generally, fixed bridges offer better tuning stability. They are more comfortable for palm-muting, a crucial technique to master punk power chords.
This isn't to say that floating tremolo-style bridges are a bad thing. They are almost necessary for certain styles of punk rock. You just need to ensure that the bridge is high-quality and won't be more trouble than it's worth.
FAQ
Is punk hard to play on guitar?
There's no one answer to this question since punk rock music can mean different things to different people. Great punk rock often centers around a solid drummer, which can take some of the pressure off the guitar player. However, as you get into faster and more complex rhythms, keeping up will require some chops.
The Bottom Line
Punk rock music is about more than just having an attitude. It's about being creative, thinking outside the box, and doing things your way.
If you're looking for the best guitar for punk rock, you must consider what you're trying to accomplish with your music.
This is why my top choice is the Gretsch G5222. This guitar has that mid-range punch and playability that you'll find on guitars twice the price. It's also sonically versatile, so if you decide to branch out into other genres, the Gretsch won't hold you back.
Thanks for reading!
Editor's Choice
Gretsch G5222
Incredible gritty tones and an excellent value for money

Great build quality that punches well above its weight

An excellent option for rhythm and lead players
For Pop Punk
Fender American Performer Stratocaster HSS
A timeless guitar that can easily cross genre boundaries

The HSS pickup design gives sonic versatility and that bright, snappy guitar tone perfect for pop punk music

Very affordable for an American-Made Fender
For Hardcore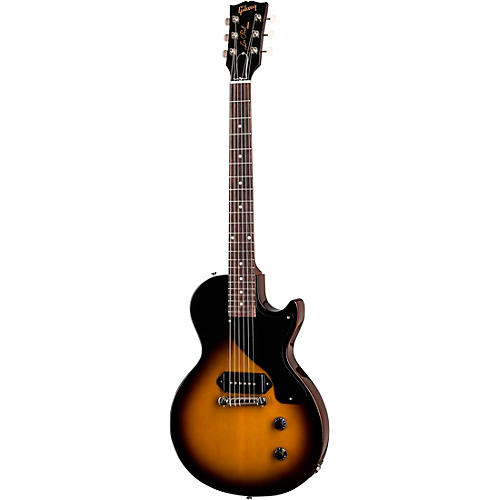 Gibson Les Paul Junior
A perfect choice for aggressive, in-your-face tones


A well built guitar that is hand-wired and comes with plek'd frets for maximum playability

Round neck is ideal for rhythm guitar players