Editor's Choice
Get the sound of three legendary amplifiers in one guitar pedal

Adjustable room sound emulator creates a realistic acoustic environment that brings your tone to life

Full stereo 24bit/96kHz gives a very high-fidelity sound that is also extremely responsive
For Classic Amps
Experience the power and flexibility of digital guitar gear with the warmth and soul of analog

Get faithful recreated classic tones of some of the most iconic amps ever made

Pedals are built like tanks and will last a lifetime
For Tone Tweakers
Endless control and customizability to get your perfect tone

Run two different amp sounds simultaneously for ultimate flexibility and stereo width

Create a unique sound that's all your own that you can bring to the stage and studio
Guitar players are always looking for new ways to get the perfect sound. Cab and amp simulators are a great way to do this, and there are some great options on the market today.
The best amp simulator pedals can give you a more comprehensive range of sounds from your guitar. They are also perfect for those who want to experiment with different tones without having an expensive collection of guitar amps.
So if you're looking for something new, check out these four great pedals!
Let's get started!
The Best Cab Simulator Pedal for Your Needs at a Glance
Editor's Choice
The Strymon Iridium is the perfect solution for guitarists who want to model their sound from classic amps and cabs without needing an engineering degree.
With its simple and intuitive interface, this easy-to-use pedal makes it an excellent choice for the studio, stage, or late-night practicing!
For the price, functionality, tone, and ease of use, the Strymon Iridium is easily one of the best amp simulator pedals on the market.
The Iridium replicates the sound of three legendary amplifiers, has nine cab emulators and includes three high-quality, adjustable room sound emulators using proprietary IR technology called Matrix Modeling.
This modeling gives you the same tonal nuance and response you would get playing through a real tube amp to an incredible degree. When I tested this pedal playing through headphones, I had a hard time hearing the pedal, and it sounded like an actual mic picking up the sound of the guitar cabinet in a room.
This is thanks to The Strymon Iridium featuring the highest-possible sound quality, with 24-bit/96 kHz output. This high level of fidelity will impress even the most stringent of audiophiles.
The Iridium offers plenty of tonal flexibility due to the three classic amps modeled.
This amp and cab simulation pedal has three amp modes: Round, Chime, or Punch settings.
The Round setting emulates the sound of a Fender Deluxe Reverb. The Chime setting recreates the sound of a Vox AC30 amp, as heard on so many classic British Invasion records. The sound of a Marshall Plexi can be recreated with the Punch settings for a more ballsy, mid-range punch.
While the Iridium is a little workhorse pedal, there are places where things could be more praiseworthy. Some users who want to get that classic tube distortion from cranking the gain may find the tone a little underwhelming; however, it does take pedals well.
You may have to tweak your signal chain to get the proper tone out of the Iridium. Still, once you get that tone, the convenience and usability of this pedal really shines.
There's plenty of functionality in the Strymon Iridium, and if you're looking for a great all-around pedal for recording in a home studio or live performances, you can't go wrong with this purchase.
Pros
Recreates three legendary amps from Fender, Vox, and Marshall

Exquisite build with a small footprint

24 Bit/96 kHz Output recreates playing through an amp to a remarkable degree
Cons
The high-gain sounds of the amps may leave a bit to be desired

It takes some tweaking to get your tone right with guitar pedals




Best Classic Tube Amp Simulator
Looking for an amp modeling pedal that captures the classic sound of some of the most iconic amps in history? Then you need to check out Universal Audio's UAFX Amp Modelers. These three pedals are designed to perfectly recreate the sound of classic Fender amps and Vox amps with stunning accuracy.
UA's team of engineers used every ounce of their expertise to perfect the sound of these pedals, which is felt and heard when you play them.
No matter what style of music you play, the UAFX Amp & Guitar Cab Modelers will help you quickly get "that sound" with the pedals.
For many years, a battle raged among guitar players about analog vs. digital guitar gear. Analog purists lived and died by the power of the valve tube. Digital acolytes waxed poetic about the futuristic possibilities of digital technology.
Fortunately for all of us, computers have come a long way in the last 20 years. Innovative algorithms let computers model the sound of classic music gear to an uncanny degree, which can be heard to brilliant effect on Universal Audio's UAFX Amp Modeler series.
Universal Audio are best known for creating high-quality boutique plugins and their Apollo audio interface. With the UAFX Amp Modelers, they leaped into guitar gear with three classy amp & cabinet simulator pedals.
The UAFX Amp Modelers take a different approach from the all-in-one amp simulators like the Strymon Iridium. Instead, Universal Audio has created three separate pedals that focus exclusively on legendary amplifier models of the past.
Suppose you want the best amp emulator pedal for a Fender '65 Reverb (Dream), Fender '55 Tweed Deluxe (Woodrow), or '63 Vox AC30 (Ruby). In that case, you have to consider the UAFX lineup seriously.
Universal Audio has gone above and beyond with the faithful recreation of these classic amps. Modeling "golden units," they've dialed in the characteristics of what makes these amps so iconic. Even going so far as to model different mods and cabinet types to give you extra tonal variety in each pedal.
The UAFX amp and cabinet simulator pedals are expensive, considering if you want the tone of each of these classic amps, you would need to buy each. However, the price is more than justified considering the quality of the build and sound quality. Each guitar pedal is rugged enough to withstand a direct missile strike.
However, this also makes the UAFX Amp Modeler guitar pedals slightly big and bulky for some pedalboards.
At the end of the day, if you're looking for the best amp simulator pedals for classic guitar amplifiers, you need to try one of the UAFX amp and cab simulator pedals. Once you feel and hear the magic of these pedals for yourself, I know you'll be sold.
Pros
Get faithfully recreated tones of famous amps for a fraction of the price

Vintage tones with modern technology, like an app that gives you loads of presets

Rugged build that will last a lifetime
Cons
Expensive if you want the flavor of each amp

Bulky on your pedalboard




Best for Tone Tweakers & Analog Purist
The DSM & Humboldt Simplifier DLX is the perfect analog amp and cabinet simulator for the discerning guitar tone tweaker.
With its almost unlimited control and customizability, it's easy to get lost in the endless possibilities. But what makes the Simplifier DLX stand out is its ability to independently run two different amp sounds with an effects loop. This flexibility allows you to get the perfect sound for any situation, whether you're playing live or in the studio.
And with all of this power and flexibility packed into a small, portable package, the DSM & Humboldt Simplifier DLX is the perfect tool for any guitar player.
Suppose you're looking for an amp and cabinet simulator with almost unlimited control and customizability. In that case, you need to look at the DSM & Humboldt Simplifier DLX Zero-Watt Dual Channel & Reverb Stereo Amplifier.
The Simplifier DLX expands upon the extremely popular Simplifier but adds in more bells and whistles that are a guitar tone tweakers' dream. Oh yeah, it's also all analog. You heard this right, no impulse responses here!
The Simplifier DLX features two independent preamps to mimic the front end of a real amplifier, but the analog signal path doesn't stop there. There's a post-preamp power amp sim with cab sims that can give you a wide range of tones.
This analog path gives you a great response that is hard to find in more inferior simulator pedals.
Based solely on its front panel, you'd think the DSM & Humboldt Simplifier was a modular synth. It's got knobs for everything from reverb size to mic positioning. It's endlessly customizable but also simple to control via a footswitch.
But what makes the Simplifier DLX stand out is its ability to run two different amp sounds, with effects loops, in parallel. The combinations and sonic possibilities are endless with this thing.
Whether you're a live player looking for ultimate control over your tone or a studio experimenter looking for the next wild guitar tone. The DLX offers more than most guitar mortals need to push the boundaries of amplification and sound.
If you're looking for an analog amp simulator that can act as an ampless & cabless command station for your guitar rig, the DSM & Humboldt Simplifier DLX Zero-Watt Dual Channel & Reverb Stereo Amplifier should be your top pick.
Pros
Endless customizability in amp choice, tube choice, mic positions, power amps, and cabinets

Multiple routing configurations and inputs allow for easy compatibility with your rig and the ability to have more than one player use it at the same time

High-quality build & all analog design
Cons
Possibly overwhelming for some users

No power supply included

It doesn't come with a MIDI control
Best Multi-FX & Gigging Option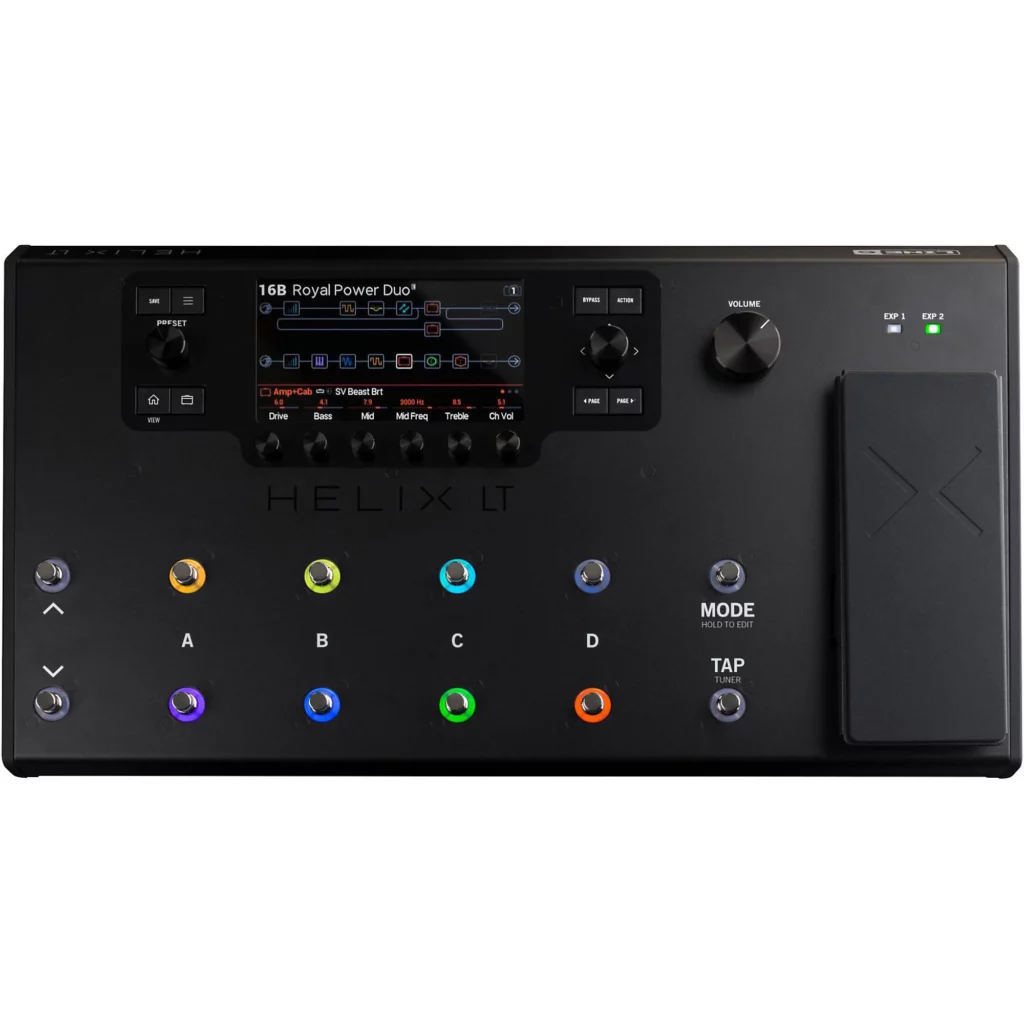 The Helix LT is a great all-in-one pedal and amp solution for gigging musicians who want to save time and hassle. You can configure the perfect sound for your performance with its tone and effects options.
Plus, you can ditch your cables, and it's lightweight, so you can take your music and tone wherever you go.
Let's get something straight, cables are the bane of a guitar player's existence. There's nothing worse than lugging around tons of high-quality gear only to have a patchy cable mess up your signal flow.
The idea of having an all-in-one pedal and amp solution may be exactly what some of you who gig out a lot are looking for. This is where the Line 6 Helix LT can be a real-life (and tone) saver.
The Helix LT, besides the effects, has layers of configurable options from IR and tones combination to effects not common in other amp and cab sim pedals. Coupled with multi-effects processing, the Helix LT is an all-in-one sound modeling solution.
Where this unit shines is for the traveling musician. This may be one of the best options for a pedal board, amp, and cabinet simulation because of its versatility, portability, and sheer flexibility.
The sound quality is also excellent, and you have everything you need in a simple preset library. From phasers, tremolos, compression, delays, reverb, compression, and distortion pedals. Whatever signal chain and genre of music you want to play, the Line 6 Helix LT will get you there.
One common complaint for the Helix LT is how overwhelmed new users feel. Start with single effects, practice with the menus at home, and read the manuals before using them in live performances.
The number of tones and effects available can provide a wealth of different sounds, but it also demands caution. Nothing worse than being stuck fiddling with knobs during a live performance, so be sure to understand its menus properly before showtime.
However, suppose you're looking to ditch your cables, pedals, and amplifiers for a compact and elegant solution. In that case, the Line 6 Helix LT is a piece of gear you want to take advantage of.
Pros
Ditch your cables and need to carry around heavy pedal boards and amps

A highly flexible interface that gives you plenty of options for shaping dialing in your tone

Lightweight and easy to travel with
Cons
It's a "jack of all trades" but a master of none

The interface can be confusing to use at first




FAQ
What is it That Amp & Cab Sim Pedal Can't Do?
An amp simulator pedal can't replicate the pushing of air that you get with a speaker cabinet. This sound pressure gives the touch and dynamics of a traditional amp.
While digital DSP chips can get you 90% of the way there in terms of analog sound, there will always be something missing from a tone when there isn't actual air moving.
You may like an amp and cabinet simulator pedal if you're an analog purist. Still, you'll never really fall in love with it.
Why should you buy an amp and cab sim pedal?
An amp and cab sim pedal can be a great way to get the sound of a full stack without having to lug around an actual amp and cabinet. They can also be a great way to experiment with different sounds without buying a new amp or cabinet.
Some pedals also include features like reverb and delays, which can add extra depth and dimension to your sound. Overall, they're an excellent tool for gigs, recording, or practicing at home.
Can Cab & Amp Simulator Pedals Be Used for Recording?
Absolutely! Using amp simulator pedals can be a great way to get excellent-sounding guitar recordings without bugging your roommates and neighbors.
Also, most amp and cab simulator pedals have line-level stereo outputs, so you can easily route them into your favorite audio interface.
An amp simulator can be a great substitution for a mini guitar amp, which often has a feature to plug directly into your computer for recording.
Can Cab & Amp Simulator Pedals Be Used for Live Performance?
Yes! Amp simulators are an excellent option for gigging musicians. First, you can avoid lugging around heavy amplifiers and dealing with electronics issues.
You also get the consistency of digital technology, making it easy to predict your guitar tone.
Why Didn't I include the Walrus Audio ACS1?
One of the most popular amp simulator pedals is the Walrus Audio ACS1. If you've been doing your research, you've undoubtedly come across this one.
So why didn't I include it on my best amp simulator pedals list?
There is no reason except it is a close comparison to my Editor's Choice option, the Strymon Iridium. And honestly, I've had more experience with the Strymon, so I recommend this over the ACS1.
The Bottom Line
So, which of these pedals is the best for you? It depends on what you're looking for in an amp simulator.
Suppose you want a pedal that faithfully recreates the sound of classic amps and cabs. In that case, the Universal Audio UAFX Amp Modelers are a great option.
If you need more control over your tone, check out the DSM & Humboldt Simplifier DLX Zero-Watt Dual Channel & Reverb Stereo Amplifier.
No matter which pedal you choose, we know you'll love the incredible tones and flexibility it delivers!
Editor's Choice
Get the sound of three legendary amplifiers in one guitar pedal

Adjustable room sound emulator creates a realistic acoustic environment that brings your tone to life

Full stereo 24bit/96kHz gives a very high-fidelity sound that is also extremely responsive
For Classic Amps
Experience the power and flexibility of digital guitar gear with the warmth and soul of analog

Get faithful recreated classic tones of some of the most iconic amps ever made

Pedals are built like tanks and will last a lifetime
For Tone Tweakers
Endless control and customizability to get your perfect tone

Run two different amp sounds simultaneously for ultimate flexibility and stereo width

Create a unique sound that's all your own that you can bring to the stage and studio