Do you own a Telecaster guitar and want to get the most out of your sound? Are you searching for an amp that complements your instrument's unique tone while producing a superior playing experience? Then look no further!
From all-tube combos to versatile digital modeling, there is something here for everyone. With expert insights and detailed reviews on each option, this article will give you everything needed to find the right match for your axe.
So read on and discover how easy it is to upgrade your gear with a new amplifier that quickly unlocks telecaster guitars' potential.
Let's get started!
TL;DR: My Top 3 Picks
Editor's Choice
Gives you the classic Fender cleans with a bit of British punch, perfect for getting the most out of your t-style guitar

Built-in spring reverb is articulate and provides depth to your playing without washing it out

The Multi-watt switch gives you great tones at any volume level
Runner Up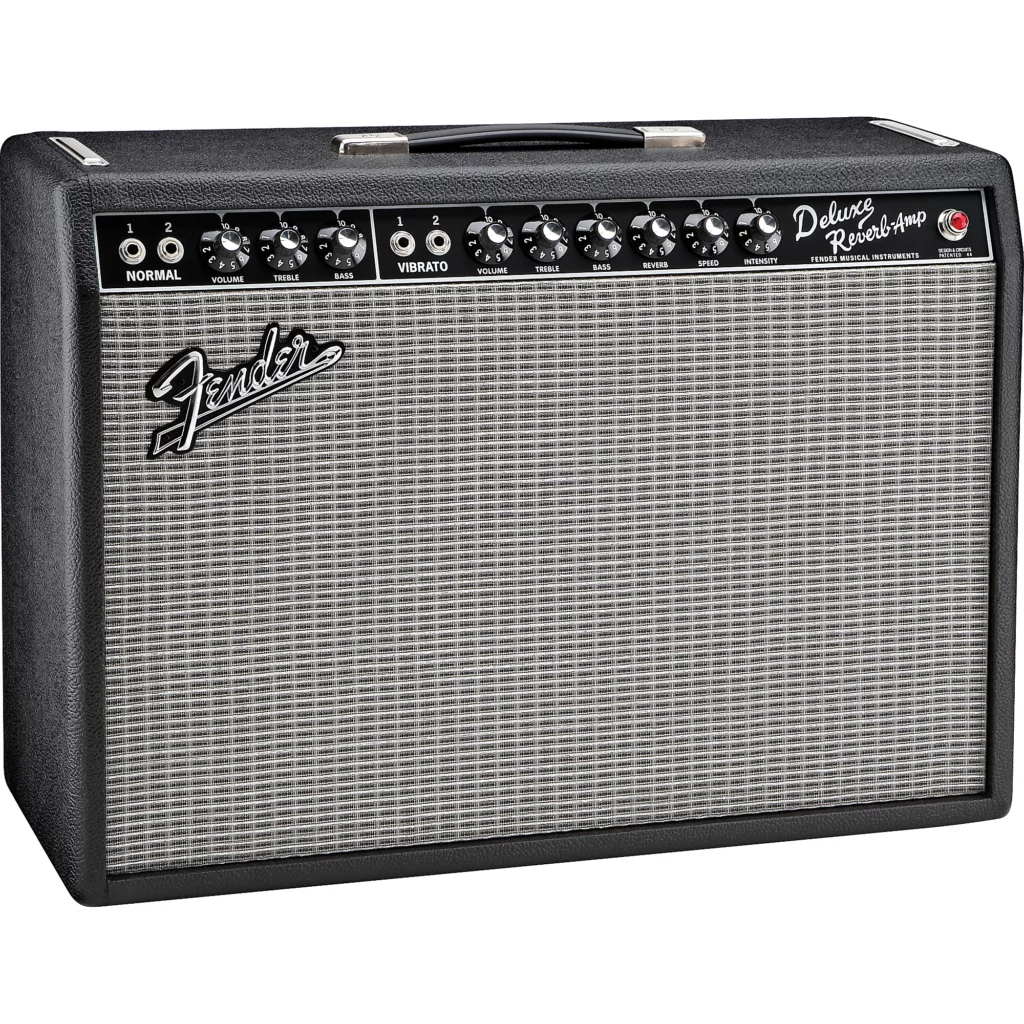 The amp has a quick response with a rich high-end sparkle, helping to bring out the iconic twang of a Telecaster guitar

There's a tube-powered Reverb and Tremolo built into the amplifier

Available in an all-tube design or solid-state design with the Tone Master series
For Pedals
The tone of this amp is rich, harmonic, and articulate. The high-head room power amp section ensures that your Telecaster sparkles (even when there's a bit of dirt)

Takes pedals so well that they sound like they are part of the amp

Post-phase-inverted master volume works as an attenuator to give you the perfect tone at any volume
The best amps for the fender telecaster at a glance
Table of Contents
Editor's Choice
Looking for the perfect amp to fit your Telecaster's twangy and bright sound? Look no further than the Mesa/Boogie Californian Tweed.
This one-channel, multi-watt amplifier is tube-powered and equipped with a renowned spring reverb for unparalleled depth of sound. As with all Mesa/Boogie amps, the build is high-quality. This is an amp you can count on throughout a lifetime of playing.
This incredible amp doubles as a fantastic pedal platform that easily takes in whatever effect pedals you throw at it. With its deep resonance and rich tones, your sound will radiate expressivity—this is genuinely an amp you'll be proud to plug into time and time again. So don't miss out on this great opportunity: get your Mesa/Boogie California Tweed today!
It may seem blasphemous to recommend an amp inspired by vintage Fender Amplifiers (especially when great reissues are available today). However, there is something undeniable about the refined classic sound the Mesa/Boogie California Tweed produces that is a perfect combination for a Fender Telecaster guitar.
It's no secret that Mesa's founder Randall Smith made his big break from hot-rodding Fender amps. The years of amp building have accumulated into this simple yet powerful amp build.
The California Tweed series of amplifiers is a one-channel, multi-watt amplifier with a tube-powered spring reverb. It has a rich tone that will work perfectly with the twang and bright articulation your Telecaster produces.
Push the gain and work with the master volume to get a combination of an incredible clean tone to crunchy perfection that is great for a blues amp and indie rock amplifiers. It even works as a fantastic pedal platform and will effortlessly take whatever pedal you throw at it. Whether this is a gain boost directly into the amp or using the dedicated effects loop for more modulation/ambient effects.
I've found the fun part of the California Tweed in the multi-watt selection switch. This part of the amp opens up the sonic possibilities that this tube amp offers and makes it perfect for at-home practice, recording, or gigging. Depending on the model you purchase, the wattage will vary from 1 to 40-watt.
If you play at maximum wattage, you will experience a loud and pristine-sounding amplifier. Tons of headroom and dynamics. As you dial the switch back, you will achieve a bit of crunch and compression to the tone that still stays musical and volume appropriate for home and studio use.
As is true with all Mesa/Boogie amplifiers, the build quality is next-level, and this amp should last you a lifetime. There isn't much to complain about in this amp.
If we had to pick apart the amplifier, we might say the reverb could be better compared to what some dedicated guitar pedals may accomplish. The reverb is mellow and nuanced but may not bloom and expand to what some players prefer.
However, if you're looking for a modern take on a classic vintage amp for your Tele, you owe it to yourself to check out the fantastic Mesa/Boogie California Tweed today!
Pros
Incredible clean and crunchy tones that are a perfect match for your T-style guitar's twang

The multi-watt switch can give you massive headroom for pristine cleans, or classic tube-style overdrive at lower volumes

Takes pedals well
Cons
Some users have complained the Tolex isn't cut evenly and looks sloppy at close inspection

It's expensive
Runner Up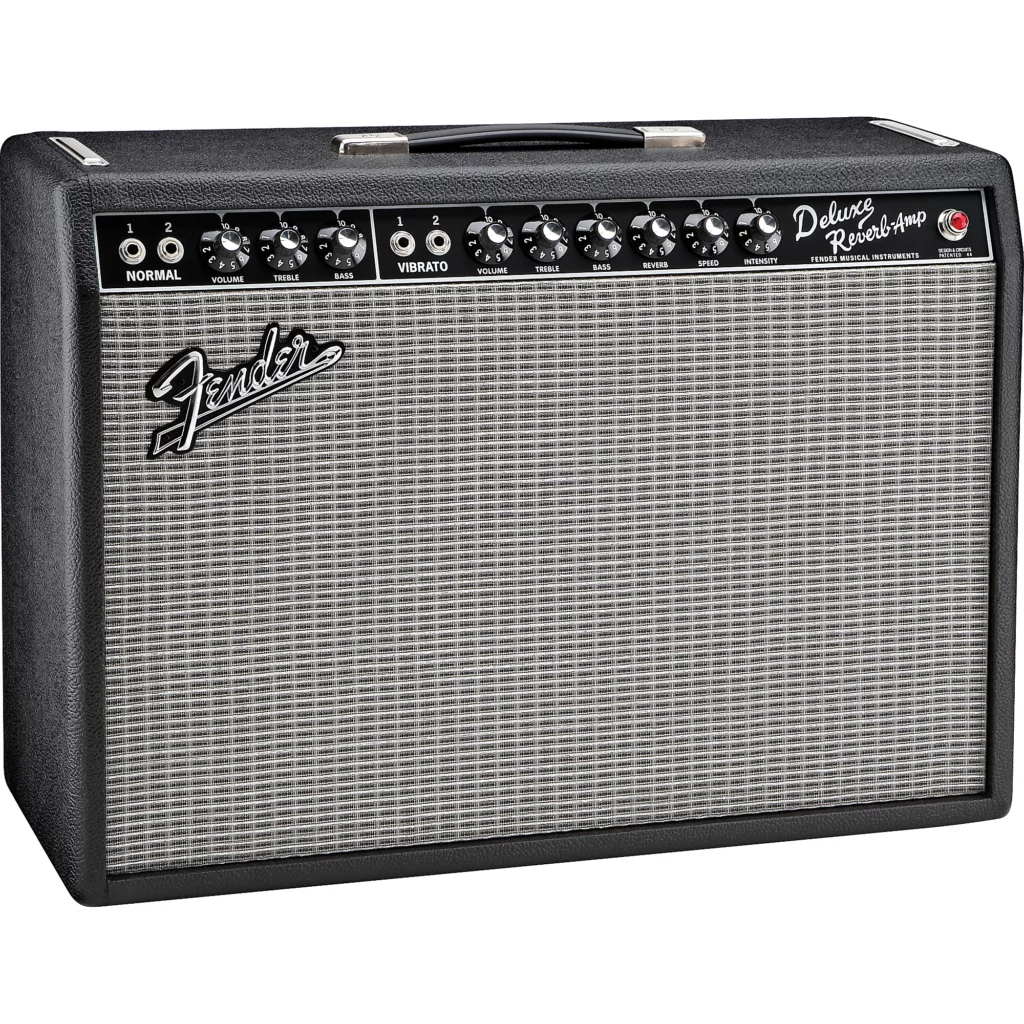 The Fender Deluxe Reverb should be your go-to amp if you are a Telecaster fan. Its iconic tone pairs perfectly with your beloved single-coil pickup sound and will help you get the most out of your Tele-Tone.
The amp's quick response makes it ideal for all types of music and keeps your playing sounding lively and dynamic. They come with built-in tube-powered Reverb and Tremolo, perfect for creating unique tones and soundscapes; explore new sonic boundaries like never before! Even better, depending on your needs and budget, you can choose between a tube or a solid-state version (in the Tone Master series).
So don't hesitate any longer - get your own Fender Deluxe Reverb and tap into those legendary telecaster twangs today!
The Fender Deluxe Reverb is an iconic amp whose tone pairs well with the single-coil jangle of Telecaster electric guitars. While a vintage Fender Deluxe Reverb is hard to find (and expensive), Fender has many reissues on the market that are affordable and give you that vintage clean, and crunchy tone the Deluxe Reverb is known for.
The Deluxe Reverb has a quick response with a rich high-end sparkle. This helps bring out a Telecaster's iconic twang and will help you cut through a mix. You also get a tube-powered Reverb and Tremolo built into the amplifier, which allows you to explore classic tones for country, blues, rock, and indie rock music.
The Fender Deluxe Reverb doesn't have dedicated effects loops, but this doesn't mean that the Deluxe Reverb won't make a fantastic pedal platform amp. Most users praise this tube amp's ability to take whatever pedal you throw at it. If you want to expand your tone beyond what the amp provides, you can do so without issue.
The Deluxe Reverb is a heavy amp, and the all-tube design of some of the reissues may require maintenance during the amp's life. However, Fender has made a solid-state version of the Deluxe Reverb in their Tone Masters series, which is lighter and more cost-efficient. The Tone Master Deluxe Reverb is a modeling amp that faithfully recreates the sound quality of the tube-based Fender amp.
The Tone Master amp models are worth checking out if you are ok with having a non-valve-based amp.
Suppose you're looking for an amp pairing that is a perfect fit for your T-Style electric guitar. In that case, you need to consider the Fender Deluxe Reverb as a serious contender for your collection.
Pros
The Fender amp mid-scooped voicing is a match made in heaven for t-style guitars

Can get a tubed or solid-state version, depending on your budget and needs

Makes a great pedal platform
Cons
Some users feel the amp breaks up too quickly, and there needs to be more clean headroom. However, this could be due to the speaker choice in some of the models (P12Q Jenson Alnico is a culprit)

Models vary drastically in price. This can make it challenging to know which amp is the right fit for you
Best for Pedal Platform
Let's face it. There are plenty of great options when a musician is looking for the best amp for their Telecaster guitar. But if your sights are set on something special, you've hit the jackpot with Dr. Z's Z-28 Amp.
The Z-28 offers guitarists a beautiful blend of American and British tones – all in one package. Thanks to its 5881 tubes in the power amp section, you'll get an incredible sound that makes even pedals sound like they're a part of the amp itself. And with the post-phase-inverted Master Volume switch acting as an attenuator, you can fine-tune your tone and make sure it sounds just right every time.
Don't settle for just any ordinary amp when purchasing an amp for your Telecaster. Demand excellence with the Dr. Z Z-28 Pedal Platform Amp and unlock your guitar's true potential today!
The Dr. Z Z-28 is perhaps my favorite amp on this list. When it comes to construction, ease of use, and the tone this amp produces, you can't miss when pairing this with your Tele-style guitar.
The simple design has great clean amp tones, and turning up the gain will give you that classic rock crunch. You get a good blend of American and British tones that guitarists chase after.
What makes this amplifier truly special is how it makes the pedals sound like part of the amplifier. This is thanks to the 5881 tubes in the power amp section. These have a high headroom that allows you to push into the amplifier without it choking out.
So if you want to run your favorite pedals to shape your tones for practice, recording, or gigging, then the Dr. Z Z-28 is something special.
This amp doesn't have the bells and whistles of other amps in the top positions, but Dr. Z includes some forward-thinking design elements. There is a post-phase-inverted Master Volume switch which works like an attenuator that helps you bring your output volume down without affecting your tone. This makes this a great practice and gigging amp that won't drive your front-of-house song engineer crazy with your stage volume.
It also is quite expensive for such a simple design. So this is why I didn't put this as my top pick. You will want to consider investing in some pedals to get the most out of this amp pairing with your Telecaster.
However, if you are looking for an amp with a fantastic tone, fully handwired and built with an all-tube design in the USA, then you have to check out the Z-28 today!
Pros
This no-frills amp's number one focus is great tone, no matter what

Makes pedals sound like they are a part of the amp

Post-phase-inverted master volume gives you great tone at any level
Cons
There are no built-in effects or a dedicated effects loop

It's expensive
Best for Chicken Picking & Jazz
With a clean tone, minimal maintenance requirements, and fantastic built-in effects, this is the amplifier you need when articulation is your end goal.
The Roland Jazz Chorus can also make an excellent pedal platform if your needs don't require high gain. Also, the two speakers allow you to make the most of your stereo effects for an immersive playing experience.
Get all of the classic clean Telecaster tones you want with none of the hassle of tubes when you choose the incredible Roland Jazz Chorus as your amp. Experience it today!
Let's enter into controversial territory. Depending on what forums you frequent or which guitar player you speak to, you may get a much different response towards the Roland Jazz Chorus series of amplifiers.
The Roland Jazz Chorus is an all solid-state amplifier. This means there are no valves that are often considered the holy grail of tone within traditional tube amps. Some may feel the sounds of a solid-state amplifier, like the Roland Jazz Chorus flat and 2D. This would be the exact opposite of what you'd want for a Fender Telecaster tone.
However, the Roland Jazz Chorus has become a classic for a reason. Not only does each amp in the series come with two speakers to maximize stereo effects, but it also has one of the best built-in chorus sounds.
The clean tone has headroom for days and won't break up when pushed, so if you are looking for an amp that will handle all your chicken picking, this amp could very well be what you're after.
This amp also makes a great pedal platform, but I would be a little wary of using this one for players who want to use lots of high-gain pedals.
If you are looking for the purest clean tone amp that will have minimal maintenance and fantastic built-in effects (sans the distortion), then the Roland Jazz Chorus could be the left-field decision for you!
Pros
Two speaker setup allows you to make the most of stereo-based effects

Immaculate clean channel with high headroom for Tele players who do lots of chicken picking and/or play jazz

Works as a great pedal platform for time-based and modulation effects
Cons
Not the best amp for crunch and distorted tones

Some users report a loud hiss that comes from the speaker
Best Modeling Amp
If you are looking to unlock the full potential of your Telecaster, then look no further than the legendary Boss Katana.
This all-in-one amplifier is one of the most popular models in the world for a good reason. It offers incredible flexibility and allows you to access different sounds, effects, and expansions. Far from just another solid-state amp on the market, this model is loaded with powerful technology that gives you precise control over your tone.
Don't limit yourself anymore! Spend time playing around with options on the Boss Katana today and never look back.
The Boss Katana is one of the most popular modeling amps in the world. It's an incredible all-in-one amplifier that gives you access to multiple amp sounds, effects, and expansion in a lightweight package.
The Boss Katana fall in the solid-state amps category. Still, the real power is in the modeling tech within these units. Suppose you need to figure out what tone you're after with your Telecaster guitar. In that case, the Boss Katana is an affordable and flexible option for you to consider. If you were to put the Katana up to any of the tube amps that it models, you would probably not hear much difference in sound quality.
Even if you already own a few great amps, the Boss Katana would still be a great addition to your rig. It makes an excellent practice amp because of the headphone outs and the variable wattage control. It also makes a great home studio amplifier thanks to the dedicated output for recording.
The flexibility and scope of the Boss Katana is immense, and it's worth reading a dedicated product page to see all this can do.
The bottom line is if you are looking for an amplifier for your Telecaster that will give you the most flexibility for an affordable price, then the Boss Katana is a no-brainer choice.
Pros
Very affordable

A versatile and flexible amp that allows you to explore many different tones

The Katana is a wonderful practice, studio, and gigging amp
Cons
Some users find the crunch tones may not be as dynamic and "squishy" as a real tube amp

Deciding on what model to buy can be confusing
Buyer's Guide
The truth is, any amp on the market will work for a Telecaster guitar. There are a few considerations to consider when choosing the best amp for a Telecaster that you should look at when deciding on your purchase.
Tube vs. Solid State Amps
A tube amp is made with valves and is what vintage amplifiers were made from. Tube amps are often considered more "musical" and rich in tone. However, the downside of tube amps is that they are usually more expensive than solid-state amps, and they are heavier and more fragile.
A solid-state amp is made from transistors. These amplifiers often have lots of clean headroom and are lightweight and durable. However, players often find the tones more sterile than a tube amp, but the technology has come a long way.
Some of the best modern solid-state amplifiers' key features are amp modeling. With modeling, you can access many different amp sounds and effects built into the amp itself. This helps you save money on external effects pedals, audio microphones (if the amp has a dedicated out that goes straight into your interface or computer), and owning multiple amps.
The choice of Tube and Solid State comes down to the player. Still, if you can get over the idea of not having a valve tube amp, you can get a quality amplifier for a quarter of the price.
Heads vs. Combo Amps
With most of the recommendations on this list, you will see that the series includes either a combo or amp head version.
When it comes to sound quality, you will find little difference. However, the main difference will be in a combo amp with the speaker that the manufacturer often chooses to be the best combo for the amp itself.
Amp heads need external speakers to power them, and only some speakers will be a good fit. Amp heads will last longer because tubes and internal components aren't getting rattled by the speaker itself.
So it's really a matter of preference for which you choose, but for most players, a combo is the right way to go.
Conclusion
So, there you have it – the 5 best amps for those looking to get the most out of your Telecaster's twangy sound. No matter your budget or other features you might be looking for, one of these amps is sure to give you the perfect tone.
And remember, when it comes to amplifiers, don't always take my word for it. Try out different options before deciding – only YOU can know which amp suits you and your needs.
Thanks for reading!
Editor's Choice
Gives you the classic Fender cleans with a bit of British punch, perfect for getting the most out of your t-style guitar

Built-in spring reverb is articulate and provides depth to your playing without washing it out

The Multi-watt switch gives you great tones at any volume level
Runner Up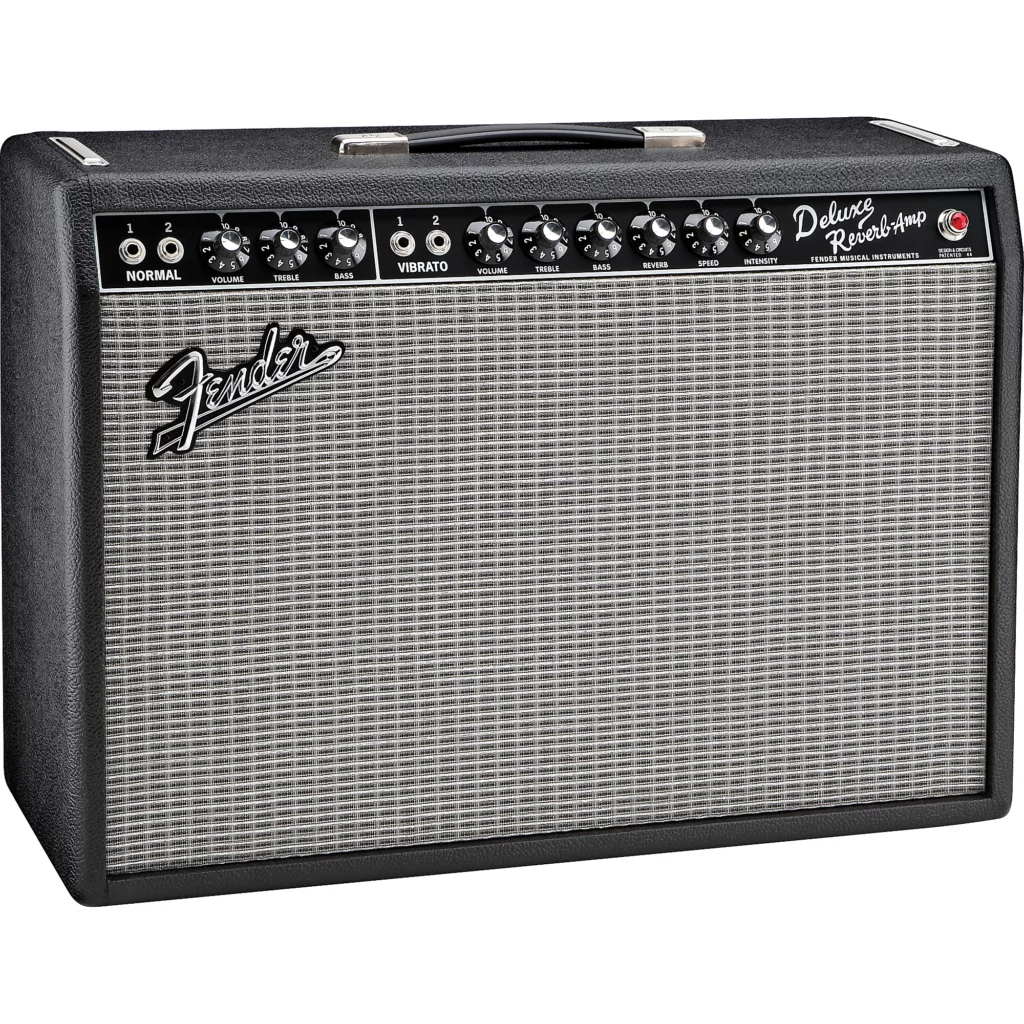 The amp has a quick response with a rich high-end sparkle, helping to bring out the iconic twang of a Telecaster guitar

There's a tube-powered Reverb and Tremolo built into the amplifier

Available in an all-tube design or solid-state design with the Tone Master series
For Pedals
The tone of this amp is rich, harmonic, and articulate. The high-head room power amp section ensures that your Telecaster sparkles (even when there's a bit of dirt)

Takes pedals so well that they sound like they are part of the amp

Post-phase-inverted master volume works as an attenuator to give you the perfect tone at any volume