Looking for the perfect amp to epitomize your style and attitude? Look no further!
I've got you covered with the best amps that can handle all punk rock antics, from thrashing riffs, drop-tuned chugs, or punchy power chords. I guarantee one of these options will make your sound truly come alive.
I've used my experience as a touring musician for a punk band and 25+ years of playing guitar to put together this list for you.
So what are you waiting for? Let's dive into these mighty amps and discover which is right for you.
Let's get started!
TL;DR: My Top 3 Picks
Editor's Choice
It has an incredibly rich and articulate high-gain tone that is perfect for punk rock and all similar genres

An affordable option that is loud enough to carry over loud drums and compact enough for easy travel

Great additional features like noise-gate and speaker cab emulation make this a fantastic amp for recording, practice, and gigging
For Pop Punk
Three independent channels give you lots of sonic variation that is perfect for the quiet/loud dynamics of pop punk

You can use either 6L6 power amp tubes for a more American tone, or EL34s for a British tone that is perfectly biased with the flip of a switch

Extra tone switches and variable wattage on each channel give you ultimate flexibility over your tone
For Hardcore
Get the perfect guitar tone that has effortless urgency and aggression

Loud and powerful, that is perfect for all types of gigs

Built like a tank
The best punk amps at a glance
Table of Contents
Editor's Choice
If you are looking for the best amp for punk rock in terms of features and price, look no further than the EVH 5150 Iconic Series 40.
The 5150 Iconic combo has all the features needed to produce a fantastic punk sound. From its tube design, two independent gain and volume channels, three-band EQ controls, resonance and presence knobs, and built-in spring reverb, you'll be powered up to create memorable riffs that inspire epic stage dives.
Some other epic features, like the built-in noise gate and speaker cab emulation output, allow you to directly plug into an interface or PA for recording and gigging.
So bring on that raw energy with the EVH 5150 Iconic Series 40—the perfect choice for pure punk power!
The EVH 5150 Iconic Series 40 is my top recommendation for a great punk rock guitar amp. The 5150 is a classic high-gain amp that is responsive, articulate and has a fantastic mid-range punch. You could use this amp for every type of good punk tone, from hardcore and metalcore to pop punk.
The 5150 Iconic combo amp has everything you'd want for punk players. Tube design, two channels with independent gain and volume, three-band eq, resonance and presence knobs, and a built-in spring reverb.
Some great features underneath the hood take this amplifier beyond just a great tube amp with distortion in all the right places. The second channel has a built-in noise gate that does a great job of tightening up your punk rock guitar chugging while not killing your sustain. This is a fantastic feature for live gigs and especially for recording.
Speaking of recording, this guitar amp also has a DI output and speaker emulation circuit. This can be used for silent recording, late-night practice, or plugging directly into a board for live gigs. This makes this an extremely versatile amp for all types of applications you may come across.
While the combo amp doesn't have the high wattage of the 5150 Iconic Series amp head (80 watts), the 40 watts is still loud to be heard over a drummer and can be used for basement shows and small clubs without a problem.
The last thing that makes this an absolute winner in terms of the best amp for a punk band is that it is affordable. Unlike the other options on this list, the 5150 iconic series gives you everything you would want in a high-gain electric guitar amp and costs less than 1/2 the price of most other options.
Whether you're playing in metal, hardcore, or pop punk bands, the EVH 5150 Iconic Series 40 is one of the best values to give you that crunchy, high-gain punk tone you're after.
Pros
Rich, responsive tones that are perfect for punk rock

Built-in noise gate helps keep your tone tight and punchy

DI output and speaker emulation circuit for silent recording, late-night practice, and plugging into a board for live gigs
Cons
Some users have reported the channels going bad prematurely

You may want more power than 40 watts, which would be available in the head version, but then you would need to purchase a cab
Best for Pop Punk
Are you looking for the quintessential pop punk sound? Look no further than the Mesa/Boogie Dual Rectifier!
This incredible amp is famous for its sonic versatility and high-energy tones. It is a dream come true for any artist in the pop punk genre. With three channels - clean, crunch, and high gain lead – you can tweak your tone to create sounds that perfectly represent your musical vision.
Not only that, each channel has its selectable switch, so you can get two tonal variations from each one. That means more sonic possibilities at your fingertips!
Whether you're recording an album or performing live, the Mesa/Boogie Dual Rectifier delivers. It will give you the flexibility and reliability to push your music's energy as high or low as you want.
The Mesa/Boogie Dual Rectifier Amp is the perfect amplifier for any pop punk band looking to tweak their tone to perfection. With three channels – clean, crunch, and high gain lead – you can capture every nuance of your sound, from mellow chords to soaring leads.
Mesa/Boogie is known for building fantastic amplifiers with loads of features, and the Dual Rectifier is no different. Each channel has a selectable switch to give you two tonal variations. For the two lead channels, you get a more vintage voicing or modern mode for contemporary high-gain sounds or a clean or pushed switch for the clean channel.
On top of that, you have a 50 or 100-watt control for each channel, allowing you to squish the signal and get the most breakup at lower volumes.
There are other great functions in the amp for swapping out the 6L6 tubes for EL34s for a more British voicing, multiple outputs for a range of speaker cabinets, and an effects loop.
The options are endless, and this is also the amplifier's downfall. Sometimes you want to get "that sound" right out of the box, and the amount of tweaking you can do with this amp can make you chase your tail, thinking you can always tweak it just a bit more.
Ultimately, the Mesa/Boogie Dual Rectifier Amp is one of the most versatile amplifiers on the market today. Armed with plenty of power and distortion options, it provides everything pop punkers need to create their signature sound in style.
Pros
With three independent channels, you can find the perfect blend of sonic variation and quiet/loud dynamics for your pop punk sound

Flip a switch and get the perfect tone- you can install either 6L6 power amp tubes for that classic American sound or EL34s for a British vibe

Command your tone with ultimate flexibility-- extra tone switches and variable wattage on each channel
Cons
All the tweakability might put you on the quest for the perfect tone instead of focusing on making music

It's expensive
Best for Hardcore Punk
The Marshall JCM800 2203 is the amp for punk rockers who want that classic mid-range growl. With this amp, you'll be able to dish out more energy and aggression than ever.
It's effortless to dial in the perfect tone on this single-channel amp, and you won't spend hours tweaking your tone as with other amps on this list. Also, with an impressive 100 watts under its belt, this amp is as loud as it is powerful.
With the Marshall JCM800 2203 by your side, you'll have a tool that will help you articulate the urgency and aggression of your Hardcore Punk Rock tunes.
There's something undeniable about Marshall amps and their mid-range growl and grit. The Marshall JCM800 2203 is a single-channel amp that gives you instant tone the minute you plug in.
Thea spank, articulation, and thick chest-thumping mids make this a fantastic amp for punk tones and aggressive genres of punk music.
At 100 watts, this amp is LOUD! If you are playing in basements and DIY venues where you aren't relying on professional monitoring or PAs, then the JCM800 will be all you need to be heard. However, this 100-watt pure audio assault may be too much for practice sessions, and you may want to invest in a proper attenuator.
While hardcore punk rock is all about attitude (which the JCM800 has in spades), the updated 2203 includes a buffered effects loops. This allows you to incorporate pedals to push your sound in more progressive and exciting directions.
This amp is a straightforward tank of an amp that is built for the road and live shows. The birchwood enclosure is robust and will protect those ECC83 pre-amp tubes & EL34 power tubes.
The price tag is the only thing that is not punk about the Marshall JCM800. This amp head runs for over 3k new, and when you factor in a solid speaker cabinet, you've just spent a used car's amount of money.
However, if you're looking for a forever amp that will give you that epic hardcore punk rock tone, the Marshall JCM800 2203 is a fantastic investment.
Pros
An iconic amplifier that has a tone that feels right for aggressive and urgent music

Loud and proud and a great amp for gigging

Very robust and road ready
Cons
A single-channel amp doesn't give you flexibility over multiple styles of tone, and you'll have to rely on your guitar's volume pot to roll back or push the gain

It's expensive
Best for Metalcore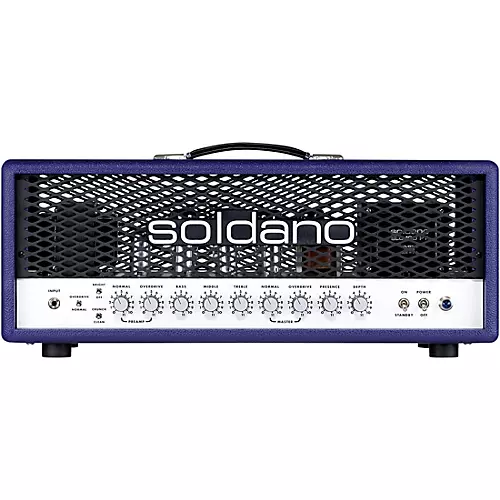 Looking for a powerful amp to make your metalcore music come to life? Look no further than the Soldano SLO-100 Super Lead!
This modern behemoth of an amp is just what you need to take your sound to the next level. With its cascading gain staging, the SLO-100 will help keep your sound focused and tight at even the highest volumes. The tank-like build is worth the price tag for a "forever amp." This handsomely crafted amplifier will ensure you always look good and sound great.
So what are you waiting for? Give every audience an earful and make an impression they won't soon forget with the robustly reliable Soldano SLO-100 Super Lead!
Ok, before we discuss the Soldano, know that this amp is freakin' expensive! You can get great metalcore tones out of any of the other amps on this list, but we are here to discuss the best punk and rock guitar amps, so here we are 🙂
The SLO 100 is a beast of a two-channel amp that can go from a pristine clean amp to a beautiful high-gain distortion box. The SLO uses cascading gain staging in the pre-amp stage, which helps keep the gain uniform and even. This helps ensure that your high-gain settings stay focused, tight, and broadband.
This feature is absolutely crucial regarding the high-gain tones of metalcore music. With the mixture of drop-tuned chugs and fast riffs, you want an amp that can keep up and ensure your playing stays center stage at loud volumes.
Speaking of loud volumes, the Soldano SLO-100 is an extremely loud amp at 100 watts. This amp is meant to be played live, loud, and proud.
There isn't much negative to say about the build and tone of this amp. Everything is military grade and, from a tactile point-of-view, feels incredible. You definitely get what you pay for.
If you're looking for one of the best tube amps for Metalcore on the market and have some extra coin to drop, you will find a forever amp in the Soldano SLO-100 Super Lead. Check it out!
Pros
Cascading gain stage ensures your tone stays punchy, focused, and articulate, even at the most face-melting levels

An extremely loud amp that will definitely rattle your bones

This amp may be expensive, but it will last you forever
Cons
It is very expensive, and some users may not think the tone justifies the price
Best for Budget
For rockers on a budget, you won't find another amp that can give you the same punch and power as the Orange Crush!
It has been heavily marketed as the tube amp killer because you get all the benefits of playing on a valve tube amp without worrying about busting your budget. Plus, it's an all-analog signal path, so you're getting all that juicy responsiveness and saturation.
The best part is this solid-state amp is affordable and requires far less maintenance than a tube amp - which means more time to play music and have fun with reliable gear!
If you're looking for an affordable option to help you stand out on the punk and pop punk scene, look no further than the Orange Crush.
The Orange Crush is a solid-state amp that has been heavily marketed as the tube amp killer. And you know what? If you close your eyes, you may not be able to tell there are no valves in the Orange series of amplifiers.
Built as an all-analog signal path, the Orange Crush series of amps can help give you the same responsiveness and saturation that a valve tube amp will provide.
Solid-state amps are also very affordable, have high headroom, and require less maintenance than a tube amp. So if you're packing into a van for tours with your punk rock band, this amp will hold up to the rigors of consistent gigging.
The most challenging part of the Orange Crush series of amps is knowing which is best for you. You can purchase a 12-watt combo for around $100 or go up to the Super Crush Head and Cab combo for $1,000+. So the price of this range varies drastically.
If you're playing in punk or pop punk bands, go with the Super Crush 100-watt combo or head and cab combo. Solid-state wattage differs from tube amp wattage; a 100-watt amp will have less output than a tube amp. The 100-watt amp is loud enough for basements, small clubs, and for being mic'd up. While anything less than that, you might start wishing you had more power.
The Super Crush 100 also features a cab simulation output that you can plug directly into your home studio audio interface or a PA. So this gives you additional features that make this a tremendous multi-purpose amplifier.
While the distortion has more gain than you would need for punk rock music, there is a slight "fizziness" to the distortion, which I think is due to the lack of tubes. However, this is a matter of preference, and in a loud mix won't be noticed by most people.
If you're looking for an amp that sounds great for punk tones and won't break your bank account, then the Orange Crush lineup of amps is what you should check out now!
Pros
An all analog solid state design gives you almost identical tones to valve-state amps for a fraction of the cost

The amp is durable and can handle the wear and tear of being on the road

It has a wide range of sounds that can be tailored to your style
Cons
The high-gain sound can be a bit "fizzy" on the cab simulation output

It can be tough to know which model is best suited for you
The problem with "the best punk rock amp"
Punk rock is all about attitude and a DIY ethos. The idea of dropping tons of coin on a new amplifier for your punk band seems very anti-punk.
So while these amps will give you a fantastic and professional tone for all genres of punk, you can make music with just about anything.
In fact, the best punk rock guitar amp may be some junk you find in a pawn shop. That does feel more punk to me, but as a guitar player, I would eventually long for something more.
So all this is a personal preference, so you judge what suits you and your needs best.
Buyer's Guide
The following section will give you more insight into what to look for in the best punk rock amp.
Tube vs. Solid State
Tube guitar amplifiers use vacuum tubes to create the sound, while solid-state amps use transistors.
Tube amps have a warmer, richer tone with a natural distortion and are known for their classic "valve" sound. They need more maintenance than solid-state amps and are generally more expensive.
Solid-state amps have a much cleaner, clearer sound but lack the warmth of tube amps. They're also less temperature-sensitive, more reliable, and require less maintenance over time.
Combo vs. Stack
With some of the recommendations, there will be an option for a head or a combo amp version. So which do you go for?
When it comes to sound quality, you will find little difference. However, the main difference will be in the output power and speaker configuration.
Amp heads will need you to purchase an external speaker cabinet to power them. This gives you flexibility in shaping your overall tone. However, most amps on this list will have an option to purchase a speaker cabinet with the head. You should only have to do a little digging if you are trying to decide what to go with.
On the other hand, a combo amp is paired with a speaker that the manufacturer believes will bring the best tone out of the amp.
Amp heads also are slower to need repairing and parts replacement. This is because the amplifier isn't in the same encasement as the speaker. The speaker creates lots of vibration, which will affect combo amplifier components. This can be a considerable hindrance in high-volume genres like punk rock.
Because punk rock is communal and live gigs are a critical component of the genre, I'd recommend going with an amp head and cabinet combination for the extra power and control.
Wattage
Wattage is more critical in punk rock genres than others. You often play against loud drums in basements and small clubs that might not have proper sound.
Because of this, you will want an amp that can get loud and retain its clarity.
You can get away with 40 watts for most tube amps (if you're playing smaller venues, I'd suggest more), but lots of the amps on this list will be 100 watts.
For solid-state amps, you will want to look at something around the 100-watt range, as solid-state amps tend to have less output than a tube amp.
The Bottom Line
Playing punk is about having fun and bringing your unique attitude to the music. With the right amp, you can make your sound come alive and stand out from the rest.
At the end of the day, choosing the right punk rock amp comes down to personal preference. You'll want to think about your budget, the sound you're trying to achieve, and how much power you need.
With the right amp, you'll be able to make punk rock music that is all your own.
Thanks for reading!
Editor's Choice
It has an incredibly rich and articulate high-gain tone that is perfect for punk rock and all similar genres

An affordable option that is loud enough to carry over loud drums and compact enough for easy travel

Great additional features like noise-gate and speaker cab emulation make this a fantastic amp for recording, practice, and gigging
For Pop Punk
Three independent channels give you lots of sonic variation that is perfect for the quiet/loud dynamics of pop punk

You can use either 6L6 power amp tubes for a more American tone, or EL34s for a British tone that is perfectly biased with the flip of a switch

Extra tone switches and variable wattage on each channel give you ultimate flexibility over your tone
For Hardcore
Get the perfect guitar tone that has effortless urgency and aggression

Loud and powerful, that is perfect for all types of gigs

Built like a tank