Editor's Choice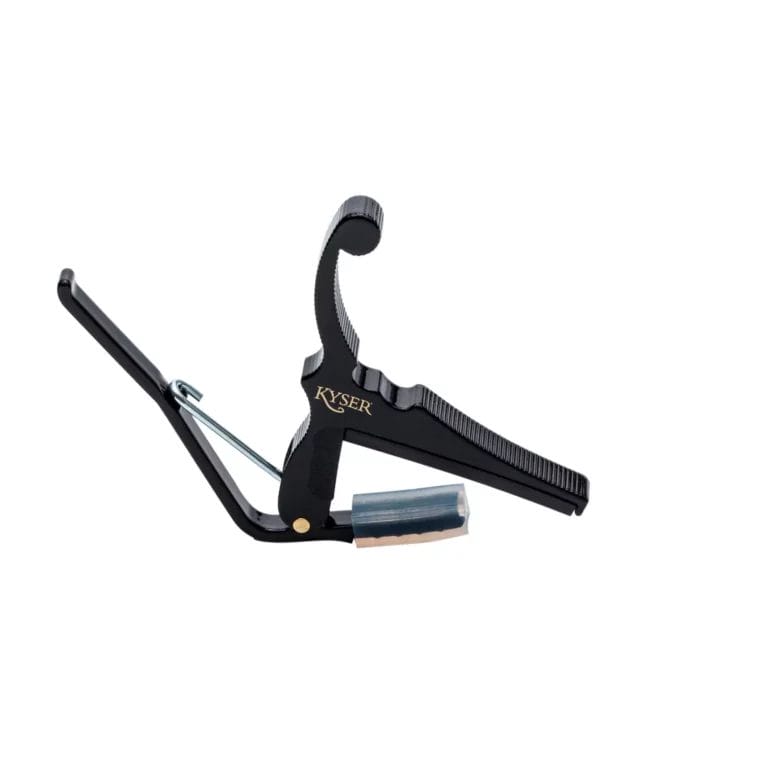 Very durable

Easy to use

Affordable
Fan Favorite
You can fine-tune the pressure to fit your stringed instrument perfectly

Maintains the integrity of your instrument's tone

Low profile design doesn't get in the way
Best Budget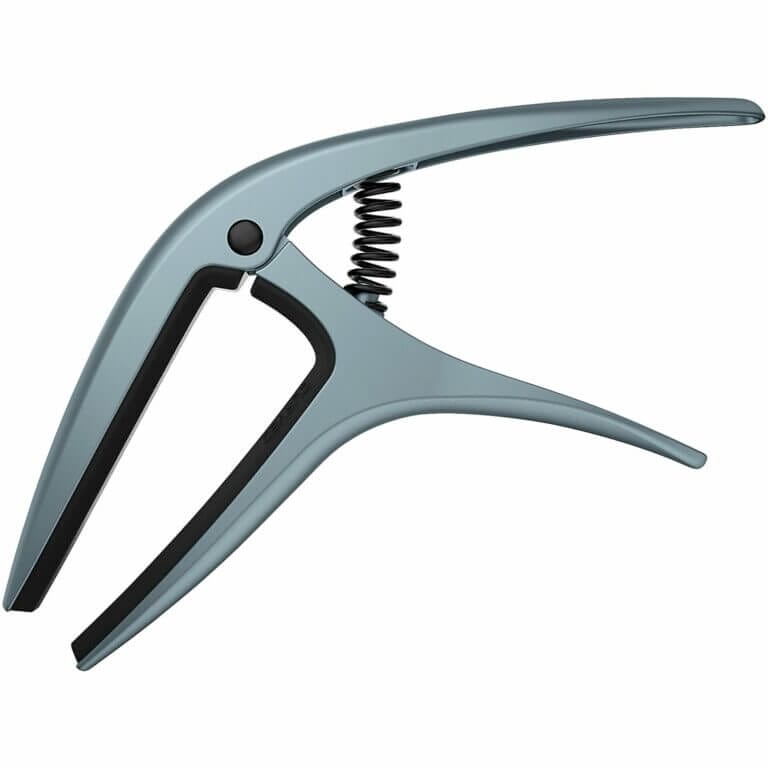 Great for multi-instrumentalist

Cheaper than a couple of gallons of gas

Fits a variety of different neck radius sizes
There are a lot of guitar capos on the market these days, and it can be tough to decide which one is right for you.
With the different styles, prices, and brands, there's a good chance that you will make the wrong purchasing decision.
Thankfully, you're in the right place 🙂
This blog post will look at the best guitar capos for acoustic and electric guitars based on my experience and feedback from other guitar players. We'll also highlight some key features when shopping for a guitar capo.
Whether you're a beginner or an experienced player, we hope this article will help you find the best guitar capo for you.
Let's begin!
The Best Guitar Capos at a Glance 2023
Editor's Choice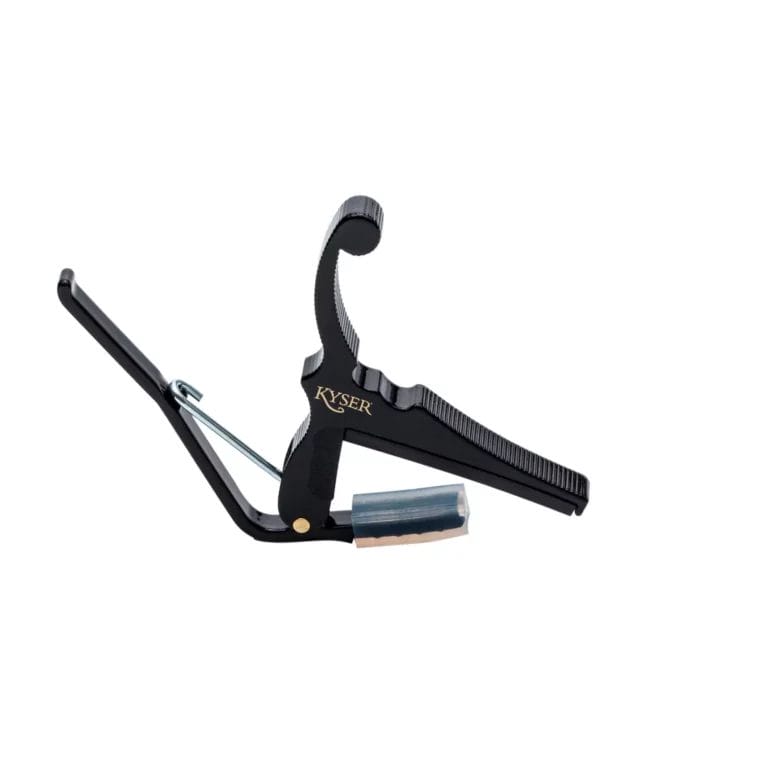 Suppose you're looking for an affordable, reliable guitar capo that will get the job done without any frills. In that case, the Kyser Quick-Change is your best bet.
This simple yet effective capo is easy to use and perfect for those who want to make quick adjustments on the fly. The Kyser is also a trigger-style capo. It can be easily attached to your guitar's headstock for safekeeping when not in use.
Plus, with various colors to choose from, you're sure to find one that matches your style.
The Kyser Quick-Change is my personal favorite guitar capo out of the various options on the market.
It's incredibly affordable, easy to use, and will last you for a long time. While the Kyser isn't the most feature-rich compared to other capos, it does what you need a capo to do.
The Kyser is considered a trigger capo, and it's simple to place on your guitar's neck and make quick adjustments. Trigger Capos are highly convenient because you can clip them onto your guitar's headstock between uses, so you are less likely to lose this capo.
The Kyser comes in a variety of colors and instrument options. Suppose you need a capo for your electric guitar, acoustic guitar, classical guitar, mandolin, banjo, or ukulele. In that case, the Kyser has one in their lineup that will suit you perfectly.
However, the Kyser guitar capo isn't a one-size-fits-all accessory because each instrument needs more or less pressure to engage the strings correctly.
Suppose you are a multi-instrumentalist who often plays live. In that case, you may want a dedicated capo for each instrument. This will ensure that you apply enough pressure to let each note ring out and that you don't go out of tune when putting on the capo.
Having multiple guitar capos isn't convenient or practical for most players.
With this said, I've used a regular acoustic guitar capo by Kyser as an electric guitar capo and didn't experience any significant issues. After putting on the capo, I would have to retune my guitars, but this is a minor inconvenience.
Another major downside to this capo is that the spring can be pretty stiff. So if you have weak hands from arthritis or other ailments, this capo could be challenging to use.
You'll be hard-pressed for the price, construction, and functionality to find a better capo on the market. I don't think a capo should be a hefty investment, and this will do the trick and get you back to doing what you do best…making great music!
Pros
Well made


Affordable

There's a model designed for most string instruments

Comes in many different colors
Cons
Tension isn't adjustable

It may be challenging to use if you have weak hands
Fan Favorite
Are you looking for an affordable and high-quality guitar capo that will give you the best possible sound out of your instrument? Check out the Shubb C1 – our fan-favorite choice for the best guitar capo around.
Why do we love the Shubb C1 so much? For starters, it's incredibly versatile – you can adjust the pressure to fit most stringed instruments perfectly. This means no more tuning instability issues. Plus, the low-profile design means it won't get in your way when you're playing.
If you're serious about getting the best possible sound out of your guitar, you need the Shubb C1. Come check it out today and see why it's a fan favorite!
It was tough to choose between the Shubb C1 and the Kyser as my editor's choice guitar capo.
The Shubb C1 is like a trigger capo, but instead of using a spring to depress the strings, it uses a screw. Screw capos like the Shubb are incredibly versatile because you can adjust the pressure to be a perfect fit for most stringed instruments you play.
One of the challenges with trigger capos like the Kyser is that you can't adjust the amount of pressure it applies. This creates tuning instabilities in your instrument. This is where a Shubb capo shines.
The Shubb capo is a more elegant design regarding pressure adjustability and has a low profile on the guitar neck. Also, the rubber pad has a similar consistency to your finger, which helps preserve the instrument's tone.
Also, like the Kyser, you can purchase a Shubb designed for multiple stringed instruments. This will help you dial in the perfect pressure to get the most out of your musical instrument.
I'm considering the Shubb C1 as the "Fan Favorite" because it is probably the most positively commented about capo on the internet. Take a look at any YouTube video or blog comment, and you'll see a fervent fanbase around this style of capo.
The one thing that prevented me from making this the best capo on this list is that you can't clamp it to your headstock. This makes losing the capo more likely. Also, the ease of use isn't the same caliber as the Kyser.
However, suppose you often play at home or in a studio setting. In that case, the Shubb C1 is a fantastic and versatile capo that will help preserve the tone of your instrument and last you for years to come.
Pros
It's affordable


It has adjustable tension

If you don't lose it, it will last a lifetime

It has a sleek, low-profile
Cons
If you gig, it's easy to lose

Screw style capos take longer to adjust
Best for Budget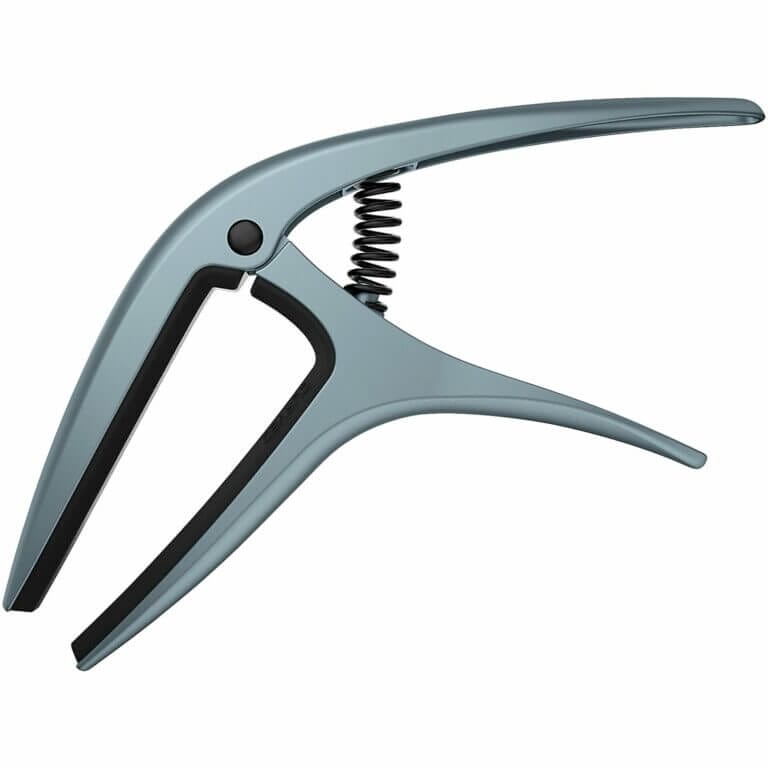 Are you looking for a great quality guitar capo that won't break the bank? Look no further than the Ernie Ball Axis Capo. This budget-friendly option is packed with features that make it an excellent choice for beginners and experienced players alike.
One of the best things about this capo is its reversible design. This means that you can use it on acoustic and electric guitars, as it will fit the necks of different radius sizes. The wide width of the capo is also ideal for acoustic guitars but will work just as well on 7-string electric and 12-string acoustics.
So if you're looking for a versatile and affordable guitar capo, the Ernie Ball Axis Capo is a perfect choice.
The Ernie Ball Axis Capo is another trigger capo like the Kyser. While the Ernie Ball is the most affordable capo I recommend on this list, it also has a convenient design feature that you won't find on the other capos.
It's reversible.
What Ernie Ball has done with this capo is have each side fit a different style of neck radius. One side has a flatter radius, and one has a more round radius. This makes it an excellent capo for both acoustic and electric guitars.*
It also has a wide width to the capo, so it is an excellent option for acoustic guitars, but it will also work well for both 6-string and 7-string electric guitars.
Also, you can get away with using it on 12-string acoustic guitars adding to the Ernie Ball's versatility.
The Ernie Ball Axis Capo is easy to adjust and put onto the guitar neck; however, it's prone to rattling if you store it on your headstock. So it does lose a couple of points in terms of convenience.
However, this capo is well built and sleek. It's one of those guitar accessories that fly under the radar. Still, it is an option that guitar players of any skill level shouldn't overlook for the price.
*If you aren't sure what I mean by neck radius, check out the buyer's guide at the bottom of this article!
Pros
An excellent choice for both electric and acoustic guitars


Very affordable

Easy and quick to use
Cons
Rattles on the headstock

You can't adjust the tension
Best for 12-String Guitar
If you're a 12-string acoustic guitar player, you know the challenge of finding a good capo. Most standard capos don't work well with 12-string guitars, causing intonation problems as you move them up and down the neck.
The Paige Clik is an excellent option for 12-string players because it's specifically designed to apply the right amount of pressure to all 12 strings. It's also simple to use, with a "clik" button that makes it straightforward to get a perfect tension every time.
If you're looking for a high-quality, durable, and easy-to-use capo for your 12-string guitar, the Paige Clik is the best option!
12-string acoustic guitars have a unique challenge regarding capos: the octave string.
Because you have a thin metal string sitting next to a thicker wound string, you must apply different pressure across all 12-strings.
While you can use most standard capos on a 12-string acoustic guitar, you will encounter significant intonation issues as you move the capo to a new fret position.
The reason why this is a pain is that tuning a 12-string guitar is a pain!
The Paige Clik is a popular yoke-style capo with a button you "clik" to get optimal string pressure on your instruments. With a simple twist of a tension wheel, you have a great capo that will keep the tone of your guitar intact. Also, another beloved benefit of a yoke capo is you can easily store it above your guitar's nut when not using it.
What separates the Paige Clik from other capos on the market is the Enhanced Tone Innovation (ETI).
ETI is a technology Paige developed with pads that press down on the string resembling the neck nut. Each pad is designed for the specific string it is pressing down on and can be individually adjusted in the amount of pressure applied. This gives you the perfect amount of string pressure, so you don't suffer from tuning instability when using the capo up and down the neck.
This is a massive bonus for using capos on 12-string guitars.
While this capo is wonderfully built, it is costly. But when it comes to 12-string guitars, the extra cost might be worth the relief of the headache.
If you often play 12-string guitars, you know the most significant pain is keeping it in tune. This becomes an even bigger problem when you add guitar capos into the mix.
However, with the Paige Clik with ETA technology, you can apply perfect pressure to each string. This ensures that you keep your guitar in tune and your tone intact.
Pros
You can store yoke capos easily above your guitar's nut when not in use


ETI tech Keeps your guitar's tone and tuning intact

You're investing in a product that will make your 12-string playing experience more enjoyable
Cons
It's expensive

Only practical for a 12-string guitar
Honorable Mentions
There are plenty of great options for guitar capos on the market. Check out these honorable mentions if you're looking for something a little different than the ones in the top 4.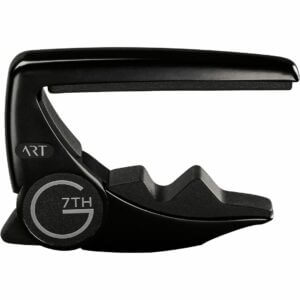 G7th is a premium player in the capo market. The G7th Performance 3 features Adaptive Radius Technology (ART) which allows the back of the capo to dynamically adjust to a guitar's neck radius.
This makes the G7th a versatile capo that will suit a wide range of guitars. It's also built incredibly well and should last a lifetime.
While the G7th Performance is a fantastic capo, it is costly, and some have claimed it isn't wide enough for 7-string guitars and 12-string guitars. It's also heavy and can give your guitar a serious case of "neck dive."
The D'Addario Planet Waves NS Tri-Action capo marries the trigger capo and screw capo into one.
You have the ease-of-use of the trigger capo's quick application but the ability to adjust the pressure that is so beloved by the Shubbs screw capo.
The D'Addario Planet Waves NS capo adds a cool feature of a pick holder so you can easily transition between picks and fingerstyle playing.
I didn't put the D'Addario Planet Waves NS above the Kyser because it's bulkier and takes up more space. However, suppose you want more control over the pressure your trigger capo applies. In that case, this is an excellent option to consider.
Taylor Guitars is one of the best guitar brands in the world. They've released a yoke-style capo that is a perfect match for their acoustic guitars' neck design and radius.
This is a high-quality and well-made capo that has adjustable tension. However, it's explicitly designed for Taylor Guitars and may not be the best guitar capo for your instrument.
Popular, But Not Recommended
Some guitar capos are popular but not recommended. Here's a quick overview of those capos and why I would stay away.
The Spider Capo is designed for creative tunings and playing styles (hence the name).
This guitar capo has individual pads for each string, so you can play in any type of tuning your heart desires.
The challenge with this capo is that it is very gimmicky. The individual pads slide around and are hard to engage. Also, this guitar capo feels cheap in hand.
I might be missing something with this capo, but it isn't easy to use, and it seems like it's more of a distraction than a helpful guitar accessory.
A toggle capo is essentially a padded metal bar with a strap to tighten it on the fretboard.
The Dunlop 14C is a budget capo (less than a Starbucks Coffee). It isn't easy to adjust and is a pain if you frequently change fret positions.
Because most capos aren't that expensive, you should spend a little extra to get something that will be more practical for everyday use.
Buyers Guide
Honestly, purchasing a guitar capo shouldn't be a difficult decision. However, everyone's needs are different, and the best guitar capos will vary depending on your playing style and instrument choice.
The following guitar capo guide will help you make a better-informed decision on the best capo for you.
Full & Partial Capos
This entire roundup has been focused on the full capo design. However, partial capo designs will help you play in alternate tunings while staying in standard tuning.
The two most popular partial capos are:
Drop D Partial Capo (Check out the Kyser Here)
Short Cut, or DADGAD, Partial Capo (Check out the Kyser Here)
Drop D partial capos clamp all the guitar strings except the low E string. This gives you the drop D sound without detuning the guitar.
The Short Cut capo only covers the D, G, and B strings. The low E, high E, and A strings are all left to ring out naturally. This gives you the DADGAD tuning, which is a beautiful open tuning.
The primary benefit of using partial capos is playing the same standard tuning chord patterns you're used to but getting the open tuning sound.
Pressure & Intonation
The biggest problem with using a capo is that if it applies too much pressure to the strings, they will go out of tune.
This is easily fixed after putting on the guitar capo by tuning your guitar. Still, if you are switching guitars and capo positions frequently, this can become a pain.
Most capo manufacturers will make capos specifically designed for an instrument, like an acoustic or electric guitar.
This can also get annoying if you have to carry multiple capos to a gig.
Guitar capos that have a screw in them are often more versatile between instruments because of the ability to adjust the pressure. While some capos, such as the G7th, have features that adapt to the guitar's neck radius to apply the right amount of pressure to avoid intonation problems.
Personally, I've used a Kyser for both an acoustic and electric guitar. I have never had any issues with re-tuning after applying.
It's important to note that the pressure won't ruin your guitar, so it's a more personal preference on how seriously you want your capo to address this problem.
Convenience
I like guitar capos that will clip onto the headstock in some fashion.
Being able to store the capo on your guitar (instead of putting it in your pocket or guitar stool) makes it less likely to be lost.
Trigger capos and yoke capos are perfect for headstock storage.
Weight
Some capos are heavy. While this makes for a durable design, it can give your guitar a severe case of "neck dive."
This will make playing your guitar feel lopsided and uncomfortable to play. And in some cases might make you accidentally drop your guitar.
For reference, the G7th Performance 3 Capo is surprisingly heavy at 4.4 oz, while the Kyser Quick-Change is 2.47 ounces.
Types of Capos
A quick breakdown of the best capo designs.
Strap
A strap capo is essentially a covered metal bar that gets tightened to the fretboard with a strap. These guitar capos are the cheapest on the market, and I wouldn't really recommend them.
Some designs are also called toggle capos.
Spring Loaded/Trigger
The trigger capo clips onto the guitar neck and uses a spring to apply pressure. These are incredibly convenient capos, but the downside is you can't adjust the tension.
Adjustable Screw
The adjustable screw capo is a popular design with lots of acoustic players. These guitar capos utilize a screw you can adjust to dial the perfect amount of pressure.
Adjustable Screw capos are more versatile than trigger capos but aren't as user-friendly.
Yoke
A yoke capo is an old design that looks like a horseshoe. These capos have an adjustable screw to dial in the pressure. However, it has a bar that wraps around the neck instead of clipping on. This provides even pressure and can be an excellent design that helps with tuning stability.
Another fantastic benefit of yoke capos is placing it behind the guitar's nut for straightforward and secure storage when you aren't using it.
FAQ
What does a capo do for a guitar?
A capo is a device that acts like a finger doing barre chords. It clamps down on a guitar's strings, shortening the strings' length and raising their pitch. This allows guitarists to play songs in different keys without changing the fingering of the chords.
Also, partial capos can open up the world of alternative guitar tunings without learning new finger patterns and chord shapes outside standard tuning.
What is a fretboard radius?
The fretboard radius is the curvature of the fretboard. Electric guitars generally have a rounder radius (9.5"), while acoustic instruments have a flatter radius (16").
The neck radius is a significant factor in why certain capos sound good on some guitars but not others.
Suppose the capo doesn't fit the radius of a guitar's neck. In that case, it could be applying uneven pressure across the strings causing intonation issues or even dead notes.
Can you use the same guitar capo on both an electric and acoustic guitar?
Yes, however, you will most likely have to retune your instrument each time you apply the capo. This is especially true if you have an acoustic guitar capo and use it for an electric guitar.
You can buy instrument-specific guitar capos, but most guitar capos can be used across multiple instruments if you don't mind doing extra work.
Are guitar capos good for beginners?
Absolutely! Guitar capos can help shorten the neck of the guitar, making the strings easier to press and the fret spacing closer together.
This helps beginners who are still building up their strumming and finger strength and can be great for players with small hands.
Can you use guitar capos on ukeleles?
Yes. Most brands that make the best guitar capos will have ukelele-specific ones.
Can you use guitar capos on banjos?
Yes. Most brands that make the best guitar capos will have banjo-specific ones.
Can you use guitar capos on mandolins?
Yes. Most brands that make the best guitar capos will have mandolin-specific ones.
Can you use guitar capos on classical guitars?
Yes. Most brands that make the best guitar capos will have classical guitar-specific ones.
The Bottom Line
So, what's the verdict?
After owning one myself for decades and taking into account feedback from other guitar players, I've chosen the Kyser Quick-Change as my top pick for the best guitar capo.
It's easy to use and provides a great tone with minimal interference. If you're looking for a quick and easy way to change your guitar tuning, check out the Kyser Quick-Change today!
Editor's Choice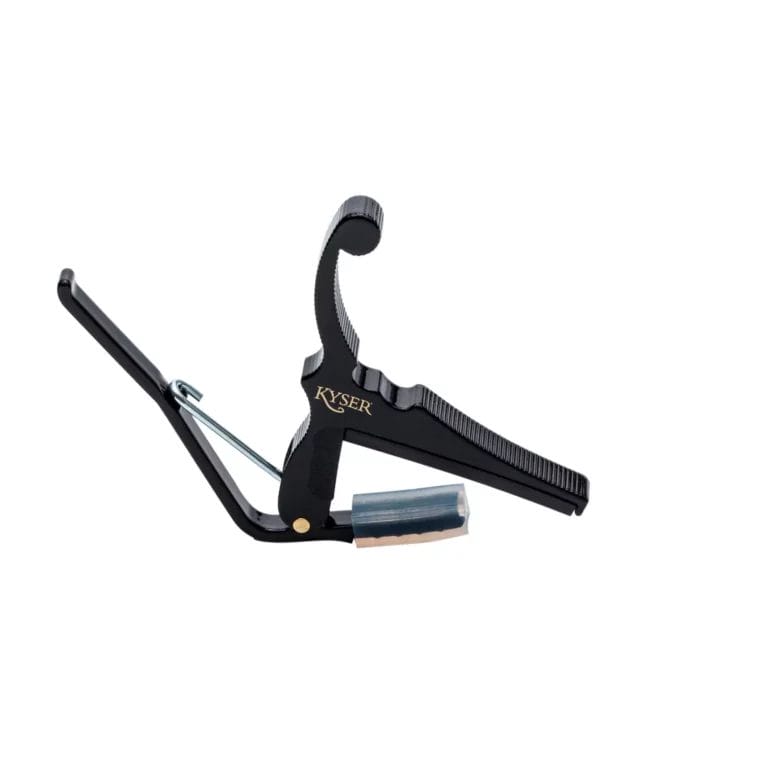 Very durable

Easy to use

Affordable
Fan Favorite
You can fine-tune the pressure to fit your stringed instrument perfectly

Maintains the integrity of your instrument's tone

Low profile design doesn't get in the way
Best Budget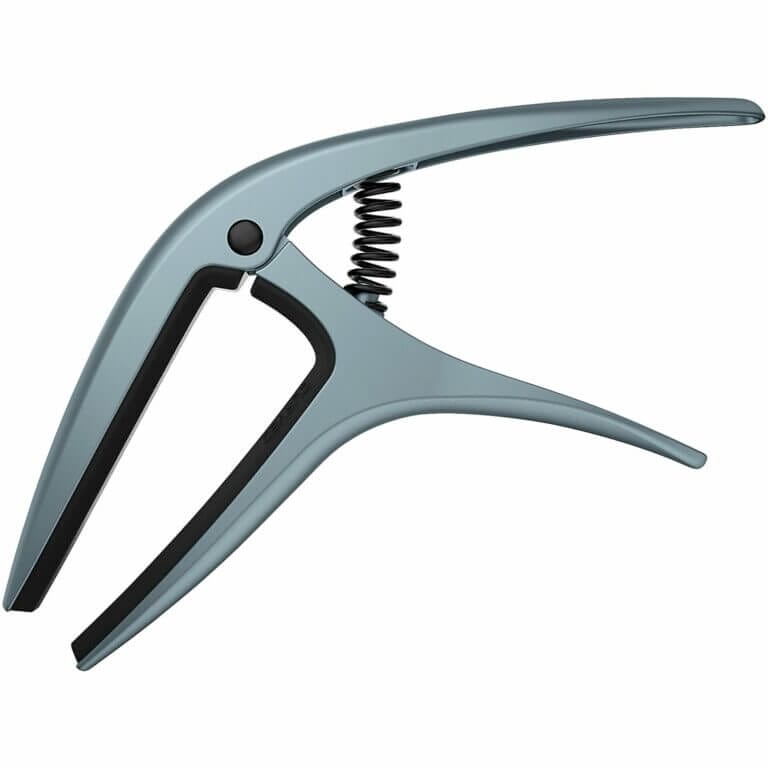 Great for multi-instrumentalist

Cheaper than a couple of gallons of gas

Fits a variety of different neck radius sizes
Related Guitar Accessory Roundups:
How a Guitar Humidifier Will Protect Your Investment in 2023 (Buyer's Guide)
The 6 Best Clip-On Guitar Tuners For All Budgets 2023